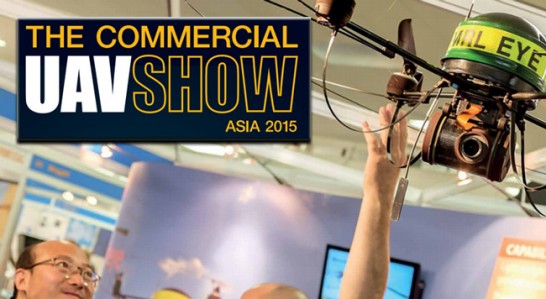 The Commercial UAV Show Asia 2015- Unlocking the Potential of Commercial Unmanned Systems
Coming from across the globe, more than 50 industry leaders have been brought together for the Commercial UAV Show Asia happening at Suntec Singapore from 30 June – 1 July 2015. There, they will present their successful case studies, provide technical exposures and experiences in the various commercial sectors of UAV usage.
Commercial use of unmanned technology is on the rise worldwide, with Asia Pacific being the second biggest buyer after the US. Traditional military use aside, drones are now modified to be useful tools in agriculture, mining, oil and gas, wild life conservation and many more.
The annual Commercial UAV Show Asia is set to draw in buyers and sellers of commercial UAVs/drones from across Asia Pacific and beyond. See full programme
Hear from top leaders including:
Dennis Hong, Founding Director, RoMeLa UCLA : Making a difference in humanitarian relief with humanoid robots
Peter Van Blvenbur, President, UVS International France: The rules and regulations progress: The role and perspective of ICAO & JARUS
Claus Nehmzow, Chief Technology Officer, BP Singapore: BP beats Amazon to the Sky
View the full speakers list here
In 2015, the show will see more than 60 exhibitors showcasing the latest UAVs and related products that will change the outlook for UAVs in Asia Pacific. Key companies that are exhibiting includes ST Aerospace, Sterling Comms, Multi-Rotor and Itchimi Asia, just to name a few. View the full list of sponsors and exhibitors here