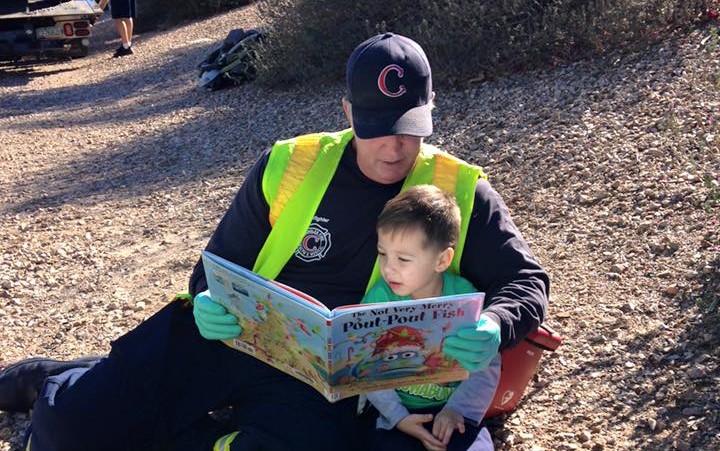 This picture is now viral, and the bystander who cought it write a really touching post about this precious moment
U.S. Arizona — There is a new viral photo on the social media. The image of a firefighter reading a tales to a boy on the side of a road after a car crash is a touching moment that Steffani Blair take and post with a heartwarming description. "Be kind to our first responders, they have a tough job and they do it exceptionally well," Blair wrote on Facebook.
"A story of incredible good. We hear enough bad, so please share this one far and wide, I would love for it to find this fantastic firefighter or his family. This sweet photo is from an accident I happened to be at today, I stopped at the scene because no emergency crews had yet arrived and I wanted to be sure everyone was alright. There were two adorable children, slightly scared, but both okay in one of the cars. After being assured that everyone was truly okay, I sat with this sweet little boy until the "good guys" came in their fire trucks to do a better assessment. A little bit later, I captured this sweet picture of one of Chandler's finest reading to this amazing little boy. Be kind to our first responders, they have a tough job, and they do it EXCEPTIONALLY well. Grateful to have witnessed this sweet tender mercy today".