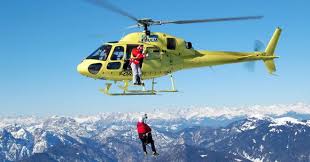 Prehospital trauma: accident on the winch – Alan Garner explains us what happens next
Alan Garner is a doctor and he has a blog post where he recently published a report about a catastrophe happened during a winching operation. He highlights the physiological challenges rescuers sometimes add in the work they do.
Rescuers involved in a patient's death during a winching incident in Victoria in 2013 were very much distressed. Victorian Coroner's Office asked Dr. Garner to provide an expert opinion on the death based onsome previous research he had conducted with Dave Murphy, on of their registrars, looking at the effects on respiratory function of various methods of HEMS rescue.
In order to try to avoid a similar incident, the Coroner's Office agreed to publishing the specific case in an appropriate scientific journal, so that operators worldwide would benefit from the lessons learned rather than just the industry in Australia. That report has just been published in Aerospace Medicine and Human Performance and can be found here.
The case is about a man of approximately 60 years of age and BMI of 45 with borderline cardiac failure injured his ankle whilst on a hunting trip in Victoria about a kilometre from the nearest road.
Continue to read on The Collective