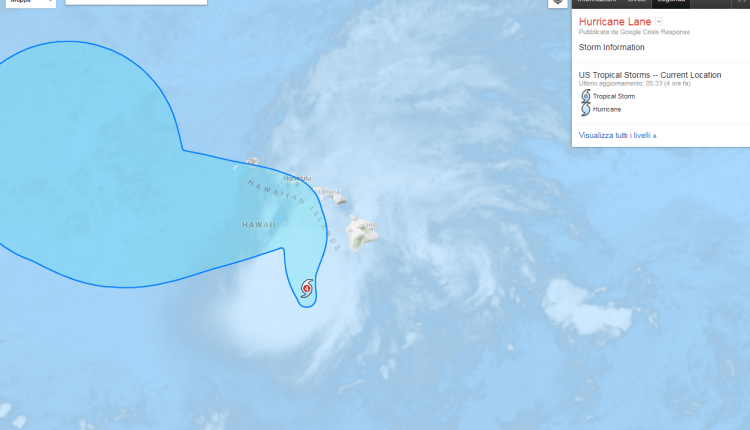 Hurricane Lane in Hawaii: the island of Hilo is underwater and heavy rains are theating buildings and people
HONOLULU  – Torrential rains caused by a powerful hurricane hit the Big Island of Hawaii on thursday.
UPDATES 11 PM 23 AUG. 2018 (HAWAII TIME)
Declared state of emergency even if hurricane has downgraded to cathegory 3. It still remain a dangerous situation, and Hawaii Red Cross is comunicating what to do to people in order to carry out a safe evacuation.
Due to Hawaii's isolation and vulnerability, the Red Cross recommends that people prepare their emergency kits for 14 days and bring their emergency supplies with them to shelters. Airports and ports may be damaged by the storm and slow down the resupply process for local stores.

Pets entering a pet friendly shelter must be in a pet carrier or cage for safety and owners must provide water and food for their pets and will be expected to assist in the care for their pet.

The Red Cross encourages everyone to be prepared before disasters strike:  Get a disaster kit, make a plan and be informed. HERE FOR MORE INFORMATION
___________________________________________________
Red cross is in action now to assist people and 100 residents were told to evacuate their homes due to increased danger of flooding. Authorities went from house to house in the Big Island neighborhood, telling residents that those refusing to evacuate may nt be able to be rescued by first responders should conditions worsen.
Hurricane Lane made the part of the island of Hilo underwater and torrents of water flowing into streets. Four people had to be rescued from their homes, and one house was significantly damaged.
The island remains under a flash flooding warning. National Weather Service said rain rates of 2 to 3 inches an hour were being recorded in South Hilo and Puna districts. They also warned more rain bands are approaching the island from the southeast.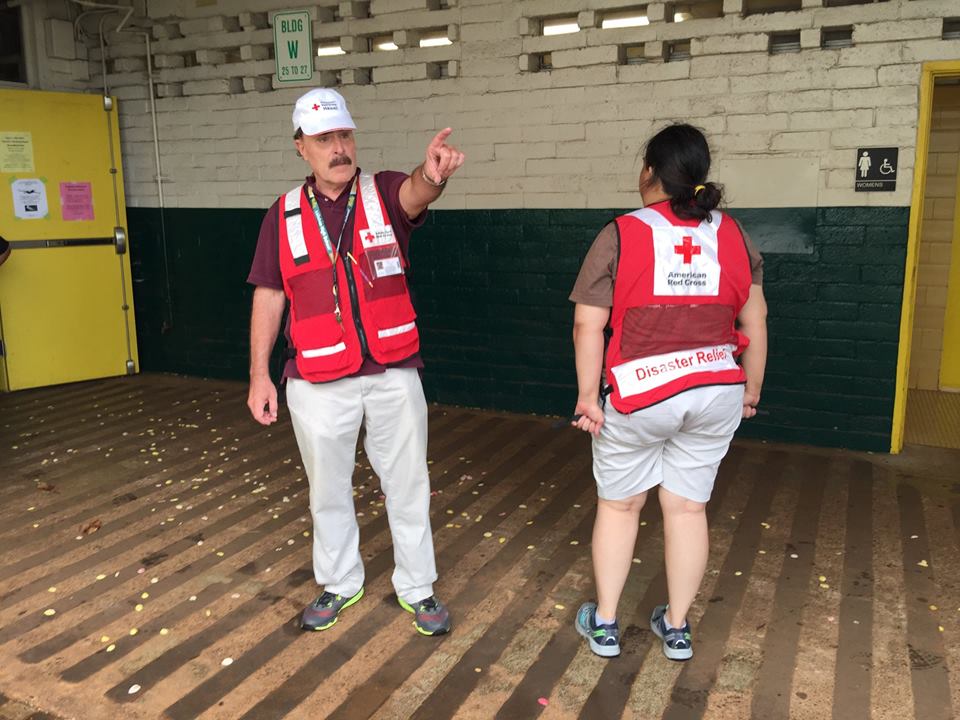 Hurricane Lane is headed toward the Hawaiian Islands today as a major storm with strong winds, heavy rain and flooding. The American Red Cross is preparing a large response effort and urges people in the path of the storm to get ready now.

Hurricane Lane could impact the islands through Saturday. The storm could bring up to 20 inches of rain, causing dangerous flash flooding, mudslides, coastal flooding and damaging waves. Hawaii officials have canceled public schools, terminated bus service and closed ports among many other preparations for Lane.

WHAT WE'RE DOING

The Red Cross is making extensive preparations to respond to Hurricane Lane by mobilizing volunteers, equipment and supplies in Hawaii. In addition to local volunteers, the Red Cross has deployed nearly 200 trained disaster workers to Hawaii, including an experienced leadership team and IT professionals to support emergency communications equipment. If needed, additional volunteers are ready to deploy after the storm hits.

Right now the county government in Hawaii is opening numerous evacuation centers across the islands. These evacuation centers are meant to help residents in flood-prone areas ride out the storm safely. Residents are strongly encouraged to bring their own emergency supplies to these evacuation centers. Emergency management officials anticipate that as many as 5,000 people may seek refuge in evacuation centers on Kauai, Oahu, Maui and Hawaii over the next several days

Evacuation shelters may not have cots, food, running water or electricity. They are meant to safely house people for about 72 hours until the storm passes and weather conditions improve.

If needed, local government officials may transition evacuation centers into emergency shelters if residents can't return home after the storm passes. The Red Cross supports pre-landfall evacuation centers and post-landfall emergency shelters with trained workers, shelter supplies and other aid. 

Our partners, specifically The Salvation Army, handle nearly all emergency feeding with their kitchens and volunteers on the Islands.

WHAT YOU SHOULD DO IF IN HAWAII

If you need to find an evacuation center, download the free Red Cross Emergency App to have real time information at your fingertips. The Emergency App is available in app stores by searching for the American Red Cross or going to redcross.org/apps. Or text 'GETEMERGENCY" to 90999.

Many Hawaiians shelter-in-place, as do tourists in hotels who choose to remain through the hurricane. People in the path of this storm should stay informed and take steps to get prepared now. Listen to local radio, NOAA radio or TV stations for the latest information and updates and obey any evacuation orders from local officials.

Local authorities are urging the public to be prepared with 14-day supply of water and non-perishable food items.
If you do not live in a flood-prone area, you should prepare to shelter in place. If you live in a flood-prone area, you should find an available shelter.
Be familiar with evacuation routes, have a family communications plan, keep a battery-powered radio handy and have a plan for pets. Know your evacuation zone and be sure to follow the direction of local officials if an evacuation is ordered for your area.

People are asked to bring their own disaster supplies to hurricane evacuation centers. These should include 14 days worth of the following per person:

Water – 1 gallon per person per day
Food – non-perishable
Flashlight
Radio -NOAA Weather Radio
Extra batteries
First aid kit
Medications & medical items
Manual can opener
Multi-purpose tool
Personal hygiene items
Copies of documents (prescriptions, proof of address, deed/lease to home, insurance policies and proof of identity)
Cell phone with chargers
Family contact information
Cash
Bedding
Change of clothes
Towels
Dishes
Baby supplies
Pet supplies
Comfort items

You can learn more about what to do before, during and after a hurricane here.

HOW YOU CAN HELP

The Red Cross works 24/7 to be ready to respond to disasters such as hurricanes. Even before the first raindrop falls in Hawaii, the Red Cross is spending money to get ready. Please donate to the Red Cross now to help.

Help people affected by Hurricane Lane by visiting redcross.org, calling 1- 800-RED CROSS or texting the word LANE to 90999 to make a $10 donation. Donations enable the Red Cross to prepare for, respond to and help people recover from this disaster.

The Red Cross honors donor intent. Donors can designate their donation to Hurricane Lane relief efforts by choosing that option when donating on redcross.org or on 1-800-RED CROSS.

The best way to ensure your donation will go to a specific disaster is to write the specific disaster name in the memo line of a check. We also recommend completing and mailing the donation form on redcross.org with your check

CORPORATIONS HELP The generous donations from members of the Red Cross Annual Disaster Giving Program (ADGP) and the Disaster Responder Program enable the American Red Cross to prepare communities for disasters big and small, respond whenever and wherever disasters occur and help families during the recovery process.

ADGP $1 Million members are:  Adelson Family Foundation; American Airlines; Anheuser-Busch Foundation; Anthem Foundation; Bank of America; Brown & Brown, Inc.; Caterpillar Foundation; The Clorox Company; ConocoPhillips; Costco Wholesale; Delta Air Lines; Enterprise Rent-A-Car Foundation; FedEx; Grainger; The Home Depot Foundation; LDS Charities; Lowe's Companies, Inc.; Mazda North American Operations; Microsoft Corp.; Nationwide Foundation; New Balance Foundation and New Balance Athletics; PepsiCo Foundation; State Farm; VSP Global; Walmart and the Walmart Foundation; and The Walt Disney Company.

ADGP $500,000 members are:  21st Century Fox; Altria Group; AmazonSmile; American Express; Aon; Capital One; CBS Corporation; Cisco Foundation; Citi Foundation; Darden Restaurants, Inc. Foundation; Discover; Edison International; Energy Transfer/Sunoco Foundation; Ford Motor Company; General Motors; Humble Bundle; International Paper; John Deere Foundation; Johnson Controls; LabCorp; Medtronic Foundation; Meijer; Merck Foundation; Mondelēz International Foundation; Procter & Gamble Company; PwC; Southwest Airlines; Target; Tata Consultancy Services; TD Ameritrade; The TJX Companies, Inc.; United Airlines; UPS; The USAA Foundation; The Wawa Foundation; and Wells Fargo.

Disaster Responder Program members are: 7-Eleven Cares Foundation; Adobe; AdvoCare International L.P.; Alliance Data; Assurant; AT&T; AvalonBay Communities, Inc.; Avangrid Foundation; AXA; The Ball Foundation; Barclays; BMW of North America; Boise Paper; CarMax; Cox Automotive; Duke Energy; Entergy Corporation; Farmers Insurance; Harbor Freight Tools Foundation; Hewlett Packard Enterprise Foundation; HP Foundation; HSBC Bank; IBM Corporation; Ingersoll Rand Foundation; The J.M. Smucker Company; Land O'Lakes, Inc.; Mastercard; Morgan Stanley; Neiman Marcus Group; Northrop Grumman Corporation; Northwestern Mutual and the Northwestern Mutual Foundation; Prudential Foundation; Raytheon Company; Ryder; SC Johnson; Southeastern Grocers Home of BI-LO Harveys Winn Dixie; Standard Textile; Stearns Bank; Toyota; U-Haul International; United Technologies Corporation; U.S. Bank; and Visa.
About the American Red Cross:
The American Red Cross shelters, feeds and provides emotional support to victims of disasters; supplies about 40 percent of the nation's blood; teaches skills that save lives; provides international humanitarian aid; and supports military members and their families. The Red Cross is a not-for-profit organization that depends on volunteers and the generosity of the American public to perform its mission. For more information, please visit redcross.org or cruzrojaamericana.org, or visit us on Twitter at @RedCross.