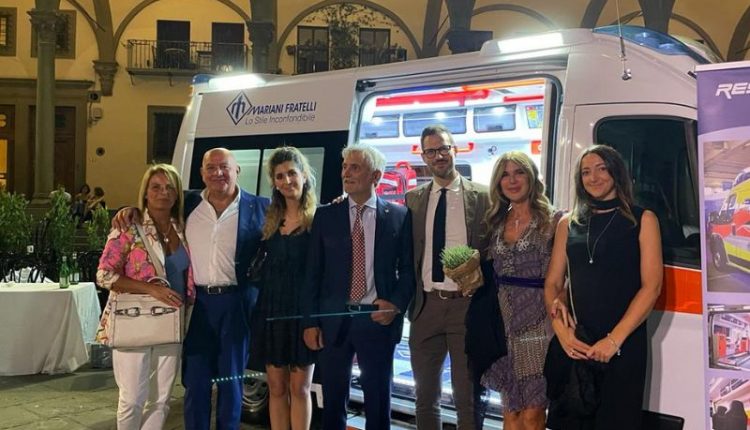 New Edition of "Il cuore di Firenze", world of rescue protagonist: Misericordie and Mariani Fratelli with Ukrainian minors
On September 13th, in Piazza Santissima Annunziata, the event "Il cuore di Firenze" (The heart of Florence) is back, this year dedicated to the help of Ukrainian boys
More than 1100 people took part in the dinner on 13 September in Florence's square and even more those who participated with donations.
The Florentine solidarity project wanted to support, with a fundraiser, the project of reception, care and integration of Ukrainian minors hosted by the Institute of the Innocents 
In support of this praiseworthy and supportive initiative, also this year, present the world of rescue and ambulances. 
In particular, to have given a concrete contribution – as well as last year – is Mariani Fratelli, the company of fitters oldest in Italy, tradition and history of the ambulance
The institutional network that created the project consists of the ancient Florentine charities.
The archconfraternity of Mercy of Florence, Montedomini, Fondazione Santa Maria Nuova ONLUS and the Institute of the Innocents on all.
The event is organized thanks to the collaboration between the Arciconfraternita della Misericordia of Florence and the Montedomini Foundation.
Arriving from Kiev in search of a new life, the Ukrainian boys, frightened by the happened, were rescued from the bombs and transferred first to Warsaw and then to Florence.
Thanks to the association Save the Children and the CIR, the Institute of Santissima Annunziata Square rescued and welcomed Ukrainian minors
The smallest of them is 3 years old, while the largest 17.
"Il cuore di Firenze" (The heart of Florence) is a solidarity project coordinated by Claude Benassai that every year organizes events and initiatives to achieve important goals related to social welfare and health protection.
The project involves all citizens and the social fabric of Florence and brings with it the intent to involve young people to spread in the new generations that feeling of solidarity that has been rooted in Florence for centuries.
"Il cuore di Firenze" is therefore an opportunity for cooperation between the Brotherhoods that we hope will lead to bring closer the most authentic spirit of solidarity that they promote
Robert F. Kennedy Human Rights, Fondazione Leonardo 500, Fondazione Solidarietà Caritas Onlus-Firenze, Foto Locchi, La Compagnia di Santa Claus, Liberi di Educare, Firenze Bagno a Ripoli, Lions Club Firenze Filippo Neri, Lions Club Firenze Poggio Imperiale, Macold Tuscany, I Medici Friends of Florence, Michela Nicoli, Milano Autoclassica.
Misericordie.it, Federazione Regionale Misericordie della Toscana, Coordinamento Misericordie Area Fiorentina, Panathlon Club Firenze, Rotary Club Firenze, Rotary Club Firenze Brunelleschi, Rotary Firenze Sud, Rotary Club Firenze Granducato, Rotary Firenze Lorenzo il Magnifico, Società San Giovanni Battista Firenze, Associazione Toscana USA, 055 Taxi Firenze 4390, Toscandia, Zhong Art International.
Associazione Maria Cristina Ogier, Caglia & Partners, Enegan Energy Partner, General Beverage, Human Company, Soleo, Il Bar del Forte, Makre, Mikron, Nuti Fire Extinguishers, Demetra Capital, Poggiali & Parducci, Turini, Edizione Polistampa, Stefano Ricci, Abf, AiCS , AIDDA, Auser, Azienda USL Toscana Centro, Casa Trattoria, Generali, Confcommercio, Confindustria Firenze, Corpo Consolare Firenze, Fori Luogo, Fts, Lions International, Media Firenze, Paolo Penko, Pieve di Campoli, Real Media, Red Garter, Rotary Club Fiesole, Teatro Studio Krypton, Imprenditori Dirigenti Unione Cristiana and Unicoop Firenze.
DO YOU WANT TO KNOW MORE ABOUT THE AMBULANCE FITTING SECTOR? VISIT THE MARIANI FRATELLI STAND AT EMERGENCY EXPO

Ukrainian Minors, Read Also:
Emergency Live Even More…Live: Download The New Free App Of Your Newspaper For IOS And Android
War In Ukraine, Unicef: Support For Children And Families
Non-Medical Emergency Relief: Unicef's Multidisciplinary Mobile Teams Have Already Helped More Than 80,000 Ukrainians
UNICEF Transfers Ambulances To Eight Regions In Ukraine: 5 Are In Children's Hospitals In Lviv
Ukraine, A Sharp Increase In Preterm Deliveries With War: Incubators For Premature Babies
Ambulance Outfitting And Covid-19, Taking Stock Of The Situation In Italy
Ambulance Fitters: Did You Visit The Mariani Fratelli Stand At Emergency Expo?
Reas 2021, Mariani Fratelli Presents The New Advanced Rescue Ambulance: Visit The Booth
MSF, "Together We Can Do So Much More": Partnering With Local Organisations In Kharkiv And Throughout Ukraine
UNDP, With Support From Canada, Donated 8 Ambulances To 4 Regional Centres In Ukraine
International Council Of Nurses (ICN) And Romanian Order Of Nurses Support Ukrainian Refugees
Ukraine, UNICEF Today Donated Four Tonnes Of Essential Supplies For Refugees With Children
Source: