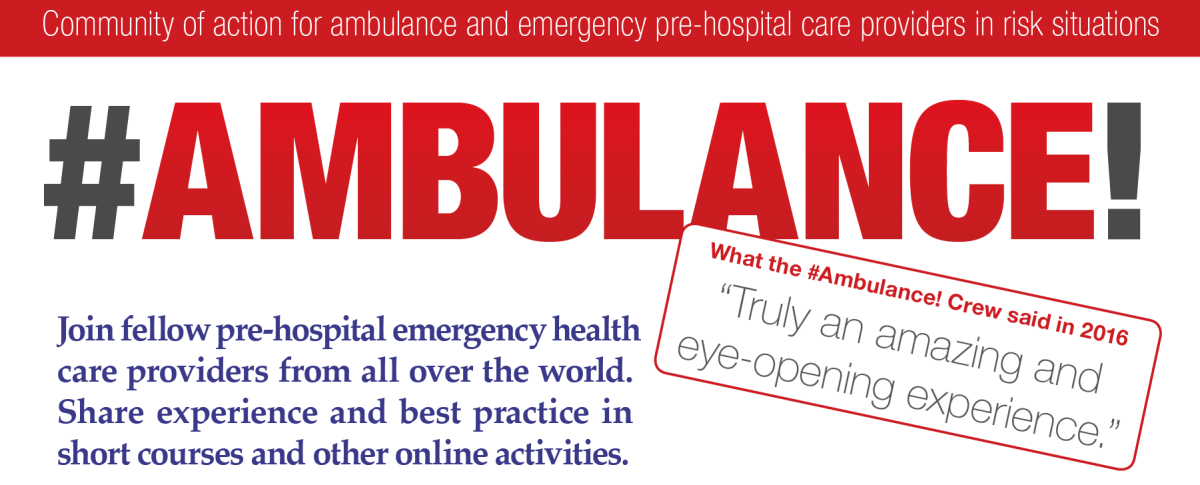 #Ambulance! – an occasion to share experience and gain knowledge and awareness
What is #Ambulance! about?
Join fellow pre-hospital emergency health care providers from all over the  world.
Share experience and best practice in short courses and other online activities.
We have different job roles, practices, and challenges. But facing violence is one thing almost everyone has in common, even in peaceful settings.
Despite the potentially serious impact of violence, shared experience, resources and training available to us may be very limited.
In October 2016, over 700 pre-hospital emergency workers from 70 countries signed up for the initiative. In four weeks, we documented 72 front-line incidents of violence and similar risks, and we came up with practical approaches to dealing with such risks.
In 2017, we are inviting you to join this global Community of Action to improve our preparedness and abilities to prevent, anticipate, and respond to violence and security risk.
Together, we can make access to health care and its provision safer and better protected.
Who this initiative is for
If you work or have worked in an ambulance or other emergency health crew, in peace or war, we urge you to join.
Non-medical staff and volunteers working to ensure the safety and security of emergency health workers are also encouraged to join.
Where to learn more
Learn more by joining the Health Care in Danger community online (coming soon).
What is happening when
In 2017, there are three ways that you can get involved.
Starting on 5 June 2017, you are invited to join the Summer course. We will identify and share the good practices that help us prevent and face violence, even in peaceful settings.
Then, launching on 4 September 2017, participants in the Fall course will document new case studies of incidents of violence and security risk.
Also, we will be hosting webinars (dates to be announced) to support one of us facing a security dilemma or challenge, in order that all of us may learn from it.
You may join one or both courses. They are complementary.
These initiatives are free of charge and there is no cost to be paid by participants.
#Ambulance! Summer 2017
#Ambulance! Fall 2017
#Ambulance! Webinars
Focus
Share good practice to improve security
Analyze incidents of violence and risk.
Problem-solving to support a colleague facing a security or violence challenge
Where to apply
Click here to apply
Click here to apply
Click here to apply
Apply by
4 June 2017
3 September 2017
Register any time to receive your invitation.Dates and topics to be announced to all registered participants).

Three events (English, Arabic, Spanish) for each date.

Pre-course briefing session
29 May 2017
28 August
Course start date
5 June 2017
4 September
Course end date
7 July 2017
6 October
Commencement event
12 July 2017
11 October
Weekly discussion group (30 minutes)
7, 14, 21, 28 June, 5 July
6, 13, 20, 27 September; 4 October
What #Ambulance! participants said in 2016
"Truly an amazing and eye-opening experience."
"The course primarily created a deeper sense of risk awareness. Whereas my main thought process before each call was essentially medical revision of the task at hand, I now also think of the possible risks and best practices in each situation."
"I've identified many similar challenges faced by colleagues who work in completely different contexts."
"I'm learning that as responders, we are very important and we all have challenges in our communities."
"When we combine our experience with others' experience, we gain a lot."
"I am learning that I am not alone in this struggle to save lives – and that my security issues are not as bad as those face by others."
A course that helped them connect with colleagues but also with their communities
"I understood that we need to be connected with the population that we are helping, respecting diversity and listening to their feedback."
"I gained new colleagues from around the world and we exchanged our experiences."
What you will gain
You will take part in a global effort to protect ambulance and other emergency health workers.
You will widen your grasp of pre-hospital emergency care, beyond your local context.
You will share problems and, with peers from all over the world, learn how to solve them.
You will learn to improve your risk awareness in your own country and setting.
You will work with your peers to create a course project that you can use in your work.
Read more here