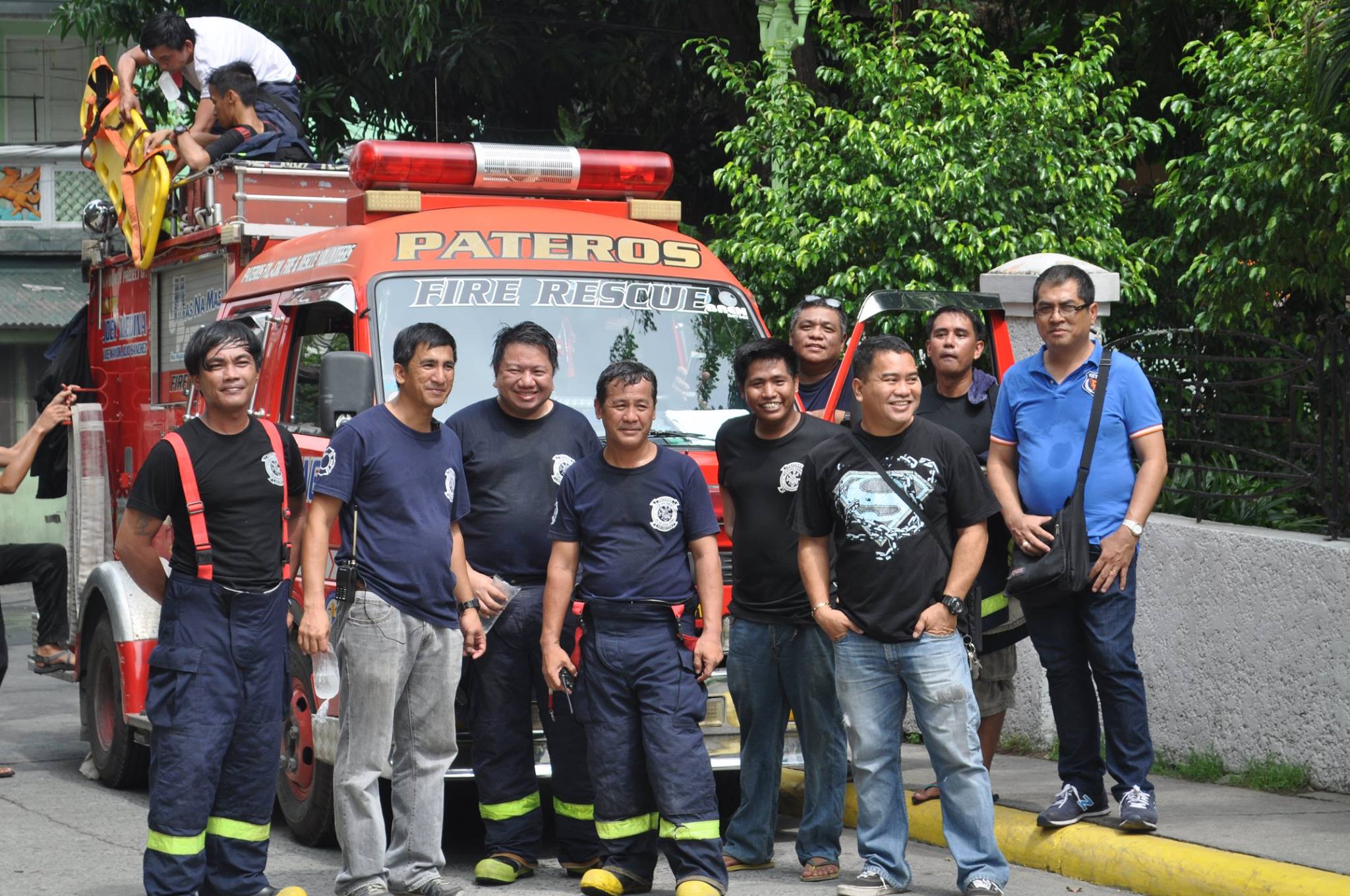 Pateros Volunteer Fire & Rescue Brigade from Philippines – 10th Year Anniversary
The Pateros Volunteer Fire & Rescue Brigade or "Pateros Volunteers" was created in 2006 and was founded by its four original members. These four came from other volunteer organizations but decided to establish one in Pateros since there wasn't any existing volunteer group there and it so happens that three of them can trace their ancestry back to Pateros.
As a volunteer organization they have no outside funding or government support so its members had to set aside a small amount from their own personal earnings just to buy equipment and supplies in order to operate. At times the original members had to take a taxi cab in order to go to an ongoing fire alarm bringing with them their protective gear and hoses.
In 2008, the group's existence slowly became known to the local community and recruitment of new members started.
Still with the bare minimum and most basic of equipment they continued to train and practice in order to keep their skills and knowledge updated with the latest standards. Recognizing the group's sincerity and commitment to render public service a joint partnership with the town's municipal officials the Pateros Volunteers were given custody of a small fire truck to be later designated, "Pateros Pumper". At this time the Pateros Volunteers membership has grown to twelve active members.
With more members joining their ranks the group continued to look for ways and means to acquire the
needed equipment to put on the fire truck as well as to outfit the members with the acceptable amount of protective equipment such as helmets and bunker gear to use when they respond to a fire alarm. At the same time the group also introduced their capability to provide first aid by teaming up with the local chapter of the Philippine Red Cross. They did this by jointly setting up a First Aid station at one of the local community memorial parks during the annual observation of All Saints Day and All Souls Day when thousands of people make the annual pilgrimage to visit their relatives and loved ones who have been laid to rest at these parks. This has then become an annual tradition and partnership between the group and the Philippine Red Cross.
The group further expounded on their Emergency Medical capabilities by serving as event medics for sporting events, concerts, town celebrations, feast days, or when invited by companies or other volunteer groups to augment their own manpower complement for similar events.  Again the group supports its own needs through each member's contribution from his own pocket in buying the necessary medical supplies and equipment or through donations from the local community and even from some kind hearted individuals from abroad. The group even improvised some of their own equipment such as spine boards, splints, and even triangular bandages made from surplus textiles from local clothing manufacturer.
Despite these challenges the group continues to adhere to the standard of safety and
competence by continuously attending trainings for firefighting, first aid, and even rope rescue techniques, disaster preparedness and urban search and rescue. The most senior officers also conduct trainings for the local community and have even been invited by private corporations and other volunteer units to stand as guest instructors, resource persons, or subject matter experts for their chosen specializations.
As the years progressed the name of the group has become more well-known not only in the local community but to the Volunteer Community at large as the group responded to fire alarms and requests for assistance outside of the boundaries of Pateros. The group also undertook operations during times of natural disasters most notably in the annual arrival of the Typhoon season that brings about property damage due to flooding and destruction of infrastructure and disruption of local utilities.
This November the Pateros Volunteers have achieved a major milestone and has reached its tenth year foundation anniversary. The group is now composed of twenty active members of which eight are officers, four are certified emergency medical responders, three are certified rope rescue technicians, and all regular members are trained and certified in Basic First Aid
Through the group's collective efforts, they were also able to acquire a second, much larger fire truck to call their own and was designated as "Pateros Engine". It was officially unveiled and introduced to the public during the celebration of their anniversary which also included the awarding of individual and group citations and achievements as well as the "Badge Pinning Ceremony" or the installation of the Official Unit Badge to each member
Their next project would be to acquire an ambulance for them to use to respond to emergency medical calls. They will also continue to train and practice their skills and to acquire even more equipment. Most especially for earthquake preparedness as Metro Manila is anticipating the occurrence of a major earthquake based on the historical movement of the West Valley Fault which transects most of the major cities in Metro Manila
In the coming years the Pateros Volunteers will continue to fulfill its mandate of providing assistance to people in need in times of emergencies and disasters within the spirit of volunteerism upheld by its members. To view their current activities and to show your support for their projects please visit their Facebook page