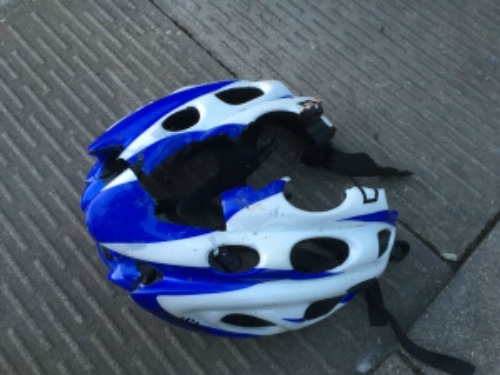 A cycling helmet may prove to be more than a gift for someone this Christmas, it could be a lifesaver
For anyone still undecided on what to buy as a last minute Christmas present, a cycling helmet may turn out to be much more than a gift, it could be a lifesaver.
That proved to be the case for a man in Bomere Heath this morning after he collided with a gate post after being thrown over the front of his handlebars whilst cycling with a group of friends.

West Midlands Ambulance Service was called to the incident near to The Hayes Farm Junction, at 11.15am this morning. Two ambulances were sent to the scene. A surgeon who lived nearby was also on hand and had already starting treating the patient when crews arrived.
A West Midlands Ambulance Service Spokesman said: "On arrival, crews discovered a man, believed to be in his 50s, who had collided head first with a stone gate post after being thrown over the handlebars of his bike. His helmet, which had split into two as a result of the impact, was nearby.
"Following assessment from ambulance staff he was treated for a cut to the head and a back injury, but medics on scene were left in no doubt that his decision to wear a helmet saved his life due to the severe nature of the impact.
"He was then transferred to Royal Shrewsbury Hospital for further assessment.
"Thankfully, the man was conscious and able to talk to ambulance staff about the incident. Reflecting on the damage caused to his helmet, he said he was going to use it to demonstrate to other cyclists in his group the importance of wearing one every time they get on a bike."