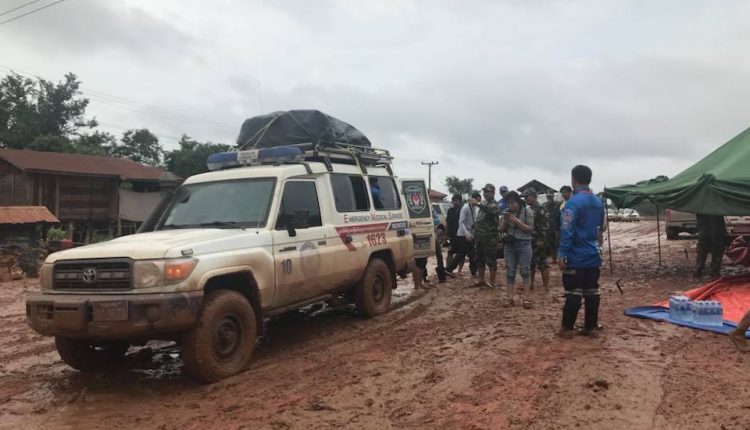 Dam collapses in Laos: Vientiane Rescue organization at work
ATTAPEU (LAOS) – On Monday 23 July the Xepian-Xe Nam Noy hydropower dam collapsed and caused flash flooding in six villages of Sanamxay district (Attapeu province, south-east part of Laos)
UPDATES 27 July 2018
Perret: " At the moment we have a lot of volunteers and a lot of equipment, but rescue all the people will take us a lot of time because we are the only one here. We are waiting for Japanese and Korean teams, but we spend like a whole day searching for survivors and we checked around 50 km around the dam and we found three bodies. The more we will approach to the dam, more bodies we are going to find. So, we will need some more equipment for sure. We need the help of other professionals who can work with army and government to hold the situation."
_______________________________________________________
The constuction of this dam was still in progress and it was built up by Xe Pian-Xe Namnoy Power Company (PNPC), the 410 MW Xe Pian-Xe Namnoy hydroelectric power project is located in the southern region of the Lao PDR and is estimated to have an annual energy generation of approximately 1,860 GWh, according to www.power-technology.com (KPL Lao News Agency)
More than 10,000 people have been affected by this catastrophic collapse, of which 6,600 are homeless and hundreds are missing.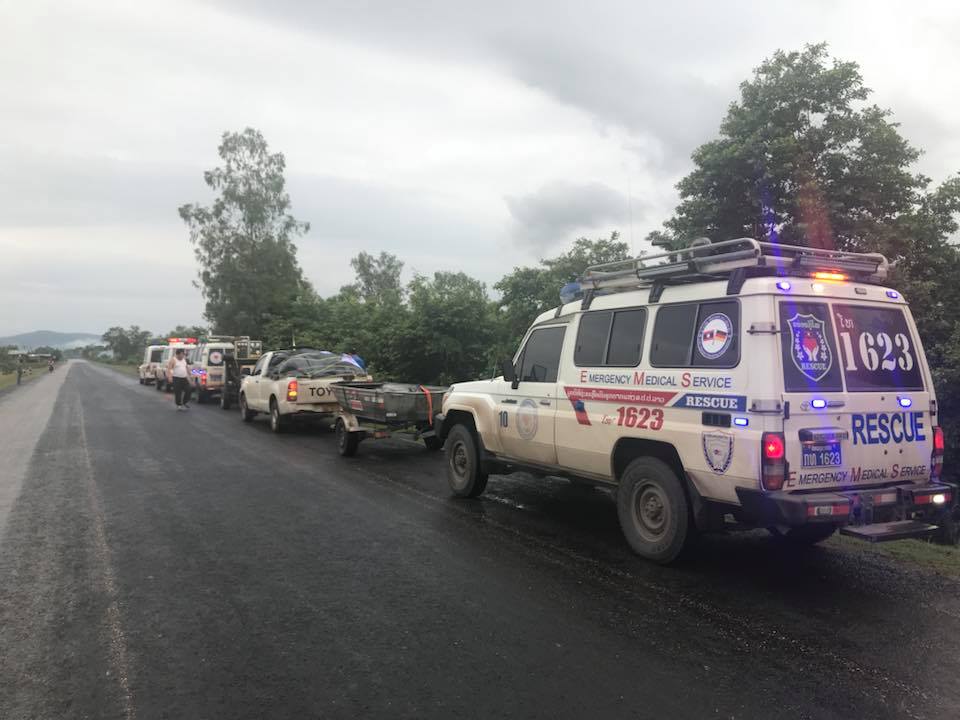 More than 1,300 houses found damaged. Rescuers are still at work and among them, the Vientiane Rescue is on site to help as much as it can people in need.
We contacted the president of the rescue organization, Sébastien Perret declared that they moved right away when they came to know of what happened. They drove for 18 hours for reaching Attapeu province. Their crew mission included 2 cruisers, 3 ambulances, 1 vehicle for diving and rescue equipment and 2 boats.
As the KPL Lao News Agency reports, the Attapeu Provincial Administration Office has announced needed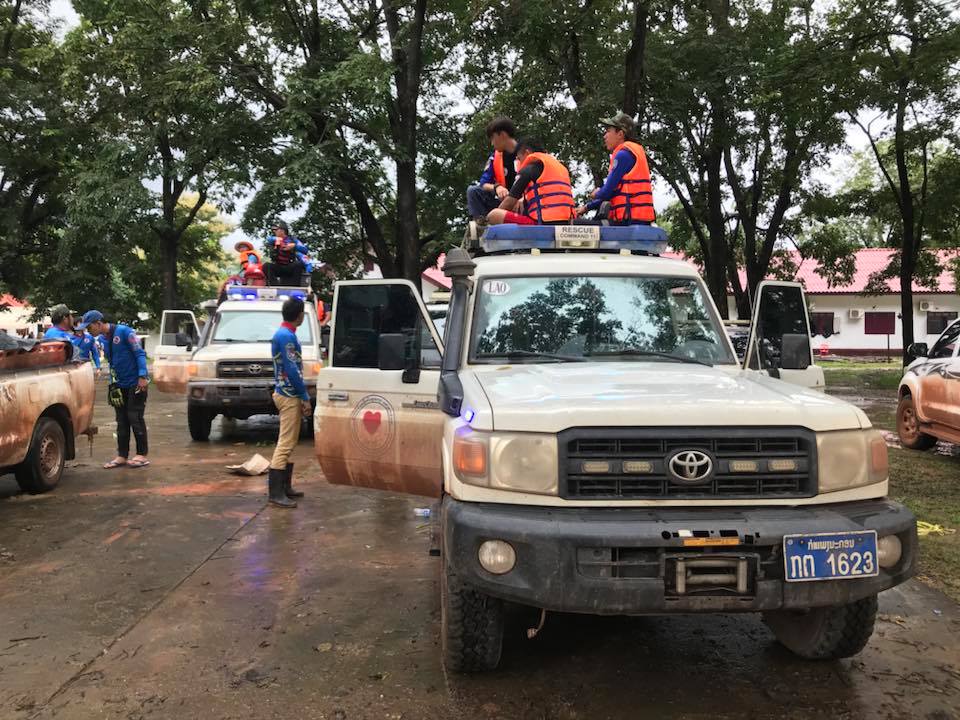 relief aid for flood victims in Sanamxay district following the collapse of the under construction Xepian-Xe Nam Noy hydropower dam, more specifically its saddle dam. The Prime Minister Thongloun Sisoulith has suspended the planned monthly meeting of the government for August and led his cabinet members and other senior officials to Sanamxay to monitor rescue and relief efforts being made for flood victims.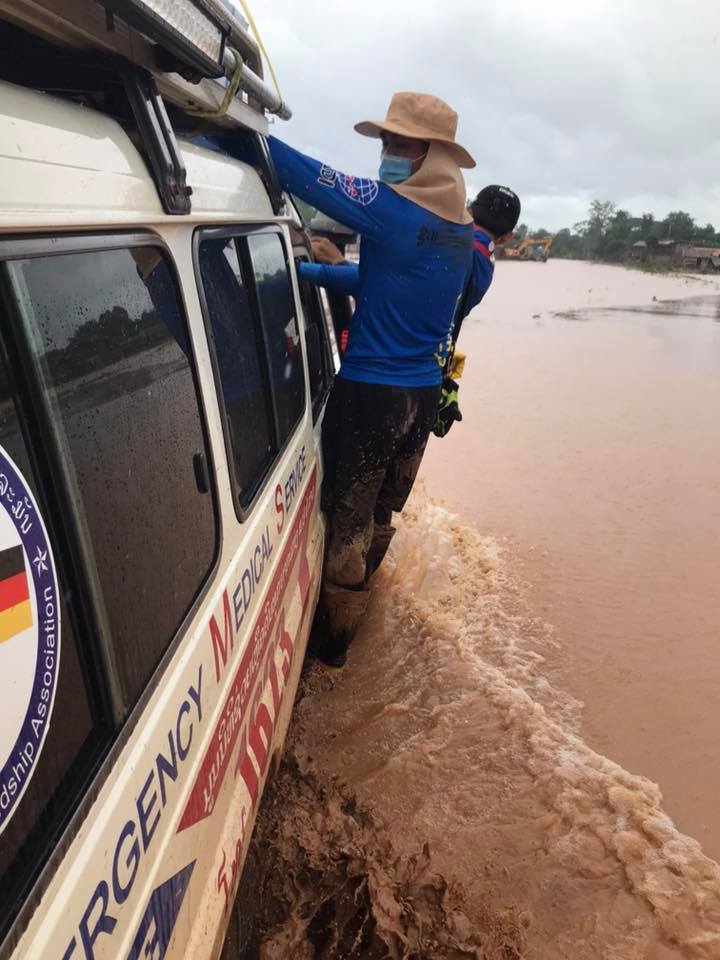 Survivors climbed onto rooftops, while others paddled through the flooded areas on makeshift rafts and boats to put them selves in safe.
The exact number of how many people have been affected remains unclear. 
Theorically in these days the water is about to decrease and people are now trying to return back to their villages. 
Sébastien Perret affirmed that they are working very hard to make it work but it is not so easy to save so many people in need with few resources. Help is the only thing required in this case.