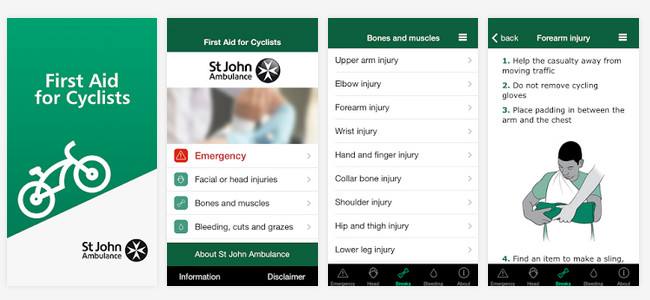 First Aid For Cyclist: St John Ambulance launches a new app
Who's most likely to come to your aid if you fall off your bike? Other cyclists, according to St John Ambulance, which has just launched a first aid app aimed directly at cyclists and is encouraging cyclists to look out for each other by learning first aid.
St John Ambulance spoke to London road users and found that cyclists are nine times more likely than other road users to come to the aid of a cyclist, and respond at least three times quicker than motorists.
But if you have no first aid training, or your last course was a while ago and you're a bit rusty, what do you do? The app gives you general emergency advice — handy as I for one can never remember what DRABC stands for — and specific advice for dealing with a range of common cycling injuries. And best of all, it's free. ON GOOGLE PLAY AND APP STORE
The Android and iOS app was developed using the expertise of the charity's medically trained staff and Cycle Response Unit. To run alongside this, St John Ambulance will also be organising cycle-specific first aid training across the country for cyclists.
The new app comes after the Department for Transport released figures indicating an overall rise in the number of cycling injuries. While the numbers killed and seriously injured were down, there were more minor injuries, and that's where first aid can make a big difference.
Ashley Sweetland, National Cycle Response Unit Lead at St John Ambulance said: "Our app is specifically aimed at equipping the increasing numbers of cyclists across the country with first aid skills and should be as essential as a puncture repair kit.
"We know many cyclists have accidents on the road each year, sometimes resulting in injuries where first aid could have made a difference. As the nation's leading first aid charity, we want to ensure that the UK's cycling community is equipped with first aid knowledge, so that more cyclists can help where circumstances might need them."
According to St John Ambulance, the most common injuries sustained by cyclists are to the limbs and head. Chest and abdomen injuries are less common but are often serious.

Limb injuries are common in cyclist casualties, with over 40% suffering arm injuries and around 25% suffering leg injuries.
Hospital data shows that over 40% of cyclists, and 45% of child cyclists, suffer head injuries ranging from minor concussion and cuts to fatal skull fractures.
Chest and abdomen injuries account for just 5% of those seen by hospitals, but are often serious. When they do occur they are often accompanied by head injuries.
The app can be downloaded from Google Play and from Apple's App Store.
St John Ambulance is partnering with on-site bicycle maintenance provider have bike for a cycling clinic at London's City Hall on July 30 offering first aid training.
This writer has been very glad of his first aid training a couple of times. I can't claim to have saved any lives, but I have managed to make injured riders more comfortable and stop them from bleeding all over everything. I'm quite glad I never needed the compression/immobilisation bandaging I used to carry in Australia in case of snakebite, though.