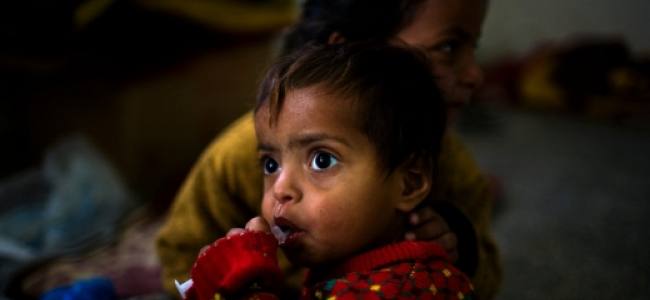 Gaza face a dramatic maternal health situation
UNITED NATIONS, New York – The evacuation warning came at 11 on the morning of Wednesday, 23 July, as the bombardment outside intensified. Huddled in their home in the El Shijaia neighbourhood of Gaza, Iman Fora and her family received word that a bus was arriving to transport residents to a shelter. But the announcement brought little relief to their family; Ms. Fora, 21, was already in active labour.
With little choice, Ms. Fora and her family fled to Gaza's central bus station, walking over a kilometre to get there. Once there, a bus took them to a United Nations school that was functioning as a shelter.
By then, Ms. Fora was in tremendous pain. Her husband retrieved an ambulance to take her to a hospital. She fell unconscious soon after arriving at the facility. The doctors wheeled her into the surgical department, where they delivered a little girl, Miar.
Ms. Fora was lucky to have received the emergency care she did. Today – two days after the start of a ceasefire – health systems are on the verge of collapse.
At least 11 hospitals sustained damage in the hostilities; four of them have closed. Clinics and ambulances have also been damaged, limiting residents' access to essential care. Hospitals are coping with acute staff shortages.
Maternal health situation dire
The reproductive and maternal health situation in Gaza remains desperate. UNFPA estimates that nearly 46,000 women in Gaza are pregnant, with 10,000 of them displaced. The Ministry of Health reports that some 160 deliveries take place each day. Women are giving birth under increasingly difficult conditions. Maternity clinics have been closed, as are a number of private maternity centres. Other facilities are overstrained. In some, maternity beds are being used to serve the wounded.
Inas Sokar, 23, described the scene at the hospital where she delivered during the assault: "The garden of the hospital was full of families living in tents from El Shijaia and Beit Hanon, families who had fled from their homes… It was miserable. The families were sleeping on the floor without mattresses or even bed covers."

Shifa Hospital, Gaza's largest, has reported a 15 to 20 per cent increase in premature births, which are linked to the stress of the bombardments. And home deliveries are reportedly on the rise, increasing the risks for women and their babies.
UNFPA is procuring critically needed medicines and supplies for these health facilities and maternity centres, including the hospitals where Ms. Sokar and Ms. Fora delivered.
Needs of displaced
There is also urgent need for blankets, hygiene kits and other supplies for displaced people residing in shelters.
After her delivery, Ms. Fora and her baby were taken to the shelter, where they were squeezed together with over 30 other families in a single classroom. Days later, Ms. Fora was brought back to the hospital, where doctors determined her surgical wounds were infected. She was treated and returned to the shelter.
"How am I going to feed my daughter among all these people in the classroom? How am I going to enter a bathroom?" Ms. Fora asked. "Since I returned to the school I am sitting here with my husband and thirteen other members of his family."
UNFPA is preparing to assist the health system to recover its service-delivery capacity, and is supporting mobile health teams, which are providing psychosocial support and prenatal services at evacuation shelters.
UNFPA is also providing hygiene and dignity kits to displaced women and their families, and is working with youth groups, including the Y-Peer network, to provide a broad range of community support activities.
With reporting from the Culture and Free Though Association of Gaza, a UNFPA partner.