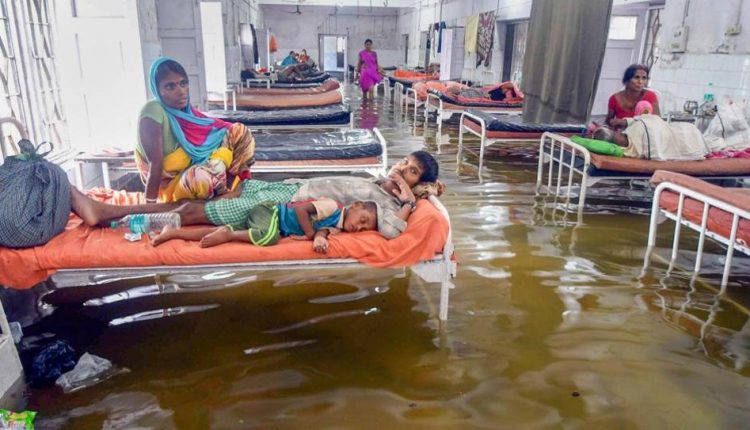 INDIA: the Nalanda hospital flooded because of heavy rains. Fishes and insects among the beds, but the real worry is for snakes.
PATNA – Two days of heavy rains is a normal matter for India, but in Patna, lives of patients at Nalanda Medical College Hospital (NMCH) are at risk after rain water gushed into the ICU and general wards of the hospital
On Saturday evening the ICU saw a knee deep water that invaded the rooms with little fishes and insects takes by the rainwater. The nurses and para medical staff at the hospital had to wade through the water to attend to patients many of whom left the hospital fearing infection due to the unhygienic conditions.

This situation is not such a piece of news, because in this period of rains, floodings are a daily matter. Anand Prasad Singh, superintendent of NMCH said that they are trying to pump the water out of the buildings.
ICU patients were shifted to another surgical ICU unit later in the day after many patients and their attendants complained of foul smell emanating from the rain water in the premises. The real problem is that not also fishes and insects there could be some snake, too. So, the problem is not only hygenic, but there is a concrete danger.
There is the possibility for the patients to be moved to the Patna Medical College Hospital with an ambulance, if they want, there is no other options, affirmed the superintendent of NMCH.