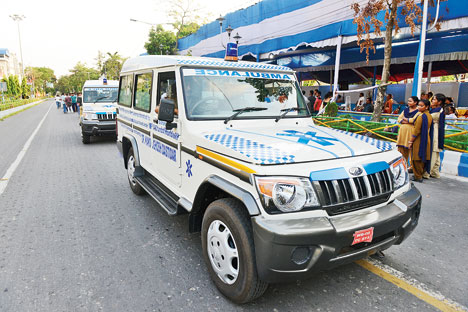 INDIA - Two ambulances now will support the fleet of Bidhannagar Police Commissionerate
CALCUTTA – Two ambulances have been added to Bidhannagar Police Commissionerate fleet
The vehicles could be bought thanks to the funds from MP Kakoli Ghosh Dastidar, who had come over for the inauguration on May 27, at the headquarters of the commissionerate.
On this occasion, there were police commissioner Gyanwant Singh, MLA Sujit Bose, Bidhannagar Municipal Corporation chairperson Krishna Chakraborty, deputy mayor Tapas Chatterjee and mayoral council member Rajesh Chirimar.
Ganwant Singh, the police commissioner said:
"While we keep in touch with the elderly through cultural and recreational activities, their safety and health are of prime importance. The other day a lady I know personally needed an ambulance but it took an hour to arrange one. So this ambulance was badly needed."
While the MP Kakoli Ghosh Dastidar declared: "As a doctor I can say that the first hour is the golden hour, be it after an accident or a heart attack. It is also linked to the Bipad Sathi app (run by the commissionerate) and users can summon the vehicle through it. They can also deal 9748898933 or 23212063."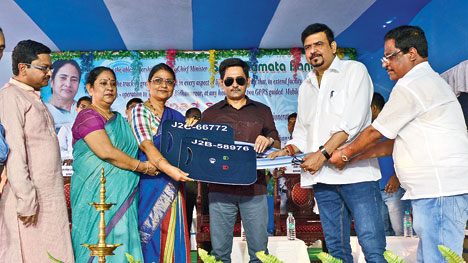 The ambulances are air-conditioned, equipped with oxygen supply, first-aid kit and are GPS-enabled to help navigate to an address easily.
The MIC Rajesh Chrimar: "The vehicle will be used only for emergencies and will not be pre-booked. Maintenance and running costs of will be borne by the commissionerate".