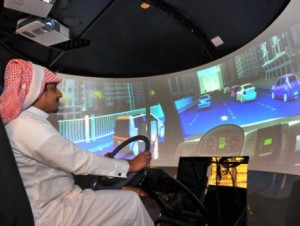 Innovation Exhibition in Abu Dhabi focuses on Interactive Ambulance Simulator for EMT training
ABU DHABI – At the Ministry of Interior Innovation Exhibition held at Yas Mall in Abu Dhabi, an interactive ambulance simulator used for training emergency medical technicians (EMTs) stands out.
This four-dimensional model simulator is designed to provide paramedical trainees with a virtual reality platform on driving an ambulance safely, while responding to medical and traffic accident emergencies.
The simulator has two different siren tones, the louder siren used on longer roads and highways and the lower siren used in congested areas.

As Gulf News reports, Richard Quinlan, educational manager at National Ambulance said:

"The EMTs are currently trained on the simulator for about two weeks, prior to their field work. This is a safer assessment tool for them to get familiar with driving an ambulance in real time, rather than risking other people's lives on the roads while training on driving an [real] ambulance. It's important that EMTs have the necessary skill to drive an ambulance safely when responding to emergency calls."
The selection process of potential candidates is based on a set of trainings and qualifications. Quinlan explains that:
"Our new batch of 400 to 600 EMTs include men and women of all ages, with a nursing background. After being trained on the simulator, EMTs will work on a 12-hour shift per day, four days in a row and then take four days off. However, there's a one-month probation period, in which new EMT trainees will not be permitted to deal with emergency calls; their accompanying partners are more experienced and would intervene in emergency cases."
Continue on: Gulf News