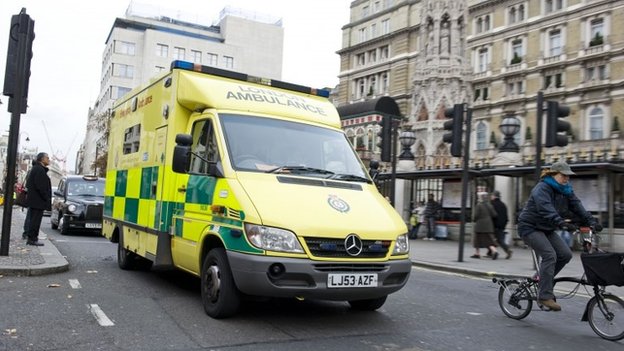 London Ambulance Service asks for help
Paramedic teams across the country are being asked to help London Ambulance Service (LAS) because it is struggling to cope with increased demand.
Last week was LAS's busiest ever with 11,008 call outs for the most seriously ill and injured.
Previously, help has only been asked for in circumstances such as the Olympics or 2005 bombings, said BBC London's Karl Mercer.
LAS said no help had yet been confirmed and plans would be reviewed.
The service has more than 400 vacancies and has had problems recruiting people.
Demand is up 15% on the same time last year.
It is also missing response targets. It needs to get to category A calls, the most serious, in eight minutes but is getting to 80% of them in 11 minutes.
LAS said it contacted other ambulance services on Thursday to ask for what they call mutual aid or pre-planned aid, from other parts of England.
A senior NHS source told the BBC emergency powers could be implemented by the Department of Health which would force other regions to help out if they failed to respond to initial requests.

Offered overtime
LAS said asking for mutual aid was "not unusual" and during the Commonwealth Games, London Ambulance Service helped the Scottish Ambulance Service.
Director of Operations Jason Killens said: "Like other parts of the NHS, we have seen significant increases in demand over the last few weeks as we enter the winter period.
"Between 8 December and 14 December we attended 11,008 Category A incidents."
He said staff were being offered overtime and members of the public with less serious injuries and illnesses were being urged to call NHS 111.
He added the call for help was part of the service's "forward planning" and nothing had been confirmed at this stage.