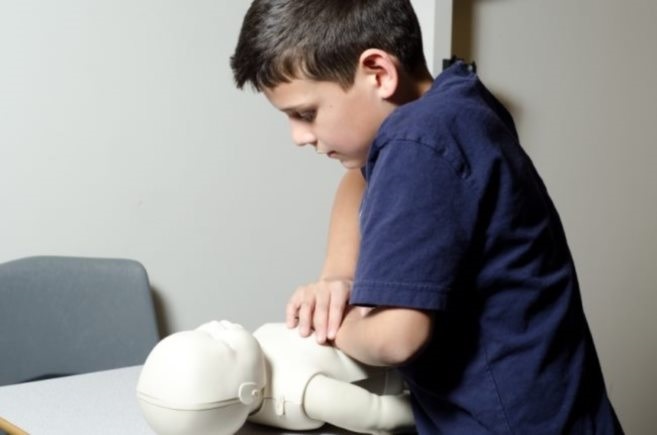 ERC 2018 - Nefeli Saves Lives in Greece
Nefeli is only 14 years old and about a month ago, she and her classmates participated in our National School Education Program that aims to train School Students and their Educators in Cardiopulmonary Resuscitation-KIDS SAVE LIVES [GREECE].
Source: ERC/June 2018
A few days ago, Nefeli and her sister Danae were playing in the swimming pool. Suddenly Nefeli saw her sister drowning and within seconds she decided to act and take matters into her own hands
Immediately after she recognized that her sister was not breathing, she initiated CPR procedures, much to the surprise of the doctor who arrived at the site along with the crew of the ambulance!
The incident took place in Afidnes, Attica, Greece only a month after a team of 10 trainers and the Scientific Program Manager, Mr. Anastasis Stefanakis visited the Anagennisi Schools [Antonopoulou School].
Nefeli was trained by the volunteers of our program which is approved by the Ministry of Education, Research and Religious Affairs for schools all over the country, and it is organized and implemented exclusively by our homeland humanitarian organization KIDS SAVE LIVES and the Hellenic Society for Emergency Pre-Hospital Care [scientific program manager Anastasios Stefanakis, scientific responsible Varvara Fyntanidou]. In this year alone, we managed to train over 12,000 students from all over the country, just like Nefeli.
Incidents like this make us proud of our hard work!!!

Little Danae, Nefeli's sister is the seventh victim of a cardiac arrest that has returned to life in Greece during the last two years, resuscitated by lay citizens who participated in our educational program. It is the first time for the Greek community that we see these numbers rising.
10-year-old Danae was transferred to the Children's Hospital of Attica and today she is expected to leave the Intensive Care Unit, since she is no longer at risk.
Nefeli becomes one of the few children in the world to bring a victim of cardiac arrest to life. Her example is very promising and gives us strength to continue the effort for preparing the young rescuers of tomorrow.
This incident occurred only 2 days after the 6th victim of a cardiac arrest [Saturday 19th of May] was brought back to life by our trainer. This gave our team of about 340 active volunteer trainers many reasons to celebrate!
KIDS SAVE LIVES– The name of our Humanitarian organization is being justified every day!
Along with the development of the KIDS SAVE LIVES program in the Greek schools, Kids save lives organization and the Hellenic Society for Pre-Hospital Care…[keep on reading HERE]