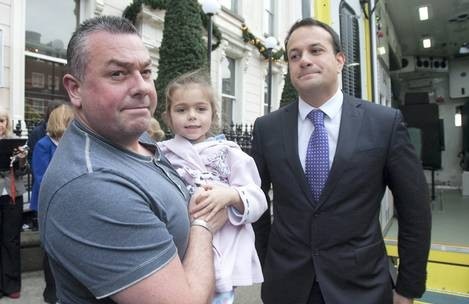 New transport service for critically-ill children
Critically-ill children in hospitals around the country who need specialist paediatric care will benefit from two new ambulances which can bring them to Dublin for specialist treatment if needed.
The service, officially launched by Health Minister Leo Varadkar yesterday, will allow the transfer of these children to intensive care in Our Lady's Hospital Crumlin or Temple Street Hospital in Dublin.
The ambulances, costing nearly €200,000 each, are specially equipped to cater for the needs of critically-ill children and are staffed by medics who have undergone special training.
They have been operational since October and will also transfer newborns.
It is part of a pilot programme, which will be evaluated in April.
Dr Dermot Doherty, a paediatric intensivist in Temple Street, said these type of emergencies can happen every other day. Some 500 children are deemed to be critically ill in hospitals around the country every year.
The service will operate from 10am to 8pm, but he hoped it will be available round the clock by this time next year.
"We believe we can cater for around 60pc of children between 10am and 8pm. This kind of transfer can have significant benefits for a child.

"One of the first involved a child transferred from Galway who was being cared for by two adult intensive care nurses there.
"The care which started in Galway was continued in the ambulance. The child was put on dialysis within 20 minutes of arriving in Temple Street," he said.
It comes as Health Service Executive officials appear before the Oireachtas Health Committee today to be quizzed about a highly-critical report on the ambulance service from the Health Information and Quality Authority (HIQA).
The officials will also be questioned on alleged abuse of residents at the Aras Attracta home for the intellectually disabled.
Asked if HIQA should be given more powers, Mr Varadkar said the process is clearer for people who want to make a complaint about a HSE-run home than it is for a privately-run facility.
Where there are serious criminal allegations, the complaints should be made to the gardai, he said.
He added that the dossier of 700 complaints given by Fine Gael TD Fergus O'Dowd to gardai were still allegations.