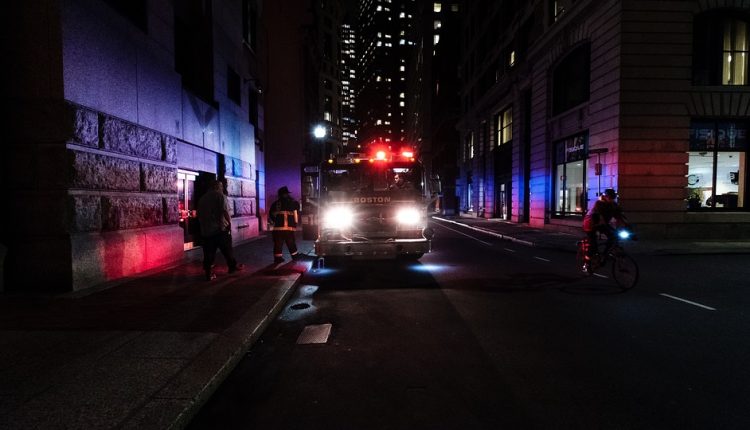 TOP 5 emergency and Healthcare job opportunities worldwide
The 5 most interesting emergency and healthcare job positions of this month on Emergency Live. Our selection can help you to reach the life you want as an emergency operator.
Top 5 emergency and healthcare job positions. EMS professionals, are you looking for a new job? Every day EMS and rescue professional can find online new ideas for getting a better life, improving their jobs. But if you need some suggestions for keeping your skills in service for another kind of job, involved in the EMS or in the industrial business around the health sector, here we are!
Emergency Live will show you every week some of the most attractive position in Europe about EMS and rescue activities. Are you dreaming of operating as a paramedic Zermatt? Would you like to see every day the beautiful heritages of Rome driving an ambulance? (No, really, you don't know what it is driving an ambulance in Rome!)
Well, we show you the TOP 5 emergency and healthcare job positions you can reach directly with our links!
Emergency and healthcare job positions in Syria
POSITION: Emergency Coordinator
Terms of reference

Job Title: Emergency Coordinator – Syria

Code: SR-53-1077

Duty station: Damascus

Starting date: 01/09/2019

Contract duration: 6 months

Reporting to: Head of Emergency Unit

Supervision of: National Team

Dependents: no

General context of the project

INTERSOS has recently signed an MoU with SARC in the country and it is finally able to operate and set up its presence in Syria. INTERSOS has a consolidated presence in the region (Lebanon, Iraq and Jordan) whit a multi sector program focused on the humanitarian assistance of Syrian refugees located in urban and rural areas. Our interventions pay particular attention to the most vulnerable populations, offering educational, recreational and psychological support to women and children at risk of violence and abuse. INTERSOS is now setting up its presence in Syria mainly focusing in primary health and education sectors with the objective to strengthen related basic services to vulnerable people in different areas of the country.
Emergency and healthcare job positions: All over the world
POSITION: Emergency Response Team – Programme Specialist
Do you want to be our new Emergency Response Programme Specialist within an Emergency Response Team? Then you are the candidate we are looking for.

The candidate will be the main programmatic person within one of the Emergency Response Teams. An Emergency Response Team is comprised of a Team Leader, a Logistics and Distribution Specialist and an Emergency Response Program Specialist. The Emergency Response Programme Specialist, as a member of the Emergency Response Team will deploy undertake programmatic assessments, coordinate with relevant stakeholders, design and start implementation of emergency programmes.

The team is deployed to work within existing country operations or in start-up of new ones. The team can also be complimented by other staff dependent on needs, for instance additional core competency programmatic managers. The members of the team are on full-time contracts, deployed up to 75% of the year and undertaking short-term assignments, up to 6 months. This is in order to be available to support NRC in responding to emergencies worldwide. The deployments can include needs assessments, initiating coordination and to start up any required first response activities in the affected area until handed over to permanent staff.

Our ideal candidate is someone who has:

Demonstrated technical expertise in two or more of the following programmatic areas: Shelter and NFIs, Camp Management or UDOC approach, WASH, Education in Emergencies, Emergency Food Assistance and Livelihoods
3-5 years operational experience within emergency programme development and management
International NGO experience
Experience in strategic thinking and planning skills, be able to set priorities, prepare manageable work plans and to evaluate progress
Familiarity with rules and regulations of main humanitarian donors
Practical knowledge of protection mainstreaming, market-based delivery mechanisms, large scale distributions
Experience in fast-paced and insecure work environments, including remote duty stations
Experience from working in complex and volatile contexts
Fluency in English, both written and verbal. Working knowledge of French and/or Spanish an asset
Documented/proven results related to the position's responsibilities
A person who is highly flexible in tasks
Previous NRC experience is valued.

Female candidates are strongly encouraged to apply

We offer

Commencement: September 2019
Contract period: 24 months with possibility of extension
Salary/benefits: According to NRC's general conditions. Please note that tax fees may occur for some countries
The deployments are always non-family postings.
Emergency and healthcare job positions: SOUTH SUDAN
POSITION: SAFETY MANAGER
We are looking for a highly qualified, self-motivated Safety Manager who is able to work with diverse teams of both national and international staff as well as local government authorities, UN agencies, I/NGOs and other partners under difficult, stressful and sometimes insecure conditions.

Who are we?

The Danish Refugee Council (DRC) and Danish Demining Group (DDG) is a humanitarian, non-governmental, non-profit organization founded in 1956 that works in more than 30 countries through-out the world, including South Sudan. DRC/DDG fulfills its mandate by providing direct assistance to conflict-affected populations, including refugees, internally displaced people and host communities. Under its mandate, the organization focuses on emergency humanitarian response, rehabilitation, post-conflict recovery and humanitarian mine-action.

Danish Refugee Council (DRC) in conjunction with Danish Demining Group (DDG) has been operating in South Sudan since 2005 initially concentrating on providing safe and supportive conditions for refugees returning from neighboring countries after the Comprehensive Peace Agreement was signed.

In 2012 – 2013, DRC opened its operations in Upper Nile and Unity States to respond to the large influx of refugees coming from Blue Nile State and South Kordofan (Sudan). In addition to the refugee response and since 2014, DRC has been then actively engaged in responding to the humanitarian needs of IDPs affected by the internal conflict through the provision of integrated approaches.

With a total of 430 national staff, 50 expatriate staff and an annual budget of approximately USD 20 million, we are currently implementing multi-sectorial interventions through the provision of humanitarian services focused on CCCM, Protection, SGBV, FSL, Shelter and Infrastructure to both internally displaced persons and refugees across 5 field sites (Ajuong Thok, Bentiu, Maban, Malakal and Aburoc).

Purpose of the post

Based in the Malakal Protection of Civilians (PoC) site, the Safety Manager will contribute to increasing access for the humanitarian community to affected populations through security information sharing, coordination, and field assessments. The NGO Safety Adviser will provide analysis and advice to other international humanitarian organisations working in the area and will also represent the NGO community at wider coordination mechanisms.

With the aim of enabling safe and conflict sensitive programming across the humanitarian community through strong context and security assessments, and understanding of the local environment, the Safety Manager plays a critical role in meeting the needs of affected populations inside and outside of the PoC. The Safety Manager will also facilitate training courses for interagency staff including; personal safety training, guard training, driver training, communications training, and incident management training.

Though Malakal as the duty station, the Safety Manager will be expected to conduct regular assessments in other locations in Upper Nile state, and elsewhere if required.

In addition to the core focus of supporting in the international community in Malakal, the Safety Manager also serves as the DRC safety focal point in Malakal.

Responsibilities

Representation and coordination

Hold regular meetings with NGO safety and security focal points.
Represent NGOs as security focal point in the local Area Security Management Team (ASMT), produce meeting notes and brief NGO representatives.
Represent (within limits agreed by SMTs of different organisations) the NGO humanitarian community in communication with relevant national stakeholders (representatives of beneficiary community, local government, local armed actors) on safety and security matters.
Coordinate activities inside and outside the PoC related to safety with relevant parts of UNMISS (UNPOL, FPU, , UNDSS, etc. E.g. Define and organise convoy procedures with and without UNMISS force protection.
Develop and maintain key contact lists of personnel involved in PoC safety management. Act as a liaison between humanitarian partners and those safety and security agencies/personnel (including local actors).
Advocate for safety improvement in the Humanitarian Hub, if necessary.
Emergency and healthcare job positions: The UK and Northern Ireland
POSITION: Epidemiology Advisor
THE MSF-OCA EPIDEMIOLOGY AND PUBLIC HEALTH INTELLIGENCE TEAM

The Epidemiology and Public Health Intelligence (EPHI) team is a multidisciplinary cross-location team consisting of epidemiologists (in the London, Amsterdam and Berlin offices), public health specialists, and GIS and eHealth specialists. The team supports MSF's field and headquarter teams to make evidence-based, data-driven decisions on medical and public health activity. This is achieved through:

effective and relevant data gathering in surveillance systems, the Health Information System (HIS), health assessments and surveys, operational research, and outbreak investigation and response
supported analysis and interpretation of this data
an operating model based on strong field epidemiology, GIS and public health capacity with ready access to expert support
innovation in technology, data visualisation, survey methodology and operational research to enhance these activities.

JOB PURPOSE

MSF OCA epidemiologists support health surveillance and data management, provide rapid response to disease outbreaks and emergencies, and facilitate field-based surveys and support operational research. This epidemiological capacity is required to strengthen routine data collection and analysis and improve evidence-based decision-making, including operational research in our field projects.

While most of an MSF OCA epidemiologist's time is spent undertaking such field support, each member of the epidemiology team also holds specific areas of specialisation. The post holder will therefore have proven experience in field epidemiology, outbreak response and humanitarian support as well as expertise in a specific, relevant epidemiological topic (see list of priority topics below).

MAIN DUTIES AND RESPONSIBILITIES:

Support the MSF OCA Strategic Plan in terms of epidemiological activities, including support for MSF OCA operational research activities.
Implement the MSF OCA EPHI team's vision and strategy, in collaboration with other members of this team.
Improve data management and data-driven decision-making in MSF OCA.
Support evidence-based decision-making in MSF OCA by utilising peer-reviewed research and academic links to inform epidemiological work and colleagues through using external resources and novel technological tools; and disseminating field-relevant operational research.
Provide epidemiological expertise to support or directly implement cross-sectional surveys and community-based assessments in the field projects.
Provide epidemiological expertise to improve outbreak detection, investigation and response, through supporting the development and maintenance of surveillance systems (e.g. health facility based, community based, media and social media monitoring) and outbreak investigation, using relevant tools and technologies. This is performed through direct activities in the field, support of field-based epidemiologists or remote support.
Provide additional epidemiological capacity for emergencies in the field when required.
Provide expertise in a specific epidemiological topic which may include
Support the quality of epidemiological work within a portfolio of MSF's missions, providing timely and robust advice to the Health Adviser, Medical Coordinator and other Specialist Advisors through the Medical Support Team system.
Provide support and mentoring for field epidemiologists, including undertaking field visits to coach and advise field staff on epidemiological activities.
Give expert advice and technical support to colleagues in the OCA Public Health Department and to other MSF departments (e.g. Operations and Humanitarian Affairs) on inter-disciplinary issues regarding epidemiology to enhance the quality of programmes.
Develop and facilitate training in epidemiology for field staff through internal and intersectional courses and remote and field-based coaching and ensure knowledge transfer on new material.
Build and maintain networks within MSF and with relevant external institutions and specialists to form collaborations and exchange knowledge.
Represent MSF in the academic and public health community and to the media, companies and supporters, as appropriate.
Manage financial resources of the area of work; preparing regular financial forecasts for the activities and managing expenditure in accordance with MSF's financial policies and procedures.
Be an active member of the Manson Unit and MSF UK; supporting the MSF UK Strategic Plan and wider MSF UK activities.
Emergency and healthcare job positions: Iraq
POSITION: Health Manager
Implement quality health services and contribute to the achievement of proposal objectives within the planned timescale and budget. Build the capacity of the local health team by providing relevant supervision, training and technical support. Contribute to monitoring and reporting on project progress.

Project Overview

In response to the ongoing crisis in Iraq, Medair's programme is delivering emergency assistance to Iraqi IDPs, returnees and host communities in Duhok, Ninewa, Kirkuk and Salah-al-Din governorates. Projects include Primary Health Care, Shelter and NFI Assistance, Multi-Purpose Cash Assistance and WASH. As the Iraq programme operates within the Medair Middle East programme, collaboration, coordination and shared learning of projects is expected within the region.

Workplace& Conditions

Based in Mosul with all field / clinical work done in Telkaif, Telafar and Mosul districts, Ninewa governorate, Iraq. Take a look at Medair's work inIraq.

Starting Date / Initial Contract Details

As soon as possible. Full time, 12 months.

Key Activity Areas

Health Management

Responsible for the implementation, management and supervision of the assigned health projects in line with the activity plan of the project proposal and national and international guidelines. Conduct regular field trips to clinics and other health facilities for support and supervision.
Ensure that regular monitoring and evaluation assessments are conducted. Ensure the quality of the programme, with reports being made to the relevant field managers. Provide input into the integration of beneficiary participation in all aspects of the project.
Oversee the process of data collection to meet the requirements and deadlines set by Medair and external partners. Input into the development of the country strategy and donor proposals.

Staff Management

Manage the team including recruitment, day-to-day management, development and training, etc. The health team may include certified health staff (e.g. doctors, medical assistants, and nurses) and other health staff (e.g. pharmacy and laboratory assistants).
Facilitate regular team meetings with the team, reviewing individual objectives, ensuring team members are kept informed of issues relevant to their work and providing an opportunity for feedback.
Promote the health and security of the health team by ensuring the application of security guidelines, health and safety in the workplace and healthy living conditions and practices.

Financial Management

Work with the relevant field managers to plan, construct and manage health budgets.
Coordinate and oversee petty cash requirements of the assigned health team, ensuring all required paperwork is completed accurately and in a timely manner.

Communication & Coordination

Represent Medair at relevant meetings involving local authorities, UN agencies and other NGOs.
Develop and maintain appropriate, regular, transparent and supportive communication structures with the assigned health team, Medair in-country health managers and advisors and other relevant stakeholders (e.g. beneficiaries, local government officials, UN agencies and other NGOs).

Logistics

Manage the correct and timely ordering of all necessary medicines, supplies and equipment for the assigned health activities, ensuring minimum stocks are maintained and items are distributed correctly.

Quality Management

Promote and use the Medair intranet and other operating procedures.
Implement relevant policies and standards relating to health service delivery including Sphere and HAP standards, Ministry of Health and donor guidelines and other good practice.
Participate as requested in Medair internal workshops and distance learning sessions to keep up with changing trends, new guidelines and best practices.

Team Spiritual Life

Reflect the values of Medair with team members, local staff, beneficiaries, and external contacts.
Work, live, and pray together in our Christian faith-based team settings. Fully contribute to the rich spiritual life of your team, including team devotions, prayers, and words of encouragement.
Encouraged to join and contribute to Medair's international prayer network.

This job description covers the main tasks that are anticipated. Other tasks may be assigned as necessary.

Qualifications

Clinical degree (doctor, pharmacist, nurse, dentist).
Strong working knowledge of English and Arabic (spoken and written).

Experience / Competencies

3 years' post-qualification medical professional experience.
2 years' experience managing health projects and staff for an international organization.
Able to develop good relationships with colleagues, beneficiaries, other agencies and local authorities.
Ability and willingness to manage project implementation.
Able to set clear objectives for staff and to delegate.
Excellent organisational skills. Able to oversee multiple tasks and to prioritise clearly.
Capacity to work under pressure and manage personal stress levels.
Creative, open-minded, flexible, self-learner.