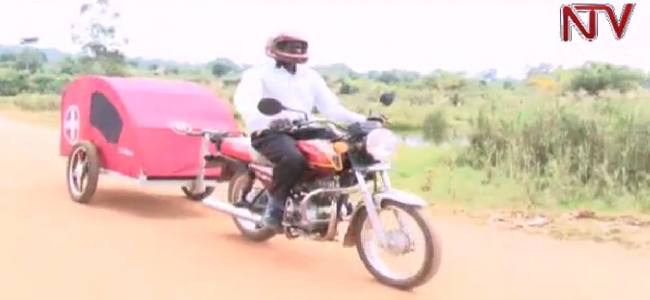 Uganda's poorest villages and the new moto-ambulance trailer
KAMPALA, UGANDA – Problems of access to health care services because of the poor road network in Uganda are not new. There is a section of Ugandans however, who have taken it upon themselves to find quick solutions to this. Sheila Nduhukire tells of the Boda Boda village ambulance now being used by residents of Katosi Landing Site in Mukono district. It's called Katosi's motorcycle ambulance and his prerogative is… the simplicity.

The promoter of this kind of new moto-ambulance is the Kyetume Health Care Proramme, a ONG foundation created in 1994. Since then, the organization has promoted initiatives focused on advancing the health, welfare and socioeconomic development of the community. The Kyetume CBHC team is comprised of doctors, nurses, counselors, program officers and administrative staff who are dedicated to serving their community. They operate on the integrated community-based health care model which aims to provide services targeted at ensuring the holistic welfare of individuals and communities.