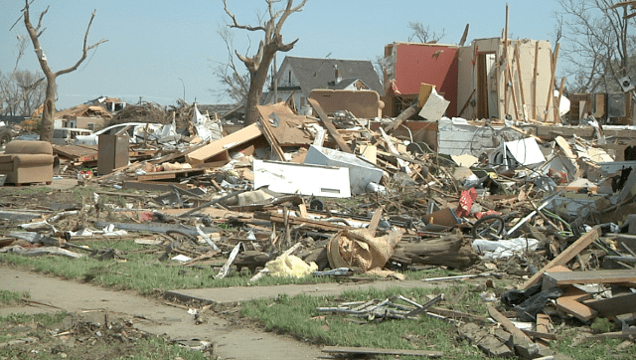 Disaster Activity in US in the last week
Severe Storms and Flooding, Wildfires & Other Disasters
On Wednesday, powerful storms will again target the Midwest and Plains with damaging winds, large hail and the possibility of tornadoes. Further west, a massive heat wave is expected to hit the Northwest this weekend. It's important that residents take time now to learn how to stay safe during these extreme conditions.
The Red Cross is still helping people affected by recent storms and ongoing flooding. More than 175 people spent Tuesday night in Red Cross shelters in Alabama, Illinois, Texas and Tennessee.
Severe Storms and Flooding
Thousands of Red Cross workers have been helping people in the Midwest since early May when the flooding began. With this new threat of additional severe weather, the Red Cross is still on the job, preparing to provide more help if needed.

Illinois: A series of storms caused flooding and tornado activity that affected several counties and displaced residents on Tuesday. The Red Cross opened three shelters in Northern Illinois to support people displaced by severe weather yesterday. Since Tuesday, more than 30 people have stayed overnight at the Red Cross shelter location in Coal City and a handful stayed at the Red Cross shelter located in Sublette. The Red Cross has additional shelter locations on standby if needed.
The Red Cross will continue to help those impacted by the severe weather and tornadoes that occurred June 22 throughout Northwest Illinois. Volunteers were ready to help before the storms hit and are now actively on the ground providing hope and comfort to residents in need. "Right now we want to make sure people get into safe shelter and their immediate needs like food, infant supplies and medications are met," said Ken Cozzi, Executive Director, American Red Cross of Southwest Suburbs.
Michigan: Severe weather caused possible tornado activity that affected hundreds of residents in Portland on Monday. The Red Cross is providing shelter, food, casework, support services as well as bulk distribution to affected residents. In a separate event, a storm with tornado activity impacted several residents in Manchester on Tuesday. The Red Cross deployed disaster workers who provided, shelter, food and support services.
South Dakota: Severe storm activity, with wind gusts up to 100 mph, left thousands of residents without power in several portions of the state on Monday. The Red Cross deployed disaster workers who provided shelter, food, comfort and clean up kits and casework. Additional disaster workers and shelters are on standby to assist, as well.
Texas, Oklahoma and Louisiana: Since early May, the Red Cross has provided the following services in Texas and Oklahoma: served more than 365,000 meals and snacks; distributed nearly 187,000 relief supplies; and provided more than 3,600 shelter stays. Red Cross workers are also providing health services such as replacing lost eyeglasses and medications, and providing emotional support to those affected. Trained Red Cross workers are meeting one-on-one with people to help them plan their recovery. Over the past two weeks, the Red Cross has provided similar services after flooding in Louisiana, serving more than 3,300 meals and snacks and distributed nearly 700 relief items. 
Wildfires in Alaska and California
Wildfires in Alaska are still burning, damaging thousands of acres and numerous homes. Red Cross workers are helping, making sure people have a safe place to stay. Red Cross workers have shelters open and providing food and water to those affected. The Red Cross is also providing health services and emotional comfort and working with state and local officials to determine if additional help is needed.
Wildfires also continue to burn in California and surrounding states, destroying hundreds of acres and forcing people to evacuate. Red Cross shelters are on standby and ready to assist evacuees with information, food, water, hygiene items and comfort.
Responding to Home Fires and Other Disasters
The Red Cross responds to nearly 70,000 disasters every year, many of which are less visible in the news media. From multi-family fires, to supporting search and rescue responders, severe weather and more, the Red Cross is there to provide hope and help for families in the aftermath of a disaster. In addition to large-scale relief efforts taking place, below is a list of other disasters Red Cross workers have responded to in the last 24 hours.

Connecticut – Severe Weather: A series of severe storms impacted Norwich and caused a variety of power outages and brought down trees and power lines on Tuesday. Hundreds of residents were affected. The American Red Cross opened a shelter for the affected families.
New Jersey – Tornado & Hazardous Material Incident: Three homes were damaged and about 1,000 homes in the Gloucester and Camden County areas were left without power due to a tornado on Tuesday. The Red Cross deployed disaster workers to assist in relief efforts.  Separately, a hazmat incident occurred in Paulsboro and the Gloucester office of emergency management is trying to determine if it was related to severe weather and what the impact was. A Red Cross representative is on site to assist with the operation.
Pennsylvania – Severe Weather, Flooding & Multi-Family Fire: A storm brought strong winds that knocked down trees in Warren County on Tuesday. The Red Cross provided food and beverages for 80 people affected by the storms. Storms also affected Delaware, Montgomery, Bucks and Philadelphia Counties and caused a power outage for thousands of residents. In communication with local emergency management authorities, the Red Cross opened a shelter for displaced residents. Separately, flooding affected 15 families in New Castle on Wednesday. The Red Cross sent disaster workers to the scene to assess the situation and provide assistance as needed. In another event, a fire affected 12 apartments and displaced residents in Bristol Borough on Tuesday. The Red Cross assisted the affected residents, such as helping to locate immediate lodging and health services, for people in four apartments units as well as four other people.
Tennessee – Hazardous Materials & Storms: A tanker truck overturned on the highway in Dickson and spilled gasoline which resulted in a two block perimeter evacuation on Tuesday. The Red Cross opened a shelter for the evacuees, which was later placed on standby. In a separate incident on Tuesday, a storm removed the roof of a motel which affected 20 rooms in Murfreesboro. Red Cross disaster workers opened a shelter for the displaced residents.
Virginia – Explosion: A lab exploded in a room at an extended stay hotel and prompted an evacuation of the affected area in Chesterfield County on Tuesday. The Red Cross is prepared to offer assistance if it is requested.
Disaster Preparedness
To ensure you have lifesaving information at your fingertips, download the Red Cross Emergency App for real-time access to weather alerts, preparedness information, safety tips and shelter locations.
The Emergency App provides expert advice on what to do during floods, tornadoes, wildfires and other disasters. The app also provides lifesaving information on emergency first aid for various situations such as what to do for heart attacks, heat-related emergencies and includes water safety tips. Pre-loaded content ensures that guidance from Red Cross experts is available anytime, anywhere – even without mobile connectivity. The Emergency App is available for free in app stores for smart phones and tablets and can also be found by searching for American Red Cross or by going to redcross.org/apps.
Hot Weather Safety
When the temperatures rise, drink plenty of fluids even if you don't feel thirsty. Drinks with caffeine or alcohol can increase dehydration. Eat smaller meals and eat more often. Other tips include:
Slow down, stay inside and avoid heavy exercise during the hottest part of the day.
Never leave kids or pets in hot vehicles.
If you work outside, take a lot of breaks.
Check on loved ones and neighbors who don't have air conditioning, who are alone, or who may be affected by the heat.
Check on your animals frequently. Make sure they have enough water.
If you are in the path of a severe thunderstorm, here are some steps you should take:
When you hear thunder go indoors immediately.
Take shelter inside. Unplug appliances, avoid using the phone and electrical appliances.
If you are driving, pull off the road and park. Keep the windows closed and turn on the emergency flashers. Avoid touching metal or other surfaces that conduct electricity in and outside of the vehicle.
Avoid taking a bath or shower, or running water for any other purpose.
Turn off the air conditioner. The storm could damage the unit.
If you are caught outside during a thunderstorm and cannot reach a safe building, avoid high ground, water, tall, isolated trees and metal objects such as fences or bleachers. Picnic shelters, dugouts and sheds are not safe.