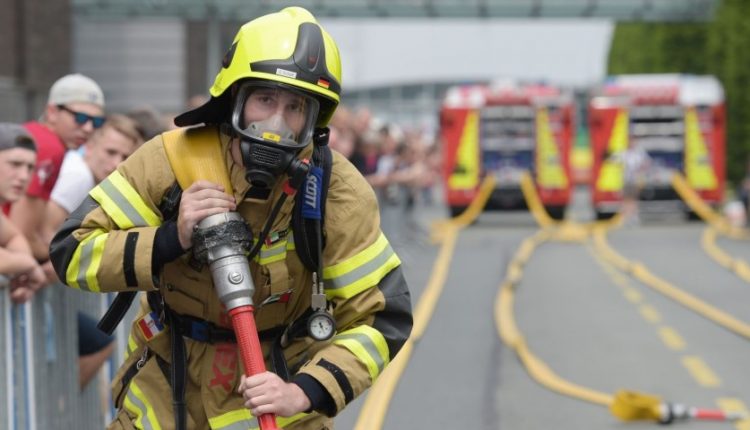 Meanwhile, are you thinking about INTERSCHUTZ 2020?
In 14 months every single rescue operator from the world will be part of the INTERSCHUTZ 2020 exhibition. The 2020 lead theme will be "Teams, Tactics, Technology – Connecting Protection and Rescue".
Numerous companies and organizations will be appearing at the world's leading trade fair for the fire and rescue services, civil protection, safety and security in June 2020 to reveal how they plan to shape the future of their industry by harnessing new technologies.
Hannover, Germany – When a trade fair decides on a lead theme, that is just the beginning. It is then up to exhibitors to take the next steps by breathing life into the lead theme – by featuring it at their stands, providing hands-on demos and sparking dialogue.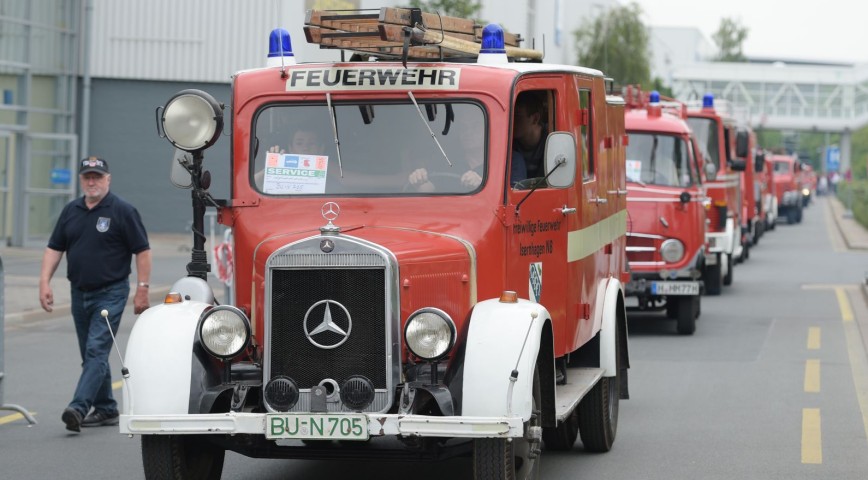 "We are absolutely delighted at the early, strong commitment of our exhibiting partners and companies at INTERSCHUTZ 2020," says Martin Folkerts, Global Director of INTERSCHUTZ at the Deutsche Messe group of companies. "Our exhibitors are in the process of developing an abundance of great ideas and concepts which they will be showcasing at the fair, highlighting the opportunities that digitization and connectivity will provide for fire brigades, rescue services, civil protection and security."
"Digitization, automation and connectivity are more than just modern buzzwords for us," says Dirk Aschenbrenner, President of the German Fire Protection Association (vfdb). "The application of digital technologies is a prerequisite for speed and effectiveness. The use of robotics in danger prevention, for example, is no longer merely a utopia, but, in many areas, has already become a part of everyday life. Let me simply mention the use of firefighting robots or drones to explore emergency deployment sites." In Hannover in 2020, the vfdb association will present the current state of research in the field. "INTERSCHUTZ 2020 offers the best opportunities for sharing international experience among developers, manufacturers and users," says Aschenbrenner.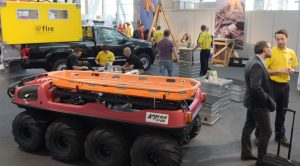 The German Fire Service Association (DFV) is taking the connectivity lead theme literally and planning a showcase whose visualizations are all interconnected by an overarching network/web. At a number of different levels, the web will symbolize the importance of connectivity for the further development of fire protection. "Under the keyword of 'Fire Brigade 4.0', there are already visible opportunities and capabilities to improve, accelerate and change the tasks of the emergency services – even if this might seem a long way off," says Frank Hachemer, Vice President of the German Fire Service Association. "But these opportunities are also associated with challenges that need to be mastered, such as data protection, training and budgets." In addition to technological and tactical connectivity, there is also connectivity between people. "Political and social connectivity will become increasingly important and intensive for mastering problems, for securing livelihoods, for the further development and daily work of the fire brigades," says Hachemer. "Connectivity is therefore the keyword, not least for the fire brigade associations and – as their umbrella – the German Fire Service Association, which we, as the central element, are placing at the core of our activities – and not just at INTERSCHUTZ."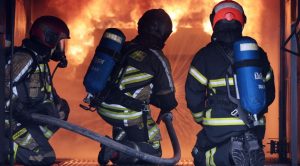 The keyword 'Fire Brigade 4.0' is derived from the oft-cited term 'Industry 4.0', which refers to digitized production and a high degree of connectivity between industrial enterprises. The two terms however cannot be equated. "Different conditions apply to the area of fire prevention and civil protection," says Dr. Rainer Koch, from the Faculty of Mechanical Engineering at the University of Paderborn. "High-connectivity solutions are possible for areas like preventive fire protection and resource planning. And 3D simulation systems for managers and staff training are already available in the training sector." But the conditions for emergency services are different, he maintains. "For information systems to support us in this area, they need to offer a maximum of robustness, user friendliness and speed," says Koch. "In addition to providing already prepared information, these systems would then also be able to interact with building systems – and initial projects for the use of smart home technologies have already been launched. Digitization and automation can definitely facilitate the work of the emergency services here."
When it comes to game-changing digital technology, industry is called upon to gear up, and by that I particularly mean industrial manufacturers and automotive makers. "Especially in an age of rapid technical change, INTERSCHUTZ is a definite must for everyone on the lookout for innovations," remarks VDMA Managing Director Dr. Bernd Scherer. "Real-time communication over ultra-fast 5G networks, networked deployment processes, digital assistance systems and electric drives are high on the industry's innovations agenda." But digitization must not be an end in itself, as Scherer also makes clear: "Manufacturers of chassis, superstructures and equipment who are members in VDMA rely on reliable, robust and intelligent technology, true to the motto that what is sensible is also that which is useful for the purpose at hand." According to VDMA, the advantages of digital technologies include the promise of transparent and sustainable processes, effective coordination and a significant increase in operational reliability. These promises are not, however, a guarantee. "The central prerequisite consists of reliable, manufacturer-independent standards," says Scherer. "This is the only way for interfaces to function smoothly – regardless of whether they are mechanical, hydraulic, electric or digital in nature."
INTERSCHUTZ – the world's leading trade fair for fire brigades, rescue services, civil protection and safety/security – next takes place from 15 to 20 June 2020 in Hannover, Germany. Falling under four main categories, the products and services on display at INTERSCHUTZ include equipment for technical assistance and disaster control, fire station equipment, fire protection and extinguishing technology, vehicles and vehicle equipment, information and organization technology, medical equipment, medical supplies, control center technology and personal protective equipment. INTERSCHUTZ is outstanding in international comparison, both in terms of the quantity and quality of exhibitors and attendees, including its partner associations DFV, vfdb and VDMA, exhibiting enterprises, non-commercial exhibitors such as fire brigades, rescue services, technical emergency services and disaster control organizations, plus attendees from professional and voluntary fire brigades, plant fire brigades, rescue services and disaster control units. In 2015 more than 150,000 visitors attended INTERSCHUTZ in Hannover. The number of exhibitors was around 1,500. The two networked sister events ­– REAS in Italy and AFAC in Australia, both powered by INTERSCHUTZ – serve to strengthen the international significance of the INTERSCHUTZ exhibition brand. The next AFAC takes place from 27 to 30 August 2019 in Melbourne, Australia, offering a networking hub for fire brigades and rescue services. From 4 to 6 October 2019, REAS in Montichiari, Italy, will once again serve as the hub for the Italian rescue services.