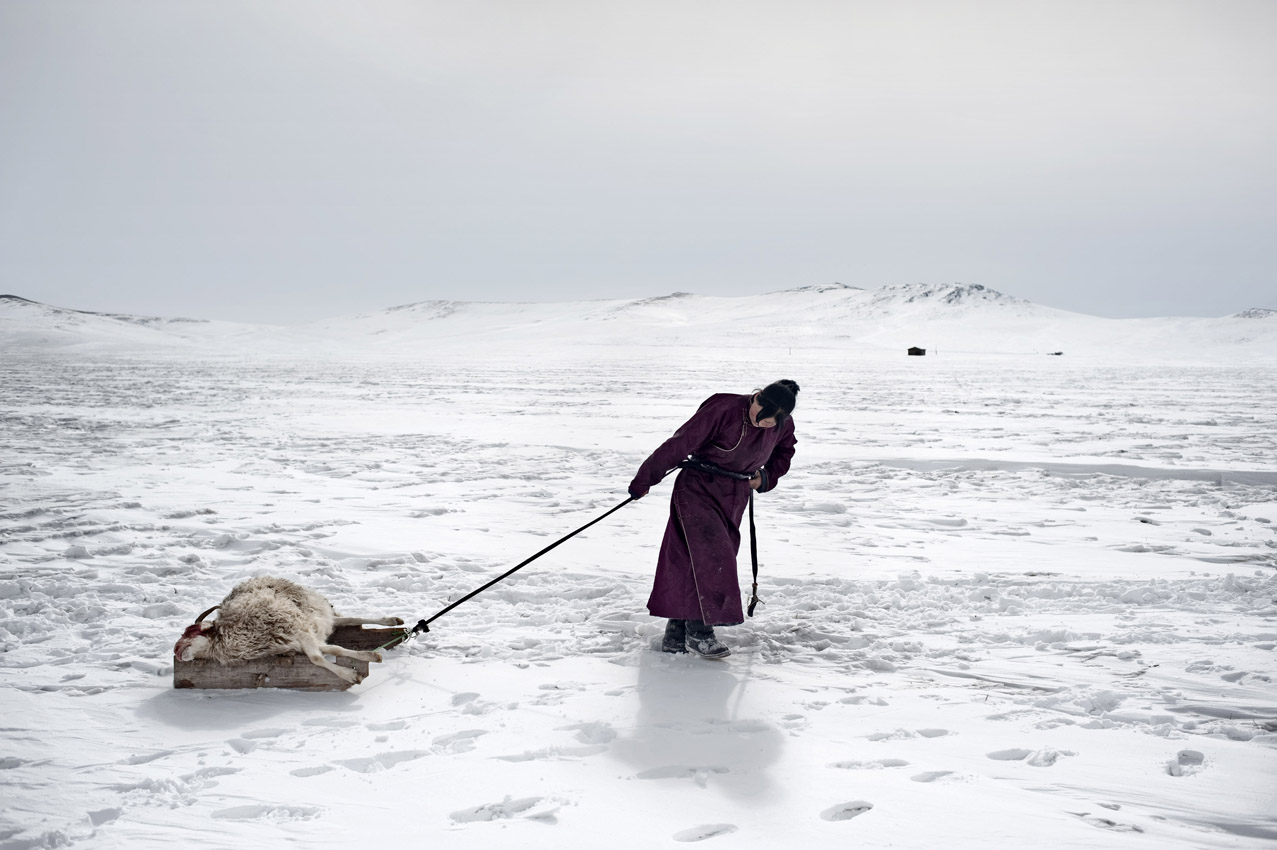 Red Cross launches emergency appeal as extreme winter 'Dzud' threatens Mongolian herders
Beijing/Geneva. Today, the International Federation of Red Cross and Red Crescent Societies (IFRC) launched an emergency appeal for 834,000 Swiss Francs (USD 835,000 / 768,000 Euros) to assist 25,500 vulnerable Mongolian herders who are at risk of losing their livestock and livelihoods due to extreme winter conditions known as 'Dzud', a cyclical slow-onset disaster unique to Mongolia.
The Dzud is a consequence of a summer drought and extreme overgrazing leading to insufficient hay for winter grazing. This, coupled with heavy snows and freezing temperatures is causing large numbers of animals to die from starvation. Parts of Mongolia are experiencing continuous heavy snowfall and snowstorms with average temperatures below – 25 degrees Celsius during daytime and around – 40 degrees during the night. More than 80,000 herder families (around 400,000 people) in the northern and western part of the country are at risk, with millions of livestock facing starvation in the coming weeks and months.
"Based on assessments by our National Disaster Response Team, the most vulnerable herders are in desperate need of cash, food and warm clothes to face the challenges of the extreme winter conditions," says Madame Nordov Bolormaa, Secretary General of the Mongolian Red Cross.
The Mongolian Red Cross relief operation, supported by the IFRC appeal, will focus on the distribution of food parcels together with cash grants to the poorest and most needy herders, enabling them to buy fodder for their livestock and other essential commodities. The operation also includes a combination of vocational training and business development to help herders diversify their livelihoods.
"We will look at how we can boost the resilience of nomadic communities in the longer term", said Baktiar Mambetov, Acting Head of the IFRC in East Asia. "This includes providing training in disaster preparedness and climate change adaptation. We will also ensure that the herders have the equipment to harvest sufficient hay for the next winter season".

In the worst affected districts, sheep and other livestock have already started dying from cold and starvation in their thousands. Many herders are trying to sell their animals while they are still alive but the oversupply of livestock has resulted in very low market prices which have particularly serious consequences for vulnerable families with fewer animals to sell.
As a result many poor herders lack the cash they need to buy essential food, warm clothes, and coal for heating. Impassable roads covered with thick snow and ice also make it impossible for many herders to reach urban settlements where they can receive important services such as medical care or purchase necessities for basic sustenance.
According to the Mongolian Ministry of Food and Agriculture both the weather situation and the grazing conditions are worse than they were in the Dzud of 2009-2010, when millions of animals died. Tens of thousands of households lost all or more than half of their animals and many of these families were forced to move to slum areas on the outskirts of Ulaan Baatar and other urban centres. Large scale migration to the cities resulting from loss of livelihood among herders has magnified urban social problems such as unemployment, crime, alcoholism, domestic violence and extreme poverty.
Source:
Red Cross launches emergency appeal as extreme winter 'Dzud' threatens Mongolian herders