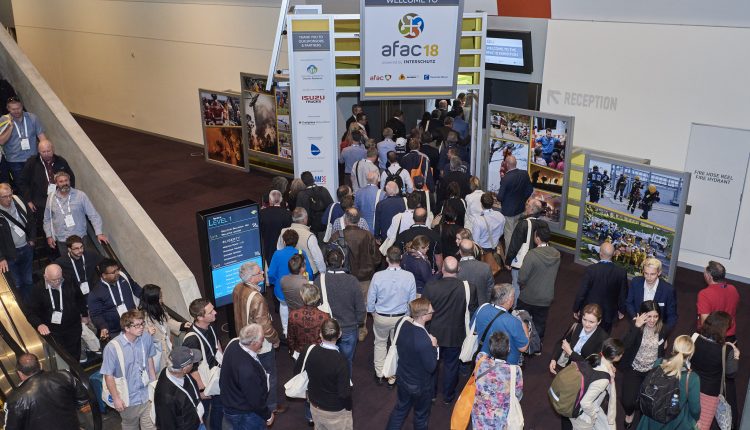 Successful outcome of "AFAC18 powered by INTERSCHUTZ"
AFAC: "Changing life in a changing world"
Hannover/Perth. The lead theme of AFAC18, "Changing lives in a changing world", proved to be well chosen, with nearly 3,000 visitors from 25 countries attending AFAC18 powered by INTERSCHUTZ in early September. A keen audience of professionals seized the opportunity to discuss the current challenges facing emergency management and public safety, as well as to discover the latest products in this area.
Deutsche Messe, working in partnership with the AFAC, has brought its extensive expertise in tradeshow management to the event. The AFAC thus also serves as an international offshoot of the world-leading trade fair INTERSCHUTZ staged in Hannover, Germany.
Australia's leading exhibition and conference for emergency management and public safety returned to Western Australia's capital city, Perth, for the first time in six years. A total of 170 companies used the opportunity to showcase their products and services to interested professionals. Several of the 44 exhibiting companies from outside the host nation were from Germany or Austria.
For the first time ever, there was a German Pavilion at the AFAC, sponsored by the German Federal Ministry for Economic Affairs and Energy (BMWi) and organized by the German Fire Prevention Association (vfdb). The companies that took part in the pavilion commented favorably on the joint display and reported numerous promising business talks. Participating companies were Alro Engineering, askö, the GFPA (German Fire Protection Association), Haix, Jakob Eschbach, protectismundi, Luitpold Schott, VTI Ventil Technik, the Wagner Group and Zapp Zimmermann. The German companies present with their own stands were Rosenbauer, Bauer Kompressoren, Dräger Safety, ESKA, the LHD Group and Mercedes Benz.
The Perth event also featured a high-caliber conference program organized by the Bushfire and Natural Hazards CRC Research Forum. For the first time the AFAC Conference was staged together with the Australian Disaster Resilience Conference. In the parallel exhibition, participating companies not only showcased their latest solutions in emergency management, but also offered live demonstrations. Highlights included simulated accidents and emergency incidents as well as the use of robot technology – for example, explosion-proof robots for firefighting applications.
AFAC18 powered by INTERSCHUTZ was positively received by the professional visitors. At the close of the event as many as 84 percent said they would recommend it to others. In fact, this response was even higher among conference participants, as 97 percent stated that they would recommend it to their colleagues. The exhibitors were also satisfied: 88 percent rated the whole event as "very good". One factor that may have influenced the positive response of the exhibitors was the high proportion of decision-makers (70 percent among the visiting public).
The next AFAC – AFAC19 powered by INTERSCHUTZ – will take place from 27 to 30 August 2019 in Melbourne.
About AFAC powered by INTERSCHUTZ
AFAC18 powered by INTERSCHUTZ is a collaboration between the Australasian Fire and Emergency Service Authorities Council (AFAC), the Bushfire and Natural Hazards CRC and Deutsche Messe in its capacity as Hannover Fairs Pty Ltd. INTERSCHUTZ in Hannover is the world's leading trade fair for the fire and rescue services, civil protection, safety and security. It will next take place from 15 to 20 June 2020.
Deutsche Messe AG
As one of the world's foremost organizers of capital goods trade fairs, Deutsche Messe (Hannover, Germany) stages a rich array of events at venues in Germany and around the globe. With 2017 revenue projected to total about 357 million euros, Deutsche Messe ranks among Germany's top five tradeshow producers. The company's portfolio features such world-class events as (in alphabetical order) CEBIT (digital business), CeMAT (intralogistics and supply chain management), didacta (education), DOMOTEX (carpets and other floor coverings), HANNOVER MESSE (industrial technology), INTERSCHUTZ (fire and rescue services, civil protection, safety and security), LABVOLUTION (lab technology) and LIGNA (woodworking, wood processing, forestry). The company also regularly hosts a number of internationally renowned events by third parties, among which are AGRITECHNICA (agricultural machinery) and EuroTier (animal production), both of which are staged by the German Agricultural Society (DLG), EMO (machine tools; staged by the German Machine Tool Builders' Association, VDW), EuroBLECH (sheet metal working; staged by MackBrooks) and IAA Commercial Vehicles (transport, logistics and mobility; staged by the German Association of the Automotive Industry, VDA). With more than1,200 employees and a network of 58 sales partners, Deutsche Messe is present in approx. 100 countries.