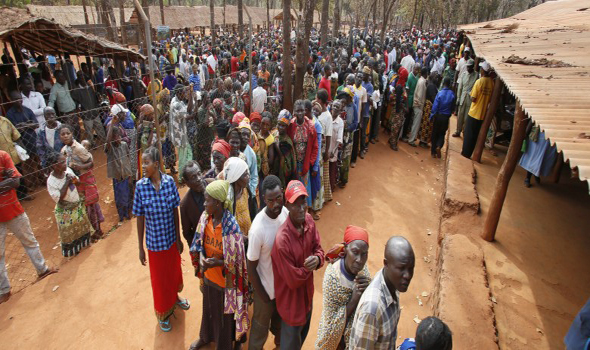 Tanzania - The efforts of Kimenya and how Red Cross provides vital health services in refugee camp
As Patron of Health Post #4 in the Nyarugusu refugee camp in western Tanzania, Kimenya is one of the busiest people here
Since April 2015, a considerable influx of Burundians escaping their country because electoral violence has overwhelmed resources. Nyarugusu camp was built for 50,000 people, and now it holds three times that amount. Kimenya is responsible for ensuring all services provided by the Tanzania Red Cross National Society's health post are done according to the high standards of government, the Red Cross and UNHCR. It is a job he takes very seriously.
With nearly 21 years of experience working in refugee camp hospitals, Kimenya has seen it all. Nearly every year working in these conditions, he contracts malaria himself. He suspects he may have it again at the moment. As long as there are medications available— and it is not always a guarantee—he insists on pushing through.
He believes in this mission from the very core of his being and said:
"We have to alleviate human suffering for these refugees."
Births abound at the refugee camp
The health post sees upwards of 200 patients a day, both inpatient and outpatient. The vaccination point is literally surrounded by mothers holding small children. They can handle most anything except extreme cases, things like complicated pregnancies and severe malaria. Those are transferred to the camp's Red Cross hospital via ambulance or the Kigoma District Hospital. On average, ten babies are born at the health post every day. The fertility rate of Burundians is incredibly high, Kimenya says: "They are trying to replace those they have lost."
Sabimana Bosco, 25, is at the health post today. After both his parents were killed, he fled to Tanzania by himself. He tried to establish a somewhat normal life and married a girl he met here. She is now three months pregnant.

Even if it is a temporary refugee camp, people engage in a lot of future-looking activities: getting married, having children, establishing businesses. Burundians are not new to refugee life. Many have been here two or even three times before. Perhaps this is why so many seem to have reconciled this obvious contradiction; understanding that life does not stop, even in the midst of constant uncertainty.
Tuyalate Beuline, Bosco's wife, is young, just 17 years old. She is a first-time refugee. She came with her family and her innocence is evident in her big brown eyes. She rarely looks directly at someone when speaking. She is glad to have the services of the health post. It is a short ten minute walk from the tent her and Bosco call home. She plans on visiting the health post regularly during her pregnancy and once it is time, she plans on giving birth there.
Red Cross in it for the long term
Kileha Kampeheye, 64, is a doctor working at Health Post #4. He has been with the Red Cross for four years in this camp. The main challenge is the language but local staff often help as translators. The struggle for adequate funding is constant. The obstacles, however, are no deterrent for a team dedicated to its work. Kileha says:
"We are professionals. These people have fled from their country. What can we do? We have to save them."
Kimenya continues:
"Providing health services in such an environment is an amazing accomplishment. Other organizations will come and go. But the Tanzania Red Cross National Society is here to stay."
The International Federation of Red Cross and Red Crescent Societies (IFRC) has launched an Emergency Appeal of 5,213,378 Swiss francs to support the Tanzania Red Cross National Society as it responds to this unfolding crisis. The Appeal aims to assist 250,000 refugees in the Nyarugusu and Mtendeli camps through the provision of basic health care, water, sanitation and hygiene promotion, shelter, disaster preparedness and risk reduction and capacity building. The Appeal is currently 52 per cent funded. Funding for the Tanzania Red Cross National Society's Health Posts #4 and #5 comes from a generous contribution by the European Commission's Humanitarian Aid and Civil Protection (ECHO).