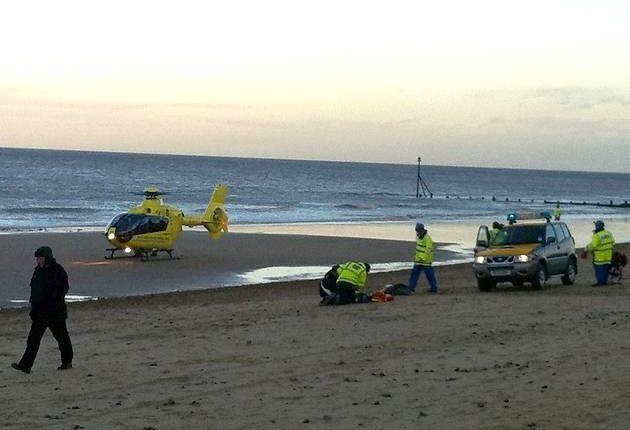 TOP 5 Civil Protection and emergency care job opportunities worldwide
The 5 most interesting job position of this week on Emergency Live. Our selection can help you to reach the life you want as an emergency operator.
EMS professionals, are you looking for a new job?
Every day EMS and rescue professional can find online new ideas for getting a better life, improving their jobs. But if you need some suggestions for keeping your skills in service for another kind of job, involved in the EMS or in the industrial business around the health sector, here we are!
Emergency Live will show you every week some of the most attractive position in Europe about EMS and rescue activities. Are you dreaming of operating as a paramedic Zermatt? Would you like to see every day the beautiful heritages of Rome driving an ambulance? (No, really, you don't know what it is driving an ambulance in Rome!)
Well, we show you the TOP 5 job position you can reach directly with our links!
LOCATION: BANGKOK (THAILAND)
POSITION: PROGRAM COORDINATOR OF DISASTER MANAGEMENT
Duties and Responsibilities

The incumbent will be responsible for undertaking the following tasks:

Assist the Risk Governance Department in desk-based as well as field-research activities;
Provide support in compiling relevant documents and information as required by the Risk Governance Department;
Assist in technical assignments including contributing to concept notes and consolidating inputs from consultants, program partners, and stakeholders into quality deliverables;
Assist in developing and regularly updating content for the RCC website;
Assist in streamlining and maintaining the Risk Governance Department's information management;
Assist in organizing seminars, training programs, capacity building initiatives, workshops, and other program activities;
Coordinate and support in cross-thematic collaboration for project implementation in ADPC;
Perform other relevant tasks as assigned by the Director.

Qualifications

A bachelor's degree in social sciences, economics or any other related fields.
A minimum of two years of experience in development-research and producing good-quality write-ups in the English language.
Practical experience of working in a multi-cultural team and ability to work independently and under pressure.
Excellent command of English, both written and spoken.
Demonstrated research and information analysis skills.
Excellent computer skills especially in word-processing, spreadsheets, database and presentation software.

General Conditions

Operate within all ADPC guidelines, procedures and policies.
Work station in ADPC office, Bangkok, Thailand

Reporting Relationships

Supervisor: Director, Risk Governance Department

Qualified applicants may be evaluated through a competency-based interview and/or other assessment methods. We encourage diversity in our workplace and support an inclusive work environment. Women are encouraged to apply.

Contract Duration

One (1) year with a possibility of extension depending on performance and availability of financial resources.
LOCATION: SWITZERLAND
POSITION: SECURITY IMPLEMENTER
Your Responsibilities

To support MSF staff with identification of threats & analysis of risk levels in mission coordination's and projects. This will in turn help teams to identify informed and nuanced Risk V Benefit levels (personal/institutional risk levels compared to Medical & Humanitarian relevance of intervention).
To implement security plans including risk analysis, risk reduction measures (S.O.Ps & site protection), incident management and contingency planning in MSF mission coordination's and projects.
To conduct theoretical and practical (simulations on site) trainings for risk reduction measures, incident management and contingency planning.
To coach and educate MSF staff (international & national) to understand the environment of warfare within which they are working and risk management tools to minimize MSF teams exposure.
To support the Security Advisor in developing standardized OCG Security management formats and tools and trainings including their implementation in missions/projects/HQ.

Your Profile

Experience

More than 4 years of experience working in conflict areas in for a non-military organization
Experience with MSF or a similar NGO is an asset

Skills

Experienced on context analysis and Threat/Risk analysis.
Strong coaching skills regarding implementation of security management and Applied Security technical skills
Clear understanding and alignment with humanitarian principles of neutrality, impartiality and independence.
Experience in developing training strategies, procedures and tools, as well as organizing and facilitating workshops.

Personal qualities

Strong interpersonal skills
Ability to interact with and coach teams

Languages

Fluency in French and English
Arabic and/or Spanish is an asset
LOCATION: MANILA (PHILIPPINES)
POSITION: HEALTH SYSTEMS ANALYST
Required Qualifications and Experience

Education

• Completed advanced university degree in medical field, public health, health sciences or information systems from an accredited academic institution; or
• Bachelor's degree in the above fields with minimum two (2) years of relevant professional experience of which at least one (1) year in medical business process management, medical software implementation and management, including troubleshooting and aligning policies and processes with software functionalities.
• Training on medical informatics, ICD coding and panel physician instructions will be an advantage.

Experience

• Candidates with medical or health background will have a distinct advantage.
• Extensive knowledge on migrant health and IOM medical operation of advantage;
• Actual experience in designing and managing electronic medical records;
• Understanding of medical, public health and statistical terminology as well as IT disciplines and ability to correctly bridge health and information technology to address changing information management needs of medical units;
• Strong analytical skills required, including a thorough understanding of how to interpret medical information management needs and translate them into application/operational requirements;
• Excellent time management skills;
• Excellent verbal and written communication skills and the ability to interact professionally with a diverse group;
• Skills in conducting end user training;

Languages

Fluency in English is required. Working knowledge of French and/or Spanish an advantage.

Required Competencies

Values

• Inclusion and respect for diversity: respects and promotes individual and cultural differences; encourages diversity and inclusion wherever possible.
• Integrity and transparency: maintains high ethical standards and acts in a manner consistent with organizational principles/rules and standards of conduct.
• Professionalism: demonstrates ability to work in a composed, competent and committed manner and exercises careful judgment in meeting day-to-day challenges.

Core Competencies – behavioural indicators level 2
• Teamwork: develops and promotes effective collaboration within and across units to achieve shared goals and optimize results.
• Delivering results: produces and delivers quality results in a service-oriented and timely manner; is action oriented and committed to achieving agreed outcomes.
• Managing and sharing knowledge: continuously seeks to learn, share knowledge and innovate.
• Accountability: takes ownership for achieving the Organization's priorities and assumes responsibility for own action and delegated work.
• Communication: encourages and contributes to clear and open communication; explains complex matters in an informative, inspiring and motivational way.

Managerial Competencies – behavioural indicators level 2

• Leadership: provides a clear sense of direction, leads by example and demonstrates the ability to carry out the organization's vision. Assists others to realize and develop their potential.
• Empowering others and building trust: creates an atmosphere of trust and an enabling environment where staff can contribute their best and develop their potential.
• Strategic thinking and vision: work strategically to realize the Organization's goals and communicates a clear strategic direction.
LOCATION: BARCELONA (SPAIN)
POSITION: EMERGENCY CARE AND INTENSIVE MEDICINE ADVISOR
MAIN OBJECTIVE OF THE POSITION

The main objective is to provide technical support for all projects involving emergency care and / or medical care for adults in the field.

This general objective involves the following core areas;

Emergency care, (defined for the organization as the treatment of individuals with acute life- or limb-threatening medical and potentially surgical needs;for hospital and out of hospital care.) in close collaboration with other relevant technical referents in the department
Internal Medicine (adults), with an specific focus on adult inpatient care

And some specific diseases

Focal point for the chronic non-communicable diseases programs
Focal point in adult's clinical management of Filovirus and arenavirus, Cholera, epidemic hepatits E[i] and meningitis.
Focal point for clinical management of other diseases with epidemic potential both emerging and reemerging, in close collaboration with with the tropical medicine advisor.

The work will be carried out in the framework of the active strategic plan , the operational policy and OCBA annual plans as well as the Medical department plans, working in close collaboration with other technical advisors involved to contribute to a more transversal, integrated and holistic support to the cells and the field.

PLACEMENT WITHIN THE ORGANISATION

The Referent will be hierarchically and functionally accountable to the Head of Referents – Team A Functionally linked and supporting Medical polyvalent (TESACO/ Desk HQ), Medical Coordinators (missions) and Project Medical Referents (projects), as the rest of the referent advisors of the Medical department.

While in the field, he/she works under the regular hierarchical and functional structures of the missions, while keeping communication with the Medical Department.

MAIN RESPONSABILITIES, FUNTIONS AND TASKS

Due to the characteristics of the Job profile, they are divided in common to Emergency care and I.Medicine, particular to Emergency care, particular to I.Medicine, acting as focal point for specific disease and within the Medical Department development. In this sense:

Common to core areas (Emergency care and I.Medicine)

· S/he is the advisor to field missions / cells polyvalent medical staff concerning any technical problem / question that arises from the field

· S/he provides support to enhance quality of care in the missions through protocols and guidance concerning technical program set up and clinical procedures, as well as through field visits.

· S/he maintain updated or create adequate guidelines and tools for Emergency care and I.Medicine (adults)at field level.

· Support the Op-Cell Medical advisors in defining the strategy for emergency care and/or adult's care strategies.

· S/he contributes to the planning of activities within MSF by participating in the relevant working group discussion and meetings, interacting with similar advisors of other MSF Operational Centres; and/or with external experts concerned.

· S/he will receive data and reports from the field regarding the core components of his position, to contribute in its analysis, providing timely feedback to support the quality of care in MSF OCBA and participate in its dissemination by preparing presentations in an adapted format (presentations in the field / HQ/external)

· S/he will participate in the planning and operational discussions development of proposals for potential operational interventions;

· To produce periodic reports according to the framework of the medical department

· Briefing and debriefing of expat field workers to discuss and orient in main responsibilities, guidelines policies, data collection and reporting, together with other referents.

· In case there is a MIO[2] in the domain, s/he will provide technical and functional support and coordinate with the MIO to make sure the support is provided timely and effectively.

· S/he contributes to the definition of priorities in operational research and participates in the follow up and supervision of operational research activities

· Supports the HHRR department and the learning unit in the recruitment, matching development and trainings of staff in relation to the core areas
LOCATION: JUBA (SOUTH SUDAN)
POSITION: EMERGENCY PROGRAMME DIRECTOR
Your purpose: You will have overall responsibility for the emergency response strategy of Concern in South Sudan and will oversee the implementation and coordination of Concern's humanitarian programmes. Concern Worldwide is currently responding to the humanitarian needs arising from the civil war in South Sudan. This response is largely focussed in the nutrition and shelter/NFI, WASH in both camp settings and deep field locations in Unity and Central Equatoria.

You will be responsible for:

Programme Quality

Overseeing the planning and delivery of emergency programmes in Unity and Central Equatoria.
Ensuring the development and maintenance of effective and appropriate monitoring and evaluating system and overseeing the programme progress against agreed programme objectives.
Leading and participating in emergency assessments and developing plans for expansion in consultation with line management.
Leading in the development of annual sectoral strategies for the emergency programmes in Unity and Central Equatoria
Ensuring that crosscutting themes such as accountability HIV and AIDS related issues, equality and protection are mainstreamed in all emergency programme.
Ensuring programme quality adheres to SPHERE standards, cluster guidelines and other international best practice.
Ensuring community participation, sensitisation and collaboration in programme activities in a way that corresponds to the Core Humanitarian Standards and Concern's CHS plans.

Donor Compliance

Contributing to the development and implementation of a donor funding strategy
Ensuring donor proposals, budgets and reports are of high quality, up to date and delivered in a timely manner in accordance with donor requirements.
Be responsible, in consultation with the Grants and Information Manager, for ensuring that donor strategy, donor guidelines, formats and processes are understood and being adhered to within programme implementation and procurement.

Representation

Ensuring programme teams are undertaking sufficient and effective networking and coordination with local Government authorities, other NGOs, and UN at field level.
Working with other Senior Management Team members ensure that Concern is effectively represented at national level with donors, clusters and at other coordination fora as required.

Human Resources

Work with the Systems Director, Human Resource Manager, Area Coordinator and programme managers to identify project staff needs, ensuring that job descriptions are developed, properly qualified staff are recruited, inducted and trained as per the needs of the programme and the organisation.
Manage direct reports with a particular emphasis on capacity building of staff through mentoring, training, and ensuring that all staff have up to date job descriptions and performance development reviews as per policy.

Partnership

Ensure that partners are properly supervised and supported to implement programme activities.
Supervise the undertaking of training needs assessments of partners and the design and implementation of training plans accordingly.
Oversee the monitoring of partners' programme and financial reporting in conjunction with, programme managers, the Grants and Information Manager and Finance Department.
Undertake appropriate assessments of new partners in conjunction with programme managers and Finance Department when appropriate.