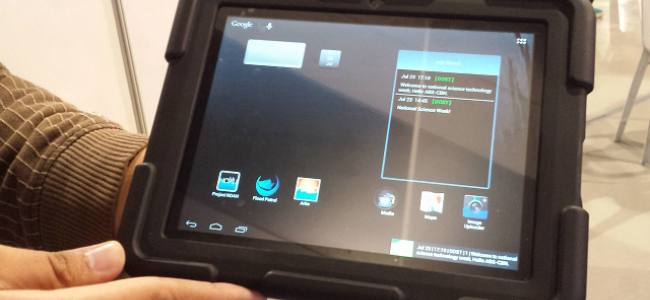 Using modern technology to help manage disasters
The Department of Science and Technology (DOST) of the Philippines has created a way for rescuers and local citizens to use current technology in preparing and managing for disaster situations.
The DOST created Project NOAH, which stands for Nationwide Operational Assessment of Hazards. The program will make use of currently available technology and combine it with services and information feeds from the Philippine Atmospheric, Geophysical and Astronomical Services Administration (PAGASA), and the DOST-Advanced Science and Technology Institute (ASTI).  Project Noah has also tapped into the academe by partnering with the University of the Philippines National Institute of Geological Sciences and the UP College of Engineering.
Project NOAH aims  to provide local government units, disaster management officers, public and private rescue organizations and  the general public with relevant and timely information on occurrence of hazards such as typhoons, floods, and earthquakes, which might result to disasters. Project NOAH is composed of several smaller projects and activities that include hazard mapping, disaster risk assessment, and deployment of sensors across the country

One of the first fruits from Project NOAH is the MOSES Tablet which stands for Mobile System for Emergency Services. It is a small portable tablet that is deployed and issued to at the community level.
Dr. Alfredo Mahar Lagmay, Executive Director of Project NOAH said, "MOSES is a tool that can collect information from the ground long before disaster strikes. And that information is critical for effective disaster planning".
The eight-inch MOSES tablet has a built-in radio and mobile TV and camera. The NOAH mobile applications, including ARKO (flood hazard maps) and Flood Net (flood reporting app) are pre-installed. The tablet's specs are as follows:
Features: Dual SIM, Water-proof, Shock-proof, Radio and mobile TV capable
Screen: 8.0″ Touchscreen
Camera: 5MP rear
App: ARKO, Project NOAH and Flood Patrol
Battery: last up to 3 days
The tablet lets a user capture geo-tagged images which are directly uploaded in the NOAH server for crowd-sourced information, real-time monitoring and reporting of disaster events in the community. It also features an Info Board, where a real-time broadcast messaging system is coordinated from NOAH and other offices involved in disaster management, directly to the users in the field, down to the community level.
For ordinary citizens the applications and information that is found on the MOSES tablet can be downloaded on your smartphone via the iTunes store or Google Play Store. They can also see the hazard maps and other updated disaster information at Project NOAH's website portal.
For Links and information sources for this article please see below:
http://www.gov.ph/about-project-noah/
Benedict "Dinky" de Borja has been a volunteer Firefighter + Medic for the Pateros Filipino-Chinese Volunteer Fire and Rescue Brigade for the last 5 years. He helps Dr. Sixto Carlos on topics such as Emergency and Disaster Preparedness, as well as First Aid.