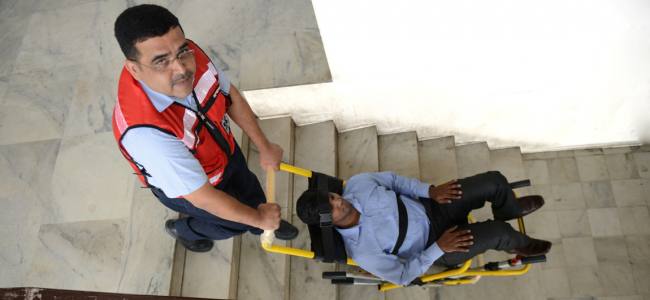 Improving safety of the physically challenged during building emergencies
This article is contributed by Roy Joseph Mampilly who is based in India. (On Facebook and Indiamart)
India, home to 1.2 Billion people, is the world's tenth largest economy in dollars terms and expected to race to the third position worldwide in the next fifteen years. Urban India is rapidly growing with modern physical infrastructure like high rises and modern airports and large public structures.
India is also home to one of the largest populations of physically challenged at 25 million people. And yet, India's rising modern infrastructure does not empower the physically challenged during times of emergencies. Emergency safety systems and awareness is still very dated and needs a twenty year leap to the 21st century.
Let me take the simple example of using evacuation chairs in high rises during emergencies
Design Challenge: Not all high rise buildings are properly designed especially from an evacuation perspective. Stairwells are poorly designed even for normal people and unusable by the physically challenged. This includes the width, railings and angle of the stairs.
Solution: NGOs, Safety Organizations and Government Regulatory bodies have to work with civic authorities and the fire department to educate, mandate and implement better evacuation design with specific attention to the physically challenged.
Safety Equipment Challenge:Many high rise buildings do not install or maintain safety equipment like evacuation chairs which are specially designed to evacuate physically challenged or injured people from high rise buildings. During fire emergencies the physically challenged or injured are either left behind (to be dealt with by the fire department) or people struggle to physically lift them and evacuate them. Either way, the overall risk of fatalities and injuries increases manifold.
Solution: Regulations should cover evacuation chairs or basket stretchers with proper lifting bridle for high rise buildings. Many multinationals and corporate hospitals have already implemented these guidelines on par with their international offices. Education of civic authorities, fire safety departments and builder associations will go a long way in achieving 100% coverage in high rise buildings.
Training Challenge: Employees, security personnel and residents of high rise buildings are not adequately trained to deal with emergencies. Only some companies conduct safety drills and even the ones that do, employees are not trained on basic first aid, CPR and usage of emergency equipment. The only training I remember receiving when working in the corporate sector was basic fire safety. This is the bare minimum the corporate sector can get away with and will get away with.
Solution: Raise awareness amongst corporate sector to improve quantity and quality of training around emergency response, CPR and basic first aid. Regulations around training to be on par with first world countries. Training audits to be conducted for publicly listed entities and large companies. Many smaller companies tend to follow the leaders in terms of their practices.

There are thousands of lives lost every year due to high rise emergencies and the most vulnerable of these victims are the physically challenged or temporarily physically challenged due to injury. Let us all work towards building a safer world for everyone and especially the people who need our support at their weakest moment.
This article is contributed by Roy Joseph Mampilly who is based in India. (On Facebook and Indiamart)
Roy is certified health care provider trained by AHA (American Heart Association). He is also Basic Cardiac Life Support Instructor trained by (NRC) National Resuscitation Council – Singapore.
Roy cofounded Merquri Medica an organization with a vision to prevent & alleviate human suffering by providing BLS training & equipments to various corporate, schools, NGO's & Govt. organizations across India. 
Roy is an arts graduate from OU, Hotel Management Graduate from IHM Hyd, Certified BLS provider by AHA &  BCLS instructor certified by NRC Singapore. Roy started his career in hospitality industry in the year 1989. Thereafter he worked for ITC LTD & VST Industries Ltd handling Personnel Services, facilities, IR & labour welfare function. He moved on to work with Virtusa & Idea cellular as head of the Facilities, Nodal, safety, security, transport etc.
In 2006, he is co-founded Merquri Medica (unit Merquri Work & Play Pvt. Ltd) with a vision to alleviate human suffering by offering basic life support training & marketing world class products used for resuscitation & saving life.
Over the last few years, Roy has trained thousands of professionals across various private and government sector organizations in basic life support and CPR, using AED etc. He is a pioneer who introduced India to the concept of professional first aid kits. He is passionate towards imparting BLS education among communities.
Roy is certified health care provider trained by AHA (American Heart Association). He is also Basic Cardiac Life Support Instructor trained by (NRC) National Resuscitation Council – Singapore.
He designed training programs starting from an intensive 2 days program to 3 hour quick review program to suite various audience.  The trainings are well structured with intensive hands on practice on skill stations, role plays using AED trainer, theory & Videos.
He also conducts 2 days TTT program & supports them with the lesson plan & other relavant inputs so that these trainers are equipped to train other people within the organisation.
Roy lives in Hyderabad and in his spare time loves capturing nature in his camera, travelling and watching movies.