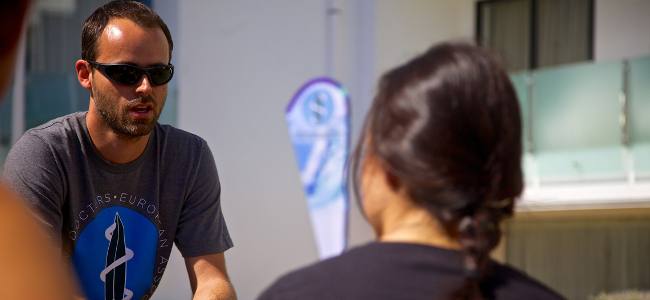 Introducing the Masterclass in Surfing Medicine
By Alex Kelleher – photos from Bas Bartholomeus: Courtesy of EASD
The 3rd Annual Conference in Surfing Medicine (The Glasshouse, Sligo, Ireland, 9th-13th September 2014) sees the introduction of the Masterclass. You'll have the possibility to participate in two (2) different Masterclasses, one during the afternoon of the 10th and another on the morning of the 12th. In a small group (10-12 persons) of stoked surfing doctors/allied health professionals you will explore the surfing medicine aspects of the chosen subject. With a lot of hands-on practice, and the possibility to discuss the topic at hand and ask questions with a specialist, the approximate two (2) hours ought to be highly informative and stimulating. Picture one, or several, scenario(s) on the beach or in the life of a surfer that might occur within your chosen area.
What is the specialist's advice?
The group will be very diverse in background and field-of-work, but you all share a passion for surfing and medicine! The EASD aim to "Keep the Surfer Healthy and Safe". Consider the Masterclass in this context.

Do you want to reach out and raise awareness among the surfing community as well as the medical scientific world about the main messages deriving from your chosen Masterclass?
The Masterclass brings people together with enhanced interest in certain topics. Why not consider creating a 'Task Force' with other interested individuals with the aim of developing the evidence-base and creating projects – from scientific research work to social initiatives for surfers and their communities – just what the surfing (medicine) world has been waiting for!
We hope your Masterclass will act as a seedling, the fruit of which will be an emerging evidence-base for surfing medicine in all its facets.
We are excited to hear about your ideas and plans.
Go for it! The EASD will support in whatever way we can.
We've gathered so much expertise already, there are Stoked Surfing Doctors right across the world – so Sign-Up Now, choose your Masterclass, and be part of the Global Team!