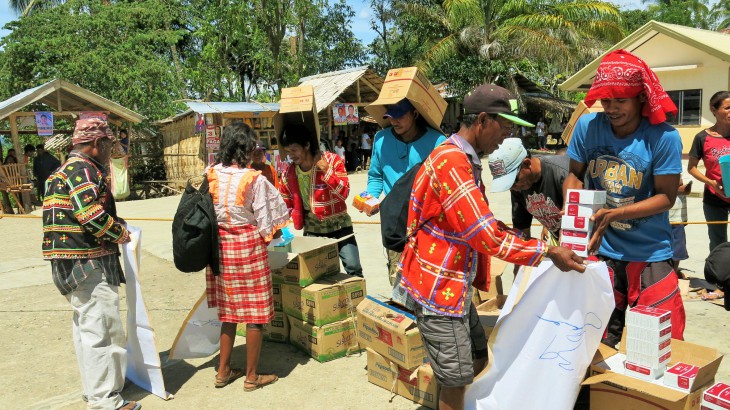 Philippines: 29,000 people affected by drought in North Cotabato receive food aid
Manila (ICRC) – To help alleviate the plight of communities affected by the El Niño phenomenon, food rations were distributed to over 29,000 people in two drought-hit municipalities in North Cotabato province in central Mindanao.
In addition to facing the consequences of armed violence that has persisted for decades, thousands of farmers are now also bearing the brunt of drought as their farmlands are getting drier by the day.
"The last harvest was very poor for some farmers in North Cotabato; others experienced total crop failure. They have had difficulties coping, especially as they live in interior and upland villages," said Dominic Earnshaw, head of the International Committee of the Red Cross (ICRC) office in Cotabato City.
"By providing food to the affected families, we aim to help them save their seeds for the next planting season," he explained.

On 26-30 April, the ICRC, together with the Philippine Red Cross, provided food to farming families from 15 far-flung villages in President Roxas and Magpet municipalities of North Cotabato.
The food rations – covering a family's needs for one month – consisted of 25 kilograms of rice, 24 tins of sardines, 2 liters of cooking oil, 2 liters of soy sauce, 2 kilograms of sugar and 1 kilogram of salt, as well as basic hygiene items.
"We have experienced drought in the past, but what is happening now is the worst. No one is spared. Our livelihoods are adversely affected," said 56-year-old Isias Buned, chief of Sundungan village in President Roxas, North Cotabato. "We never thought the Red Cross would deliver relief from the consequences of the dry spell."
The ICRC is a neutral, impartial and independent humanitarian organization whose mandate is to protect and assist people affected by armed conflict and other situations of violence. It has had an established presence in the Philippines for over 70 years and a permanent presence in Mindanao since 1982.