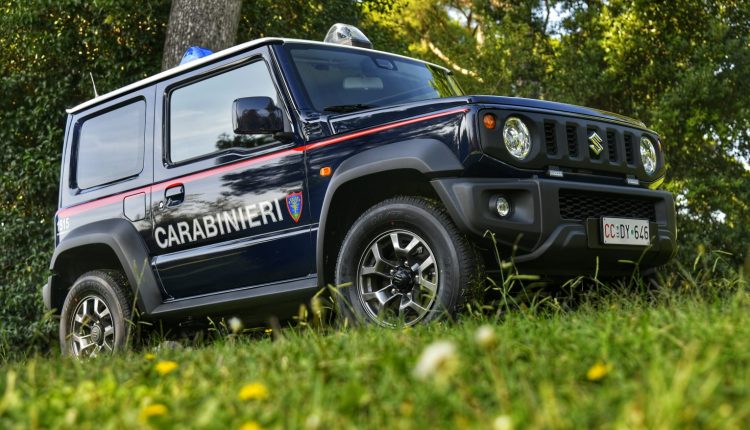 Suzuki Jimny, the super-compact 4WD enters the Carabinieri Corps
The Carabinieri Corps chose 20 new Suzuki Jimny vehicles. Various departments of the Alpine and Apennine areas will use the Japanese 4WD.
The Carabinieri Corps has a new ally for services in inaccessible areas and difficult to reach, where you need a real 4WD lightweight, compact and durable. We are speaking about the new Suzuki Jimny 1.5 4WD. Jimny is a small off-road car, equipped with beacons and on-board instruments. The body was modified by the Focaccia Group. The Carabinieri's Jimny can operate as a "radiomobile" unit, and have European standard sirens, lights and accessories.
The Suzuki Jimny for troops operating in complex areas
"On uneven and low adherence funds, Jimny will be an excellent ally," said General Antonio Jannece, praising the characteristics of compactness and versatility of the medium.
A total of 20 vehicles will be prepared, all with 4×4 traction and intended for the controls in areas where it is necessary to attend more of the off-road. National parks, Apennine areas, Alpine stretches are mainly the areas where the Jimny can be seen at work.

The small one of Suzuki's house has the classic blue livery with the Led beacons and the two-tone siren (housed under the bonnet). In the lower part of the grille, two blue flashing LEDs have been integrated. The central swivelling headlamp is multidirectional, while inside there is space for radio, coupling for short weapons, emergency lights and ultra-powerful lamps. The interior is fitted with rubber mats and two extra supports. The car is also equipped with a fire extinguisher and snow chains, although the Jimny is already equipped with M+S tyres.
Powerful engine, but the Carabinieri also set an example for ecology
Also based on a side member chassis, the new generation of Jimny is powered by a 1.5 hp, 130 Nm, 102 hp aspirated petrol engine. The gearbox is a five-speed manual with reduced gears, and the traction is – from tradition – all terrain. The Suzuki concept starts from a Rear-Wheel Drive. In normal conditions, the car travels with rear-wheel drive, while for off-road driving it is possible to insert the front-wheel-drive to move in 4×4 mode manually. From the south of Japan, however, not only will compact off-road vehicles arrive. The Carabinieri Corps is about to fleet 55 Ignis 1.2 Dualjet All Grips with 90 hp, in the 4×4 variant with (mild) Hybrid technology.