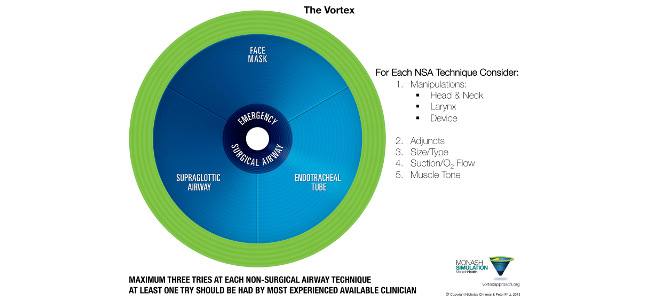 The Vortex Approach: free e-book and videos
The Vortex is a "high stakes cognitive aid" – simple enough to be recalled in a crisis and flexible enough to be used in any context. Our philosophy is to train staff for management of the unanticipated difficult airway in the same manner we train them to manage cardiac arrest – using a single simple & universally applicable template that is taught to all staff likely to be involved in managing the crisis – irrespective of critical care discipline and of whether they are from a medical, nursing or paramedical background.
DOWNLOAD THE FREE E-BOOK outlining the Vortex Approach. Available in a variety of formats to suit all computers, tablets, smartphones & e-readers.

READ ALSO: THE VORTEX APPROACH CHECK LIST