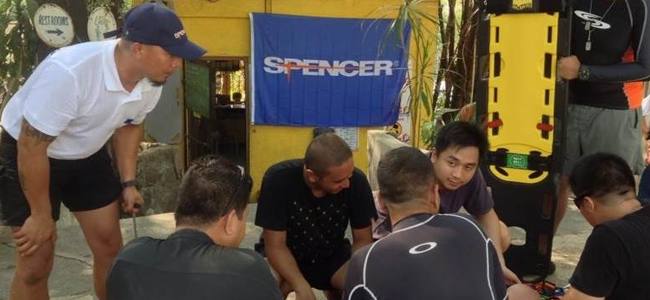 Water Rescue training in Philippines to prevent flood-risk
The rescue teams from various groups gathered at Bulacan province to rescue hundreds of residents, who were enforced to stay on their houses' roofs, due to enormous flooding that occurred in last year. The rescue teams from the Armed Forces of the Philippine (AFP), Philippine National Police (PNP), Philippine Coast Guard, the Metropolitan Manila Development Authority and two local government units from Metro Manila have dispatched teams to join rescue efforts for hundreds of residents trapped in Hagonoy and Calumpit towns. The military's side dispatched to Bulacan province include AFP's Disaster Rescue Task Force, Philippine Army, Philippine Navy and Philippine Marines. The PNP has also sent teams from its Public Safety Battalion and Maritime Group.
Consequence on this, Spencer held water rescue training at Long Meadows Country Resort in Bulacan, Philippines on 30th April 2014. As for the products produced specifically for use in water, Spencer has auxiliary simple and flexible accessories which is combined with the superiority of the products which supplies an effective back-up to the rescuer. The user can then in turn depend on the flexibility and a vigorous support of the victim.
Today, many of the rescue associations throughout the world are using, with satisfaction, Spencer products. The Spencer product that been used worldwide for water rescue includes universal floatation system for basket stretchers, universal reserve system for inflatables, floating spine board, basket stretcher with spine board, basket stretcher for water rescue, net for water rescue, bag with integrated rope, floating rope, aluminium whistle key ring, professional life-saving buoy, universal linear rescue collar, universal linear lifesaver.
The verdict to discover and consequently comprehend a line devoted to water rescue indicates an important phase in the development of Spencer's range of products for rescue operations. The advanced essence of this line replicates the requirement to meet the necessities of the various associations especially who take care of the welfare of societies no matter what the circumstances, to think of a safety that goes beyond dry land.