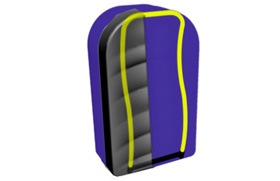 World Rescue Challenge, extrication challenge for teams. Life-saving spinal boards and cervical collars
Spencer 10 G backpacks are a jewel in the Collecchio-based company's crown, a design that manages to live the daily routine with a sense of innovative aesthetics combined with robustness and efficacy. Spencer 10 G backpacks are first of all stable, and it is the stability of a backpack which counts most for the rescuer during rescue operations.

Once again Spencer displays a range of personal outfitting products which deserve a closer look. The Back Frame makes the 10 G backpack extremely stable, where both material and weight are reduced to a minimum. Backpacks tested with the "crash test" for maximum safety that is everything-proof…
In the gallery the "Cargo-Frame", "Cargo-Flex" and "Cargo-Comfort" models.