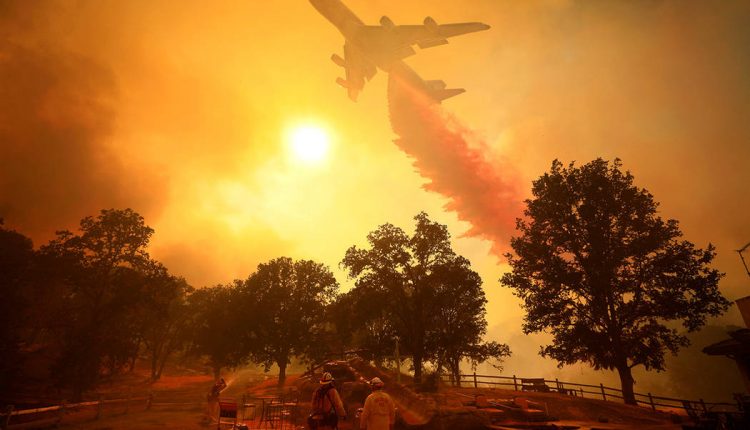 California wildfires: in Woolsey, around 3,700 firefighters at work. Another priority is saving animals!
Official comunications of CAL Fire and Ventura County Emergency Information center. wildfires in California became even more dangerous and risks are high. Below the list of shelters, also those dedicated to animal rescue.
WOOLSEY – Southern California is burning in these hours. Only the 35% of the monstrous wildfire that burst out 6 days ago is under control from yeasterday. The other is wild and dangerouns. The CAL Fire data are clear:62 fire crews involved (i.e. 3,685 firefighters at work to domate flames), 508 fire engines dispatched and 22 helicopters to support
Also a 747 supertank has been dispatched by CAL Fire in support with flame retardant red substance. The blaze has so far scorched 150 square miles on the outskirts of Los Angeles and killed two people, whose burned bodies were found in a car in a Malibu driveway on Friday. Dead toll reached 42 and these are the most deadly wildfires that ever affected California.
Cal Fire reported it was 30% contained on Tuesday and had burned nearly 200 square miles in Butte County. Both of the LA-area fires started Thursday afternoon, and many people had to quickly flee, leaving behind beloved homes and pets.
CAL Fire reported also the situation updated:
Moderate Santa Ana wind buffeted the area today with wind gusts between 30 and 45 MPH. The strong winds, combined with relative humidity in the single digits, produced another day of critical fire weather conditions. Fire crews and aircraft worked to contain a flareup in the Sherwood Lake area. Resources were mobilized from staging to assist with suppression efforts. Firefighting resources will pursue opportunities to build and improve direct line to minimize further perimeter growth and support containment objectives.
Now , the priority is saving animals. Many were forced to flee without managing rescue their beloved pets. In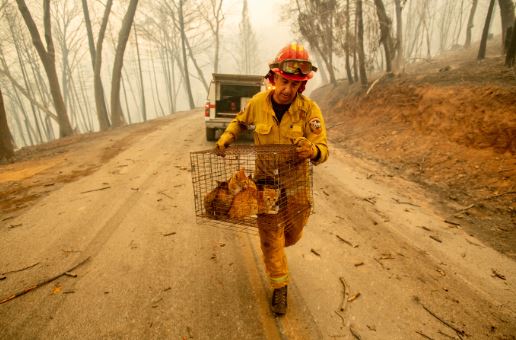 particular for farmers who had to leave withouknowing how to transport their cows, hourses and pigs. Without counting wild animals who are trying to escape flames. Police, firefighters, animal rescue societies and of course hundreds of volunteers are working hard to save more animals as possible.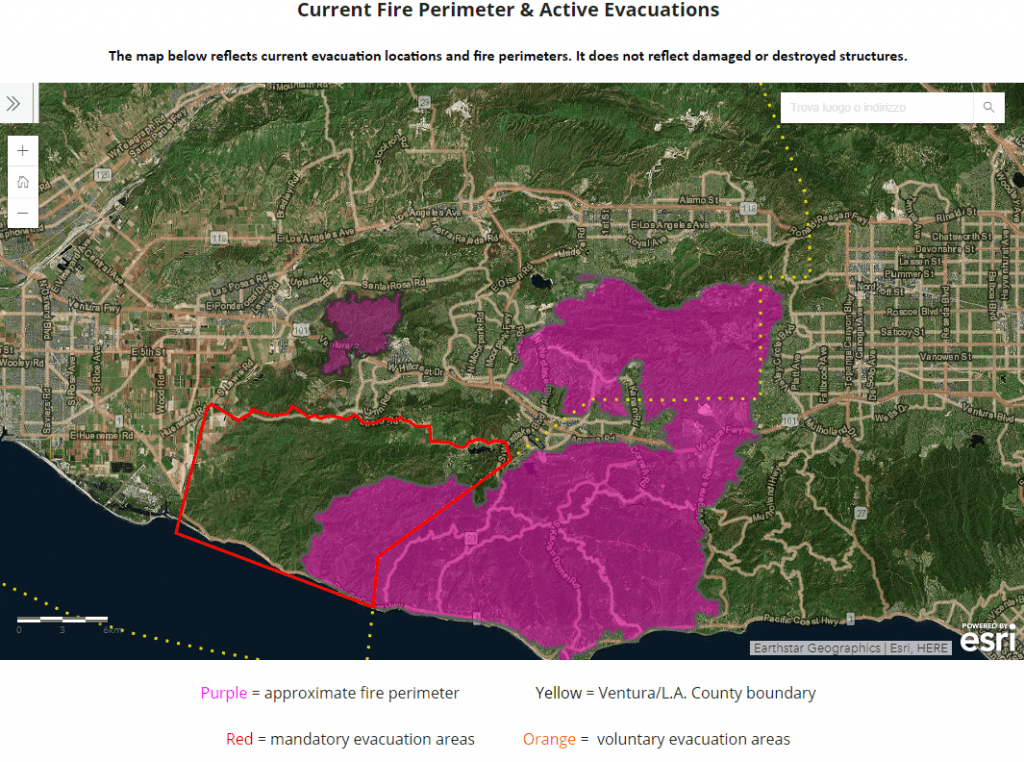 Evacuation Centers
California Lutheran University – Gilbert Sport & Fitness Center  (Small Gymnasium) 130 Overton Ct. Thousand Oaks, Ca. 91360
Taft Charter High School – 5461 Winnetka Ave., Woodland Hills, CA 91364
Pierce College – 7100 El Rancho Dr., Woodland Hills, CA 91371 (Entrance off Desoto Ave.)

Los Angeles County Animal Services
Accepting large animals (at capacity
Animal Shelters
The Humane Society of Ventura County

Dogs, Cats, Horses, and other domesticated animals – 402 Bryant St., Ojai, CA 93023 (805) 646-6505

Ventura County Fair Grounds – 10 W. Harbor Blvd., Ventura, CA 93001 (call to check capacity (805) 388-4258)

Ventura County Animal Services (805) 388-4258 (space for small animals)

Ventura County Animal Shelter – 

Ventura County Animal Services (805) 388-4258

Simi Valley Animal Shelter – 670 W Los Angeles Ave, Simi Valley · (805) 388-4341 (space for small animals)
Pierce College – 7100 El Rancho Drive Woodland Hills, CA 91371 (Entrance off Desoto Ave.) (at capacity)

Los Angeles County Animal Services

Hansen Dam Equestrian Center – 11127 Orcas Avenue, Lake View Terrace, CA 91342 (at capacity)

Los Angeles County Animal Services

Earl Warren Show Grounds – 

3400 Calle Real, Santa Barbara, CA 93105

 Check-in at Gate C off of Calle Real
If you need large animal assistance, please call (805) 388-4258