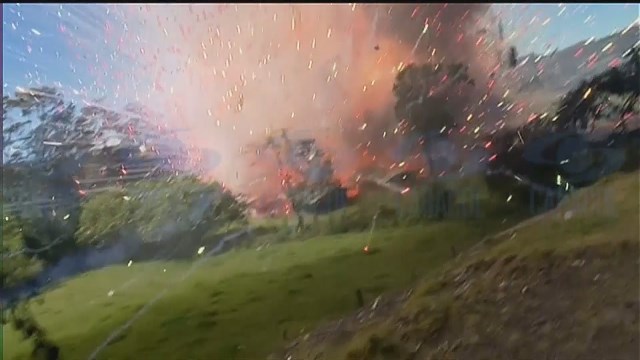 Fireworks factory expode in Colombia - VIDEO
Firefighters were met with a fearsome daytime display when a fireworks factory exploded, shooting rockets and showers of sparks in all directions. Roads were closed both ways around the fire near Granada, Colombia, south-east of the capital Bogotá, as it disgorged masses of explosive material all around, leaving the local area akin to a warzone. A news cameraman's footage of the fire showed how he was forced to dodge and dive when rockets came flying directly towards him, until he was forced to take cover behind a parked bus. One person was slightly injured when he was hit by shrapnel sent flying by the explosion yesterday morning, according to Fox News Latino.

Road closures around the fire had blocked many who were returning to Bogotá after spending Christmas and New Year outside the capital, Colombian news website Noticias Caracol reported. The fire destroyed five warehouses where gunpowder was being stored, authorities said. Provincial Governor Alvaro Cruz was quoted by Fox News Latino as saying an investigation had been launched to determine why the factory blew up, although it appeared the facility had permits to store and sell gunpowder.