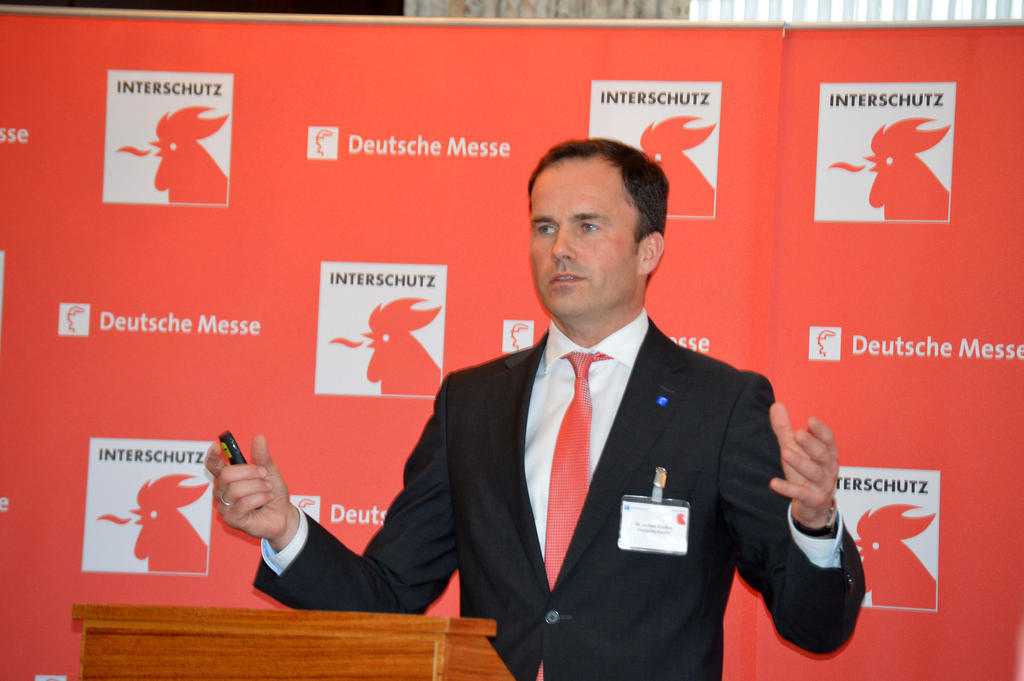 Interschutz 2015, the biggest Interschutz Ever
Innovation at an all-time high: this year's INTERSCHUTZ to feature more exhibitors than ever before
–       Deutsche Messe expecting some 1,400 exhibitors and over 100,000 square meters of booked space
–       German Interior Minister Thomas de Maizière to officiate at the opening ceremony
–       New: dedicated sector showcases/dialogue hubs plus Partner Country Days for Italy, France and Poland
Hannover, Germany. From 8 to 13 June this year, the Hannover Exhibition Center, the world's biggest tradeshow complex, is hosting INTERSCHUTZ, the show for all things innovative and ingenious that the world has to offer in the way of technology, services and ideas for the rescue, fire prevention, disaster relief, safety & security sectors. "There will be a record 1,400 exhibitors from 49 nations exhibiting on an unprecedented 100,000 square meters [over 1 million sq. ft.] of display space. It will be the biggest INTERSCHUTZ ever," said Dr. Jochen Köckler, the Deutsche Messe Managing Board member responsible for INTERSCHUTZ. "People are obviously more conscious than ever of safety and security issues, judging by all the crisis events that have been happening around the world recently. So it's nice to know that many of the answers to these pressing new challenges will be available in Hannover.
Commercial and non-commercial exhibitors addressing a rich array of topics
INTERSCHUTZ is held every five years and is dedicated to the four overall themes of rescue, fire prevention, disaster relief, and safety & security. It is organized by Deutsche Messe in partnership with the German Fire Protection Association (GFPA), the German Fire Service Association (DFV), and the German Engineering Federation (VDMA) as co-promoters. This partnership ensures that the show offers a unique mix of commercial and non-commercial exhibitors. With three months yet to do until the gates open on this flagship fair, it is already clear that the upcoming INTERSCHUTZ will be more diverse than ever.
INTERSCHUTZ is also headed for an all-time record in terms of international exhibitor participation. A total of 49 nations will be represented, and there will actually be more exhibitors from outside Germany than German exhibitors. The top 10 exhibiting nations, apart from Germany, are China, Italy, the USA, the UK, France, the Netherlands, Austria, India, Poland and the Czech Republic.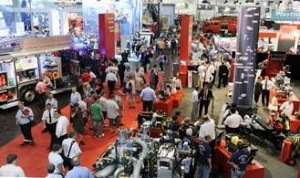 More than 125,000 attendees from all around the world

INTERSCHUTZ 2015 will also attract a highly international mix of attendees. The fair's organizers are expecting more than 125,000 visitors from all around the world, with the lion's share of the foreign visitors coming from Germany's near neighbors, particularly Austria, Switzerland and the Benelux states. No less impressively, 70 percent of the visitors will be senior figures with decisive input into their organizations' buying decisions.
Premiere of Partner Country Days with Italy, France and Poland
To further enhance the international mix, this year's INTERSCHUTZ will include an all-new Partner Country Days program that will attract high-level international delegations and feature country-specific activities at the national pavilions of the participating Partner Countries – Italy, France and Poland. The program gets underway on day two of the fair, Tuesday, 9 June, with the Partner Country Italy showcase, for which around 70 Italian exhibitors have registered so far. Then, on Thursday, 11 June, it's time for France to step into the limelight with a showcase themed "Innovation for Greater Security in the World" that will feature – at last count – around 60 exhibitors. The event has the support of France's Minister of the Interior, Bernard Cazeneuve, who has signaled that he will be attending. On Friday, 12 June, Poland will star as Partner Country with a showcase that will bring Polish exhibitors to INTERSCHUTZ in record numbers. The showcase will also feature numerous special presentations and demonstrations focusing on the growing importance of the Polish market.
Spectacular highlights in six exhibition halls and on the open-air site
This year, INTERSCHUTZ, with its four main themes of rescue, fire prevention, disaster relief, and safety & security, will occupy more display space than ever before. The show will span six exhibition halls and will also encompass a large open-air site that will be home to an array of spectacular demonstrations and competitions, including the Toughest Fire Fighter Alive contest. The Fire Prevention section is an extensive showcase ranging from technical fire protection systems to airport fire trucks. It will be staged in halls 12, 13, 24, 25 and 27, on the open-air site and in Pavilions 32 to 35. The Disaster Relief showcase is spread across halls 24, 25 and 26 and the open-air site and will present everything from water purification equipment to innovative software for managing and coordinating disaster relief teams. The Rescue showcase brings together emergency medical service professionals, paramedics and manufacturers of vehicles and medical equipment and spans halls 24, 25 and 26 and the open-air site. The fourth main component of INTERSCHUTZ 2015, the Safety & Security showcase, will be housed in Hall 12 and, of course, on the open-air site. There, visitors will find answers to many important questions, including, not least, how to protect critical civilian infrastructure in the event of disasters.
 Knowledge-sharing opportunities at congresses and conferences
The knowledge-sharing and dialogue opportunities at INTERSCHUTZ extend beyond the exhibition stands and demonstration areas and include about 50 congress and conference events. Highlights here include conferences on flood protection and preventive fire protection organized by the German Fire Protection Association (GFPA), and the European Fire Services Conference and the Conference on the Future of Volunteer Fire Services ("Ready for the Future") organized by the German Fire Service Association (DFV). INTERSCHUTZ 2015 will be opened on 8 June by its official patron, Germany's Federal Minister of the Interior, Thomas de Maizière.
New at INTERSCHUTZ: dedicated sector showcases/dialogue hubs
In addition to their exciting array of exhibits, the four main sectors represented at INTERSCHUTZ will feature a unique program of info- and dialogue-rich events. For instance, INTERSCHUTZ will be staging a brand new platform on preventive fire protection in Hall 13. Similarly, professionals from the rescue and disaster relief sectors will be sharing knowledge and ideas at a dedicated hub in Hall 25. Meanwhile, the safety & security showcase and the CRI!SE (Critical Infrastructure Event) conference in Hall 12 will put the focus on protecting critical civilian infrastructure in the event of disasters. These two events will have a strongly international focus, as disasters can be international in scale and necessitate global planning and responses. Visitors will be able to talk directly to key players in the safety & security sector and gather first-hand information.
Deutsche Messe AG
With revenue of 312 million euros (2013), Deutsche Messe AG ranks among the world's ten largest trade fair companies and operates the world's largest exhibition center. In 2013, Deutsche Messe planned and staged 119 trade fairs and congresses around the world – events which hosted a total of 41,000 exhibitors and some four million visitors. The company's event portfolio includes such world-leading trade fairs as CeBIT (IT and telecommunications), HANNOVER MESSE (industrial technology), BIOTECHNICA (biotechnology), CeMAT (intralogistics), didacta (education), DOMOTEX (floor coverings), INTERSCHUTZ (fire prevention and rescue), and LIGNA (wood processing and forestry). With over 1,000 employees and a network of 66 representatives, subsidiaries and branch offices, Deutsche Messe is present in more than 100 countries worldwide.