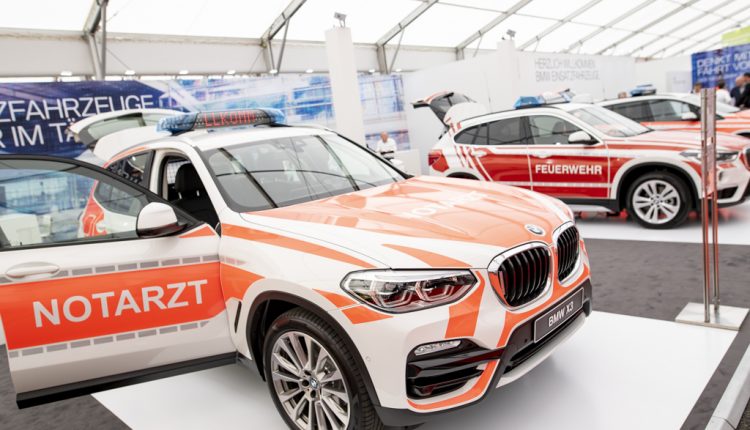 RETTmobil 2019 - The fair of life savers has arrived
19th RETTmobil 2019 from May 15 to 17 in Fulda: Leading International Trade Show for Rescue and Mobility
The 19th RETTmobil 2019 from May 15 to 17 at Messe Galerie Fulda is an indispensable meeting place for all rescue workers and a global showcase of superlatives. Internationality is a top priority with 545 exhibitors.
This leading trade show for rescue and mobility will also confirm its excellent reputation and score points with a further increase in quality. Fulda will once again be the focal point of the entire rescue industry for three days.
Exhibitor interest is growing from year to year, reports Messe Fulda GmbH, responsible from the very beginning for the planning, preparation and implementation of the event.
The management with Petra Dehler-Udolph and Dieter Udolph also bases its optimism on RETTmobil's excellent results last year with 29,618 trade visitors and 540 exhibitors – record figures.
A few days before the European elections on May 20, Dieter Udolph refers to the numerous exhibitors from the European region.
You can hardly find as much Europe as at the 19th RETTmobil.
It is proof of the European idea and a platform for the worldwide community of helpers and rescuers.
The central location in Fulda, with 70,000 square metres of exhibition space, 20 halls and an extensive outdoor area at the Messe Galerie, offers the best conditions for renewed success. RETTmobil's excellent reputation rests on three pillars right from the start: Trade show, advanced training and mobility.
Quality became the fourth pillar. Figures speak for themselves: around 334,600 trade visitors and over 6,200 exhibitors have registered at the 18 events to date.
This makes RETTmobil a unique platform for the large aid organisations.
Also in 2019, among others, the German Fire Brigade Association, the Association of Fire Brigades in Rescue Service, Fulda Fire Brigade, Malteser Hilfsdienst, Johanniter-Unfall-Hilfe, German Red Cross, Federal Agency for Technical Relief and the German Armed Forces will be present. The exhibition presents products, innovations and services.
This year the fire service industry is very strongly represented with many leading manufacturers. The exhibitors come from numerous EU countries, Asia and the USA.
The Fulda fire brigade has once again prepared an attractive training programme for emergency forces this year.
Among other things, the demonstrations will focus on rescue from emergency situations with hydraulic and pneumatic rescue equipment. The fire department will also be showing its latest vehicles.
Important components of RETTmobil's extensive range of information are the traditional science congress and the specialist programme with renowned speakers under the motto "From practice for practice" with medical rescue training events and workshops.
Visitors will experience mobility in the off-road area for trainings and on the test track for driving safety exercises.
Georg Khevenhüller is the patron of the 19th RETTmobil, the world's most important forum for innovation, safety, quality, competence and further training. The new president of the Malteser Hilfsdienst will open the fair on Wednesday, May 15th at 10 am.