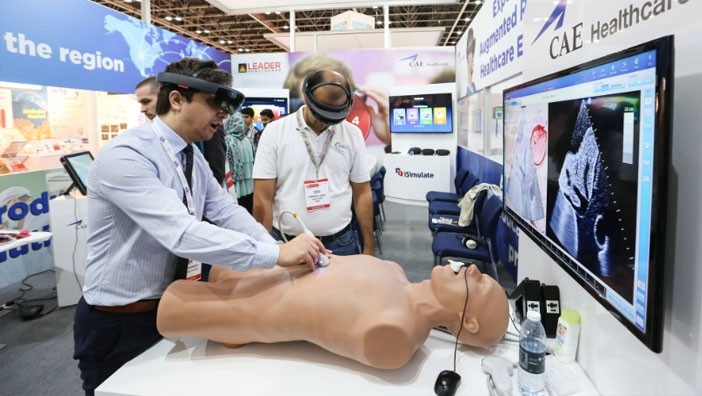 Arab Health 2019: Innovation Hub, the Dubai Science Park, Conferences for CME, and much more!
Let's check brand-new innovations and devices out at Arab Health 2019! The 44th edition of the show is taking place from 28 - 31 January 2019 at the Dubai World Trade Centre and the Conrad Hotel.
What are the Innov8 talks?
The Innov8 Talks, taking place at the Innovation Hub in the Plaza hall, is a dedicated programme to showcase the latest healthcare innovations in a series of sessions. With a dedicated theme, each day will revolve around the 'pitches'; 8 companies presenting for 8 minutes to our panel of experts. Come and attend the sessions to see who will be the best pitch of the day, and to learn more about the latest products changing the healthcare industry.
Each day will be opened by an important keynote speaker discussing topics ranging from genomics, artificial intelligence and the digital transformation of the NHS. Following the pitches will be important industry sessions from leaders in the field, both regional and international. Stay for the afternoon and hear featured talks by CEOs, academics, global board of directors and more!
Themes of each day:

Day 1: Future of Care and Treatment
Day 2: Disease Prevention and Management
Day 3: Patient Engagement and Monitoring
Day 4: Patient Safety & Quality
Dubai Science Park Business Networking Evening – Arab Health
We would like to invite you to join Dubai Science Park for an evening of networking and sharing best practice as part of Arab Health 2019.
We have organized a networking event to be hosted at The Bubble Lounge in the Sheikh Rashid Hall of the Dubai World Trade Centre, following the Wednesday's events at Arab Health.
Details:
Location: Dubai World Trade Centre, Bubble Lounge, above Sheikh Rashid Hall
Date: Wednesday, 30th January, 2019
Time: 6:00pm to 9:30pm (After Arab Health)
At this event, our team will be available to assist with any representatives from the Sciences industry, including: Healthcare, Life Sciences, Renewable Energy and Sustainability, Environment, Medicine, Wellness, Food Sciences and Pharmaceuticals.
This year, we are bringing a team of experts and analysts for a series of open group discussions to help your organisation. We have divided our reception into 4 zones that are open to any representatives or organisations in the Sciences sector.
Networking Hub
An open area with canapes and refreshments served all evening.
An area to meet with likeminded individuals and business colleagues and share best practice from the Sciences sector.
Business Hub
The Business Development Team from Dubai Science Park will assist you with any enquiries about setting up your business in the growing UAE market.
Learn how to register and set up your business in Dubai.
Discuss options, pricing, licensing categories and offices available within Dubai Science Park.

Media Hub
Representatives from our PR team will be available to discuss options on promoting your business across the UAE and the best way to have your message carried by English and Arabic media in the region.
Journalists covering the Healthcare and Sciences sector will be invited to attend and conduct interviews with companies at this event.
PR agency and media representatives will give advice on press releases, events as well as trade and tier one newspapers in the UAE.
Social Media tips and trends for SMEs and other companies looking to setup in Dubai
Industry Hub
Representatives from the Dubai Science Park Strategy team will be available within the Industry Hub for consultation.
Information will be presented on the Sciences and Healthcare sectors within the GCC.
Industry trends and discussions about the current market.
Healthcare regulations within the region.
We trust you will find this event to be an exciting opportunity for you and your colleagues to find out more about the growing Healthcare and Sciences sector in Dubai.
This is an open invite for anyone involved in these sectors and all you need to do is register by email below to attend.
11 CME conferences
Online registration for the 11 CME conferences at Arab Health is now closed.
Onsite registration will be available at Al Wasl Foyer (between Hall 4 & 5), Trade Centre and Level 2, Conrad Dubai Hotel on Sunday 27 January, 1:00 pm – 6:00 pm and during the show dates (28-31 January) from 7:00 am to 5:00 pm.
Empowering you to provide the most current medical care.
The 44th edition of Arab Health Congress will take place from 28 – 31 January 2019 at the Dubai World Trade Centre and the Conrad Hotel.
The 2019 edition will feature 11 CME accredited medical conferences for attending healthcare professionals. With the aim of bridging the gap in medical knowledge, the carefully designed congress provides the very latest updates and insights into cutting edge procedures, techniques and skills.
Below is the list of the upcoming 2019 conferences:
Total Radiology: 26.75 CME + 26 UAE MOHAP CPD 28 – 31 Jan
Orthopaedics: 22 CME + 22 UAE MOHAP CPD 28 – 31 Jan
Surgery: 25.25 CME + 24 UAE MOHAP CPD 28 – 31 Jan
Obs & Gyne: 25.75 CME + 24 UAE MOHAP CPD 28 – 31 Jan
Gastroenterology: 12 CME + 12.75 UAE MOHAP CPD 28 – 29 Jan
Diabetes: 12.25 CME + 12 UAE MOHAP CPD 28 – 29 Jan
Paediatrics: 12.75 CME + 12.75 UAE MOHAP CPD 28 – 29 Jan
Public Health: 10 CPD 30 – 31 Jan
Anaesthesia: 10.25 CME + 10.25 UAE MOHAP CPD 30 – 31 Jan
Emergency Medicine: 12.75 CME + 12 UAE MOHAP CPD 30 – 31 Jan
Quality Management: 12.75 CME + 12.75 UAE MOHAP CPD 30 – 31 Jan
Brochure here