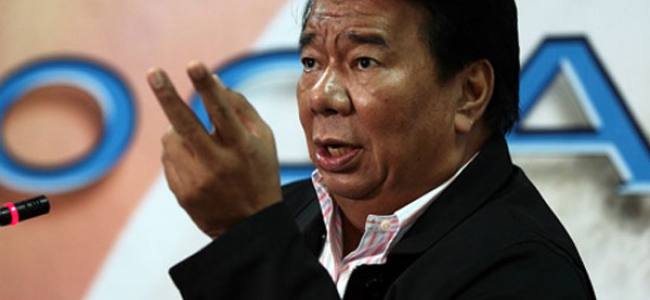 Philippines in 2015 will boost the social services budget
MANILA, Philippines – Social services will receive a boost in the national budget next year as the government plans to spend as much as P967.9 billion for programs aimed at helping the poor, Senate President Franklin Drilon said on Thursday.
The social services sector's budget in 2015 is 15 percent more than the P841.8 billion allotted for this year. It also takes 37 percent of the proposed P2.606-trillion national budget next year.
"The next year's spending program reflects the priorities in the remaining years of the Aquino administration which are to alleviate poverty, provide efficient healthcare and improve the quality of education in the country," said Drilon.
He said out of the budget, the Department of Education will get the lion's share at P365.1 billion, 17.9 percent higher than this year's P309.5 billion. bThe hike is expected to be used for the government's school building program which costs P52.9 billion, P8.248 billion more than its budget for this year.
"As part of the effort to address classrooms shortage, the government will construct 31,728 new classrooms in 2015 and repair 9,500 dilapidated ones, including those damaged by past calamities including super typhoon 'Yolanda,'" he said. An additional 13,586 water and sanitation facilities will also be constructed next year.
Drilon said the government also plans to procure 1.3 milloin new desks and armchairs and 70.5 million textbooks and instructional materials. An additional 39.066 teachers will also be hired next year.
We should keep on investing in the education of our youth, because a quality education will lead the country to a better future. The people, most especially the youth, is the most important asset our country has to nurture, and part of it is by giving education the highest priority in the budget," he said.

Meanwhile, the Department of Health is also set to get P102 billoin in funding from its current budget of P90.8 billion.
"For 2015, more money will go to public hospitals and clinics around the country. For instance, the government will allot P13.1 billion for the upgrading of 1,242 barangay health stations, 587 health centers from remote barangays, 128 hospitals in different provinces, 19 DOH-managed hospitals, and 11 treatment and rehabilitation centers," Drilon said.
The government will likewise boost the premium subsidy for the National Health Insurance Program to P37.2 billion from its current budget of P35.3 billion. This is expected to cover 15.4 million households, or an increase of 700 beneficiaries from 2014.
Drilon added the government will increase its budget for the hiring of health personnel by 43 percent, a jump to P4.3 billion from P3 billion.
"For 2015, the government plans to hire additional 398 doctors, 12,540 midwives and 480 dentists to be deployed in different municipalities, cities and health facilities around the country to provide primary healthcare," he said.
Lastly, The Department of Social Welfare and Development will receive P109 billion from its current budget of P83.4 billion.
Drilon said the funds will go to the expanded Conditional Cash Transfer program which will be allotted P64.7 billion next year, an improvement from P62.6 billion in 2014, to benefit 4,309,769 indigent families throughout the country, including about 4,000 families with no permanent address, 7,000 homeless street families and 116,000 indigenous people.
SOURCE PHILSTAR CAMPUS NEWS