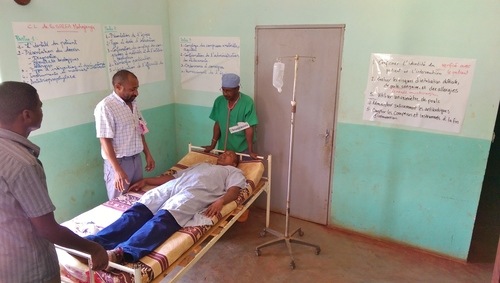 The clinical practice of emergency medicine in Mahajanga, Madagascar
Introduction
Little is documented concerning the clinical practice of emergency care in low- and middle-income countries. The lack of structural models presents serious obstacles to the development of effective emergency care services. This study provides such a model by describing the clinical practice at the emergency centre of the Centre Hôpitalier Universitaire de Mahajanga in Madagascar.
Methods
This was a retrospective chart review of all adult patients presenting to the emergency centre from September to November 2012. Archived chart data were extracted into a computer database. Data included: age, sex, date, diagnostic investigations, procedures, medications, and diagnosis.

Results
727 charts were reviewed, averaging eight patients per day. The three most frequent pathologies observed were trauma, gastrointestinal, and infectious disease. A total of 392 received diagnostic investigations. These were chiefly complete blood counts (n = 218), blood glucose (n = 155) and ECG (n = 92). Chest X-rays (n = 83), extremity X-rays (n = 55) and skull/face X-rays (n = 44) comprised the most common imaging. Ultrasounds were primarily abdominal (n = 9), renal/genitourinary (n = 6), and obstetric (n = 2). Therapeutic interventions were performed in 564 patients, most commonly intravenous access (n = 452) and wound/orthopaedic care (n = 185). Medications were administered to 568 patients, mostly anti-inflammatory/analgesics (n = 463) and antibiotics (n = 287).
Conclusion
This is the first descriptive study of the clinical practice of emergency medicine in Mahajanga, Madagascar. It provides both the Malagasy and international medical communities with an objective analysis of the practice of emergency care in Madagascar from both diagnostic and therapeutic standpoints. Emergency care here focuses on the management of traumatic injury and infectious disease. The diagnostic imaging, pharmacologic and procedural therapeutic interventions reflect the burdens placed upon this institution by these diseases. We hope this study will provide guidance for the further development of Malagasy-specific emergency care systems.
READ FULL TEXT