Tunisia: Fishermen receive training in saving lives at sea
For years, Tunisian fishermen have been encountering migrant boats in distress, and saving lives by bringing people onto their fishing boats. On 30 August, fishermen rescued 130 people from a boat and brought them to the town of Zarzis where they received medical support from an MSF team. In order to increase their capacity to carry out rescues at sea, MSF recently carried out a six-day training with 116 local fishermen in Zarzis.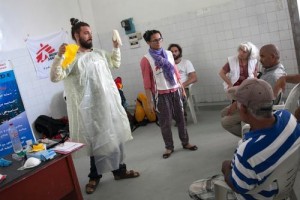 "Saving a sinking boat filled to the brim with desperate people who cannot swim involves a lot of risks and is a dangerous operation" says Wiet Vandormael, MSF's training coordinator.  "The bodies of those unfortunate people who died at sea have to be cared for with dignity without endangering the health of communities. Through the exchange of experiences between MSF and the different Libyan and Tunisian people involved, we are increasing the capacity for assisting people in distress and handling the disastrous consequences. I was really touched by the motivation of the fishermen and the difficult situations they are facing."
Most of the people trained by MSF are fishermen who navigate smaller boats with only a small crew, although some also navigate larger 40-metre vessels and go out in the open sea for several days.

The training has familiarized the fishermen with all the steps involved in a rescue operation. They have been taught how to communicate with the people on board as well as how to contact the Maritime Rescue Coordination Centre in Italy to call for additional support.  They have also been provided with, and taught how to use, adequate security and rescue equipment such as protective material and clothing and life vests, as well as how to prevent contact with body liquids.
"On one occasion we found a small boat full of people, which was already sinking" says Yanes Bechiryanes, a mechanic onboard a Zarzis fishing boat. "We could not leave them in such a situation and called for assistance from two other fishing boats which we work with. We rescued and distributed the people among the three boats. They were very scared and we had to calm them. We are losing hours of work and therefore money, but they are human beings and we have an obligation to help them."
Source:
Tunisia: Fishermen receive training in saving lives at sea | MSF