Allison Transmission, new partnership and models presented at INTERSCHUTZ
Allison Transmission offers up to 35 percent faster acceleration and greater maneuverability, know more about the last products here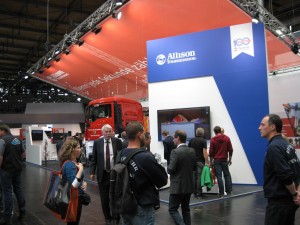 Hannover, Germany – Allison Transmission, the leading global supplier of fully automatic transmissions for medium- and heavy-duty commercial vehicles, has showcased its products at Interschutz 2015.

Vehicle manufacturers worldwide offer Allison Automatics for a variety of fire and emergency applications, including airfield crash trucks, ladder and tanker units, ambulances and other equipment. Serving urban, off-road and airfield environments, Allison transmissions deliver high performance and supply uninterrupted power to the drive wheels via advanced Continuous Power Technology™.
MAN TGM, TGS trucks with Allison 3000 Series™ and 4000 Series™ models
MAN and Allison have outstanding reputations among fire fleets worldwide, and now the two companies are working together to make MAN TGM and TGS trucks perform even better. Allison fully automatic 3000 Series and 4000 Series transmissions will soon be available in the medium- and heavy-duty classes of MAN vehicles. At Interschutz visitors have seen a MAN TGS 18.400 4×4 chassis displayed by Allison. This specific vehicle was produced to operate in the Austrian Alps, its 400 horsepower engine coupled with an Allison 4000 Series fully automatic transmission delivers exceptional acceleration and performance. Allison 4000 Series models feature torque multiplication and continuous power shifts to ensure unrivalled vehicle launch, acceleration and control, even under exceptional load conditions and over difficult terrain.

Econic HLF 20/16: When space is tight
A Mercedes-Benz Econic 1830 L, 4×2 with HLF 20/16 body (firetruck) and Allison 3000 Series fully automatic transmission was also presented at the Allison stand. The vehicle, currently operating in Hannover, has a smaller than typical turning radius of 13.5 meters due to a rear steering axle. In comparison to a standard vehicle radius of 16.5 meters, the Econic HLF is an ideal vehicle for dense urban areas with narrow roads and alleys. An HLF 20/16 body combined with the Econic low-entry and rear steering axle results in a compact and highly maneuverable vehicle. Allison's patented torque converter allows for precise maneuvering, even at very low speeds, for the best control in critical situations. In addition, Allison Automatics offer a top-mount engine driven Power Take-Off (PTO) provision, for easy integration of best-in-class emergency equipment.
Fire and rescue trucks: Allison makes the difference
Allison provides the right product for each firefighting and emergency vehicle – whether it's the 1000 Series™ for ambulance, firefighting and command vehicles or the 3000 Series and 4000 Series for special-purpose vehicles, like turntable ladders and cranes or water tenders and airfield crash trucks. With its Continuous Power Technology, sophisticated electronic features and easy integration of driveline and engine driven PTOs,  Allison transmissions increase performance, functionality and safety when lives are on the line.
Allison Transmission (NYSE: ALSN) is the world's largest manufacturer of fully automatic transmissions for medium- and heavy-duty commercial vehicles and is a leader in hybrid-propulsion systems for city buses.  Allison transmissions are used in a variety of applications including refuse, construction, fire, distribution, bus, motorhomes, defense and energy. Founded in 1915, the company is headquartered in Indianapolis, Indiana, USA and employs approximately 2,700 people worldwide. With a market presence in more than 80 countries, Allison has regional headquarters in the Netherlands, China and Brazil with manufacturing facilities in the U.S., Hungary and India.  Allison also has approximately 1,400 independent distributor and dealer locations worldwide. For more information, visit allisontransmission.com