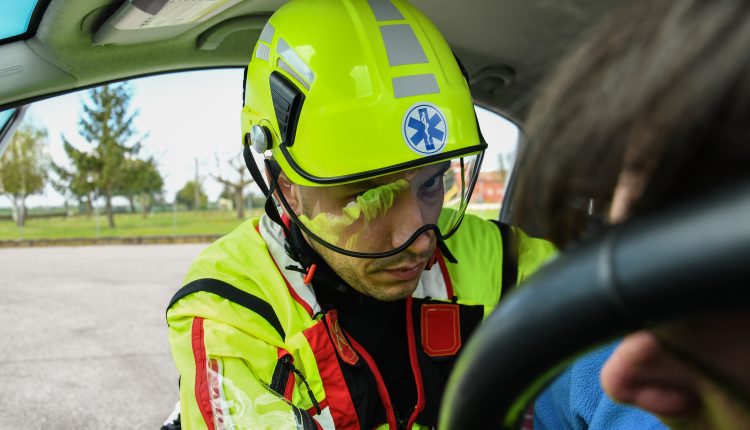 Choosing the emergency helmet. Your safety first!
Protecting the head is a priority, in every situation. We test an emergency safety helmet in a Civil Protection Context.
The helmet is an essential part of the safety equipment for rescuers, especially in wild and dangerous scenarios.
Tester: Luca Stella, Civil Protection First Aid Volunteer, Goro, Italy. Safety helmet tested: DYNAMO PLUS by Volpi Rescue.
I have been working in pre-hospital emergency care for ten years on a BLS ambulance, and I also operate as a volunteer in the local Civil Protection Services. What I need for my shift is a comfortable, lightweight, practical and space-saving helmet with a visor which protects me from accidental collisions in rescue operations in buildings or road accidents scenarios.
Protecting the head is a priority, in every situation. We test an emergency safety helmet in a Civil Protection Context.
I test for Emergency Live the DYNAMO PLUS helmet with short transparent visor and yellow fluorescent rubber caps, with white refracting insert. The helmet has been designed for climbing, rescue, tree-works, altitude and industrial applications, which make it perfectly suitable for the needs of rescue. It complies with the CE – EN 397, is part of PPE category 2 and it is subject to certification CE according to Article n.10 of European Directive 89/686 / EEC and subsequent amendments to Directives 93/95 EEC, 93/68 EEC and 96/58 EEC.
The external shell in ABS with high shock absorption and internal in polystyrene foam guarantees a lightweight helmet (390g), with a soft headband coupled with a practical wheel which makes it quickly adjustable.
The headband structure remains a couple of centimetres raised from the external shell, and it is removable. A large headband structure allows constant ventilation, thanks to the 6 air intakes that do not tarnish the visor (even in adverse weather conditions). Above all, excellent is the possibility of removing it and wash it. Maintaining the hygiene of the device, which is a characteristic that not all helmets offer, is paramount.
Even the short visor offers excellent coverage and the possibility of being able to use visor glasses lowered, something that not all small helmets allow. The rubber coating of the visor is very appreciable because it ensures good insulation, even in case of heavy rain. Even with the lowered visor, I did not get wet by water, which is very annoying during a rescue. There are 4 clips for the lamp on the helmet are very wide, this allows you to use any headlamp.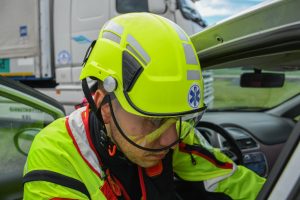 In addition to the fundamental lightness of a safety helmet, it boasts a series of very interesting accessories, from the short visors to the transparent or smoky front visor (also available the netted visor for forestry works), the possibility of applying the headphones connected to the portable radio (accessory usually used by the service of helicopter rescue).
Its smooth and homogeneous structure allows the easy application of adhesives and logos of your belonging emergency organization. It also has already been supplied with high visibility white inserts. In case the helmet is damaged, the company makes available the spare parts for each part of it. It makes it easier to replace any part; for example, the quick release buckle can be removed without changing the entire helmet.
Using it on different operations, I must say that I found myself very well. It is a helmet you forget to have; it's not bulky and gives you the possibility to move quickly among metal sheets. The chinstrap and the well-adjusted headband means that the helmet does not move during the operation and you do not need to reposition it, as may happen with other models, if used at night there is the possibility of putting a headlamp like all mountaineering helmets.
QUALITY: Good quality. Suitable for many rescuers and associations. 4/5
COMFORT: Easy to wear, so light that you forget about it 5/5
RESISTANCE: Good impact resistance 4/5
DESIGN: Very nice, available in many colours 4/5
DYNAMO PLUS helmet
Prev
1 of 12
Next