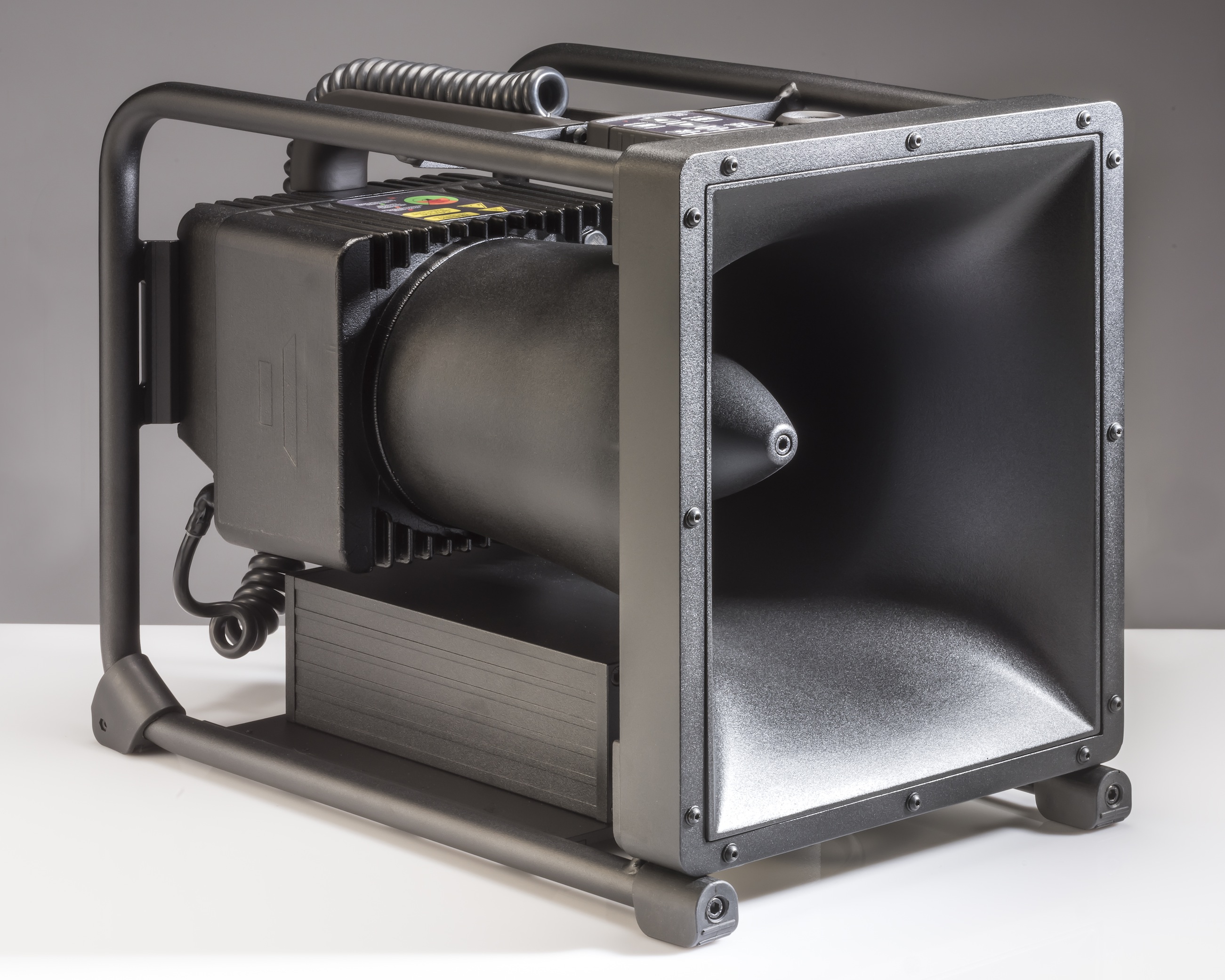 EUROSATORY - STENTOR Acoustic Hailing Devices Launch Globally
Making its international launch at Eurostaory 2016, Belgium based Summit Engineering introduces STENTOR ™ it's new range of ultra-high power Acoustic Hailing Devices.
As part of the Belgium Pavilion Summit on stand: D258 Hall 6, STENTOR's PHD-146 will make its world-first appearance as a highly intelligible, compact and portable long-range acoustic device.
Designed and manufactured to the highest standards in Belgium, the STENTOR™ range is tailor made to withstand the most challenging crowd control and mass notification environments. Ideal as a portable solution for military deployment, police forces, fire brigades and civil defense, the PHD-146 is low profile, water proofed to IP66 standards, robust to military grade, and weighs in at only 13KG (including its Battery and CM1 control microphone).

Penetrating high noise environments loudly and clearly for effective high impact crowd or riot control, the PHD-146 communicates loud and clear, providing an impressive 146 dB peak acoustic output. By virtue of its digital signal processing (DSP) platform and its state of the art acoustic design, the PHD-146 stands out by offering an extended audio bandwidth, particularly in the low frequencies/bass output. This ensures that the audio voice projection is natural and warm for better intelligibility and impact.
This also facilitates unparalleled long-range directional projection. Cutting through wind and other offensive noise pollution to 1,500 metres, the PHD-146 lucidly conveys commands, unmistakable messages or piercing alert tones.
The PHD-146 is equipped with the CM1 control microphone. Featuring an in-built noise-cancelling capsule and feed back suppressor it allows the PHD-146 to broadcast live messages even in the most reverberant environments. Additionally the CM1's integrated SD card equips the PHD-146 for hours of digital pre-recorded messages or alert tones. Simple to download from a PC or record from the microphone and activate with an easy to select message button.

Equipped for demanding environments the PHD-146 features extended battery operation and ergonomic battery exchange. It provides 100 hours power on standby and five hours continuous speech facility.
Summit Engineering's Director Eddy Berger, explained: "We've combined over 15 years design and manufacturing expertise into developing the STENTOR™ range. Our aim is to fuse current policing demands with modern technology.
Being so lightweight, at 13KG, the PHD-146 is truly portable, providing an impressive 146dB acoustic output. Comparable competitive products weigh more and often require mounting on trucks.
STENTOR ™ offers affordable, effective Acoustic Hailing Devices that provide mass notification and control across applications including, border security, defence, wildlife control, rescue operations and law enforcement.
Our ability to incorporate market leading acoustic engineering with state of the art Digital Signal Processing and ultra-compact efficient D-Class amplifiers and battery charger makes us stand out loud and clear."
Visit STENTOR's stand: D258 Hall 6. Or for more information visit: http://stentor-ahd.com/products/portable-hailing-devices/