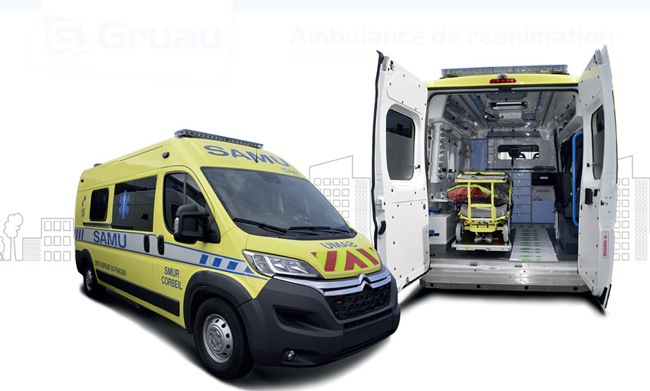 Three new vehicles from Gruau, the global player in the LCV market
Gruau is the most important manufacturer of LCV in France, and the market of this company – with time – has become global. Created in Mayene (West of France) in 1889, the Gruau Group is today the N°1 in Europe for conversions, designs and manufactures of global transportation solutions for its private or public customers. Manufacturers, dealers, fleet customers , purchasing associations, professionals, communities or individuals which are in need of a special vehicle could find in Gruau the best Converter-Manufacturer company on the field.
Under the leadership of Patrick Gruau, 5th generation, this "family" Group continues to grow. The company's 17 locations (including 5 abroad: Poland, Spain, Algeria and USA) employs a total of 1,080 people and achieves a turnover of € 204 million. Multi-specialist, multi-brand, multi-site, Gruau is able to convert more than 48,000 vehicles per year for companies around the world.
During Interschutz 2015 Gruau has exposed 3 new vehicles. The new Firefighters Light Control Station Vehicle, with 3 storage compartments: behind the driver there's a lateral access door for the storage of PPE, ventilator, fire extinguisher and emergency bag. Behind the passenger side there's a door access with 3 shelves for storage of equipment. In the rear part there's a working plan allowing operational management of the interventions. Another vehicle for Firefighters is the Protection and Safety vehicle, serving to protect firefighters when intervening in a traffic incidents and congestion.

For EMS and health care, Gruau present its new intensive care unit, a perfect Citroen Jumper  180hp, with safety reinforcement, sliding right bach glazing, roof glazing, safety film, right side with a grab handle, two swivel seats with footboards, a cupboard at the top and a Left side with an oxygen cylinder holder with a distribution system, vacuum supply system, electric outlets, shelf, rail for medical equipment, syringe-pump support, defibrillator support, ventilator support, aspirator support. The roof is equipped with LED illumination, handrails, infusion support,air conditioning. Front site is equipped with a worktop, drawers, cupboards, refrigerator, radiator, stowage box, separation bay and electric outlets. Ground is equipped with a hydraulic table, stretcher anchor and counter-pulsation anchor
The Group is now a referenced supplier by 34 international car brands and offers more than 20 product lines: minibuses, transport of persons with reduced mobility, transport of goods (luton vans, refrigerated or insulated vehicles), construction industry (tippers, crew cabs), safety and security for the police, customs, company cars, ambulances and emergency, funeral, electric, specific vehicles (medical, mobile offices, training units).
For more information about the Gruau Group you could visit the company website or looking on the social media Youtube Channel 
[document url="https://www.emergency-live.com/wp-content/uploads/2015/07/fiche-produit-Intershultz-Master_LOW.pdf" width="600″ height="740″]
[document url="https://www.emergency-live.com/wp-content/uploads/2015/07/fiche-produit-Intershultz-Jumper-Ambulance_LOW2.pdf" width="600″ height="740″]
[document url="https://www.emergency-live.com/wp-content/uploads/2015/07/fiche-produit-Intershultz-Citan_LOW.pdf" width="600″ height="740″]