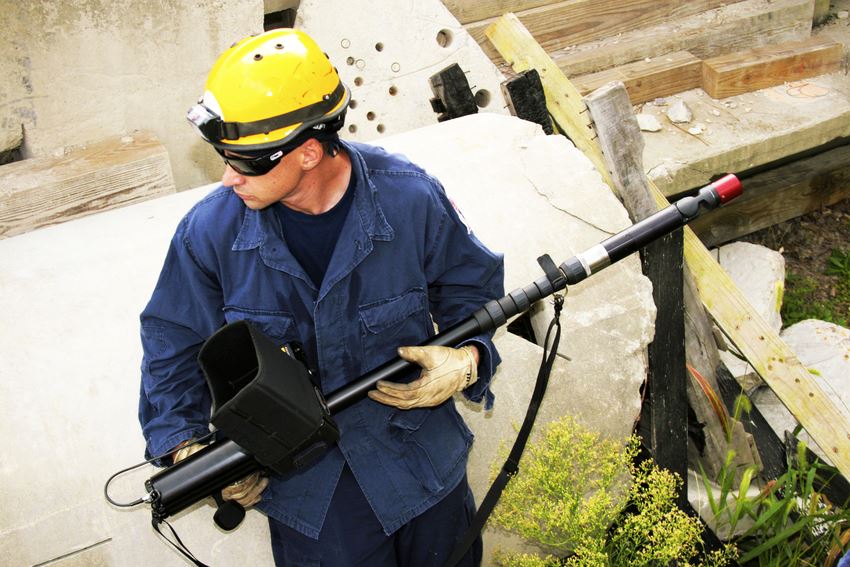 Savox at Interschutz 2015: Game-Changing USAR Innovation
Game-Changing USAR Innovation Just One of the Highlights Expected from Savox at Interschutz 2015
Tried and tested Savox solutions are the mainstay of Urban Search & Rescue
New communications innovation will enhance USAR portfolio and procedures
Espoo, Finland – Leading provider of communications products for use in demanding and hazardous environments by fire, rescue, military, maritime, police, security and industrial end users, Savox Communications will be exhibiting at Interschutz 2015 in Hannover, (8-13 June on Stand A10, Hall 12), displaying its full range of Urban Search & Rescue equipment, and will be launching a new USAR communications system that is set to benefit USAR teams and procedures, everywhere.
This new and innovative communications solution will be the highlight of Savox' stand and the company believes that it will revolutionise USAR operations for Light, Medium and Heavy Teams, which operate tried and tested victim-location equipment in disaster scenarios; more on that at the show.
Of its tried, tested and field-proven systems, which have been operational with fire & rescue as well as USAR teams around the world for more than 15 years, the company's Delsar® seismic/audio sensor system, its SearchCam® 3000 remote camera solution and the company's Hasty Search Kit® are just three of the highlights that will be on display.
The Delsar LD3, suited for use by Heavy USAR Teams, has the most sensitive seismic sensors – to detect knocking and tapping noises – developed by Savox so far, and provides both an audio and visual signal of what an operator is 'picking up' at the site of an incident. A six-sensor, spectrum-analyzer-like display shows which sensor is giving a reading and enables the operator to isolate a sensor in order to listen more carefully to the signal being received. The Delsar LD3 also comes with an acoustic sensor, which is better at detecting airborne noises such as voices, while its in-built microphone and speaker enable the team to detect a voice and then speak to the victim using PTT.
Also on display will be the SearchCam 3000, a technical SAR camera designed for use by USAR Heavy Teams to locate victims trapped in collapsed buildings or under piles of rubble. Its articulating waterproof camera head with LED lighting helps pinpoint a victim's location and on-screen graphics help direct rescue teams to the exact location to enable victim extraction. SearchCam is equipped with a two-way audio facility that allows rescuers to communicate directly with victims. A SearchCam operator can record audio and video, as well as take still photos during the search. The 'system' has quick-disconnect cameras, enabling it to be switched rapidly from colour to Infrared, and its telescopic tube sets extend the camera from 92 inches to 223 inches, or 234cm to 566cm.
Savox' Hasty Search Kit, also at the show, is a cost-effective, easy-to-use, all-in-one technical search system for first responders or SUSAR teams' enhanced rescue squads, who might arrive on the scene of a disaster prior to better-equipped, Medium or Heavy USAR teams. The system includes the Delsar LifeDetector® Mini for seismic detection of victims and the new SearchCam Recon III for visual search and location. The Hasty Search Kit is transported in a single case for rapid deployment.
One other point of note is the level of interoperability between Delsar and the other detection equipment in the Savox portfolio; its Li-ion batteries are interchangeable with SearchCam and the company's Hasty Search Kit equipment, and the modular tube sets on the SearchCam can also be used with the acoustic sensor on the Delsar.
Chief Strategic Officer at Savox Communications, Mikael Westerlund, said, "Interschutz only comes around every five years, so we've had time to consider our attendance and make sure we make an impact with both our traditional set of USAR tools, as well as our latest products. Our Delsar system, for example, is considered, today, to be the market leader in seismic and acoustic listening devices and one that has been tried and tested with US task forces, UK National Resilience, THW in Germany and many other organisations and USAR teams around the world. However, it's our new USAR communications solution that we'll be unveiling at the show that we think will be stealing the limelight, as we believe it will have a powerful impact on USAR operational procedures worldwide. We think visitors will like what they see – and hear!"