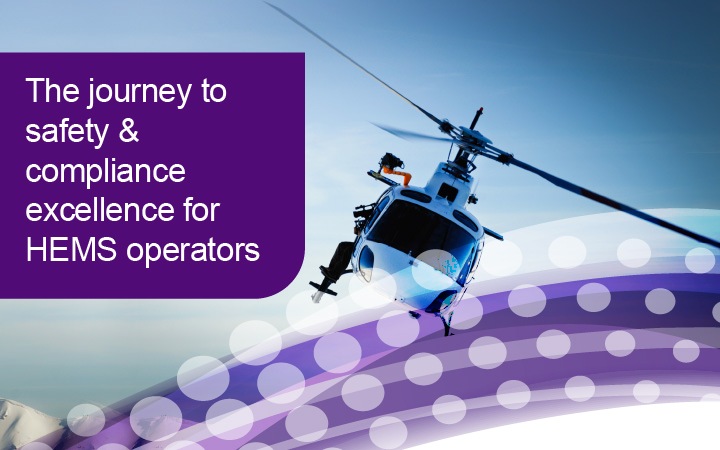 The journey to safety & compliance excellence for HEMS operators
The Challenges
It is essential for HEMS operating companies to demonstrate compliance, engender a culture of reporting and safety as well as achieve high levels of efficiency and consistency in audit, safety investigation and related activities. In order to do this, a robust system is a requisite to help demonstrate safety and to meet and exceed the regulatory requirements of their national CAA.
Operators need to improve productivity and show "safe" business efficiencies to their customers and funders by eliminating needlessly time-consuming manual and paper-based processes. Moreover, they are required to develop a sturdy reporting culture throughout the business that protects brand and reputation and builds confidence in all stakeholder groups including front line operational staff and management, customers, shareholders and financial backers.
As a HEMS operator, you know how your business should operate effectively and the many obstacles facing your organisation during the process of your daily operations.
But what advantage would you gain if you had the knowledge to identify where those obstacles are and when they are likely to strike?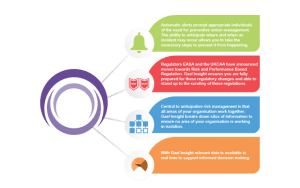 Alignment of Safety Risk Management (SRM) & Safety Assurance (SA)
There is a lot of noise currently throughout the industry about Safety Risk Management (SRM) with many "buzz words" being thrown around such as "SRM", "Risk Based Oversight", "Safety Intelligence" and "Resilience". Ultimately it's all about supporting the continual challenge an organisation has, in particular the Safety Manager, in justifying to the accountable manager where to invest in safety versus operations.
Where are my problem areas/vulnerable risk exposures?
How do I prioritise controls to invest in?
SRM as a one off "study", perhaps once per year is common and a valid approved proactive practice within the SMS, before Safety Assurance (SA) takes over – including auditing, voluntary and mandatory reporting, Safety Performance Indicators (SPI). Basically, the "reality day to day practices" of the operation.
Where most organisations find difficulties, is with comparing the "study" versus the "reality".

"…the reality of our reality…" Bill Amelio, CHC CEO (CHC Safety Conference, April 2014)[1]
Of course following an audit finding or safety report corrective action is taken to address an ineffective control but this tends to remain within the SA process and the risk study is not reviewed again until the following year.
The SRM process is difficult and highly subjective and organisations use internal and external historical data and experience during the study. However, aviation is dynamic and waiting once a year to react to the potential natural drift of "assumed" practices could be too late and you could find a year down the line that you are investing excessive resource and time into a set of controls or threats that, in reality, aren't really your high risk exposed areas of your business. This is obviously an inefficient use of time and resource.
The Solution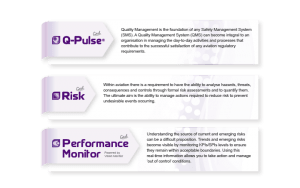 Ideagen provide the global HEMS operator market with solutions for compliance, safety, risk and performance management. They also support the SAR and Oil and Gas service provider industries and have a wealth of customers whose knowledge and experience further drive the development of their solutions.
A selection of companies that Ideagen work with include Shell Aviation, Shell Brunei, Inaer Spain, Inaer Italy, Bond Air Services, Bond Offshore Helicopters, Bristow Helicopters, OMNI Helicopters, Weststar Aviation, MHS, Luxemburg Air Ambulance, Eurocopter, Dancopter, HNZ and FinnHEMS.
Jérôme Pin, Project & Business Development Manager, Luxembourg Air Rescue, Luxembourg Air Ambulance S.A, said: "Using Q-Pulse has allowed us to increase the volume of work achieved with no increase in staffing. We have improved communications between operational departments as well as the overall quality of work and our compliance to regulations. There has been an increase in satisfaction of customers and external auditors including the national authority and ISO."
Rui de Almeida, Executive Chairman, Omni Helicopters International (OHI), said: "Q-Pulse provides excellent management oversight and control – we have weekly reviews of the findings reported by the system. The result of this is an increased knowledge that our organisation is operating safely and efficiently, and the ability to identify potential threats as early as possible."
About Ideagen
Ideagen assist over 1,500 organisations across more than 90 countries in managing their compliance needs. Ideagen's products for aviation safety management were developed with input from an extensive user base which includes outstanding and forward-thinking organisations across not just Aviation, but Rail, Healthcare, Life Science, Avionics, Electronics, Defence, Oil & Gas, Manufacturing and Service sectors. The result is an outstanding suite of products and services which capitalise on the capability of today's technology and enables organisations to recognise when things are starting to go wrong, allowing them to take preventive action, increasing overall safety levels and enhancing business performance.
[1] http://www.chc.ca/news/2014/2014/04/chc-ceo,-bill-amelio-addresses-the-reality-of-reality-at-the-2014-chc-safety-quality-summit.aspx