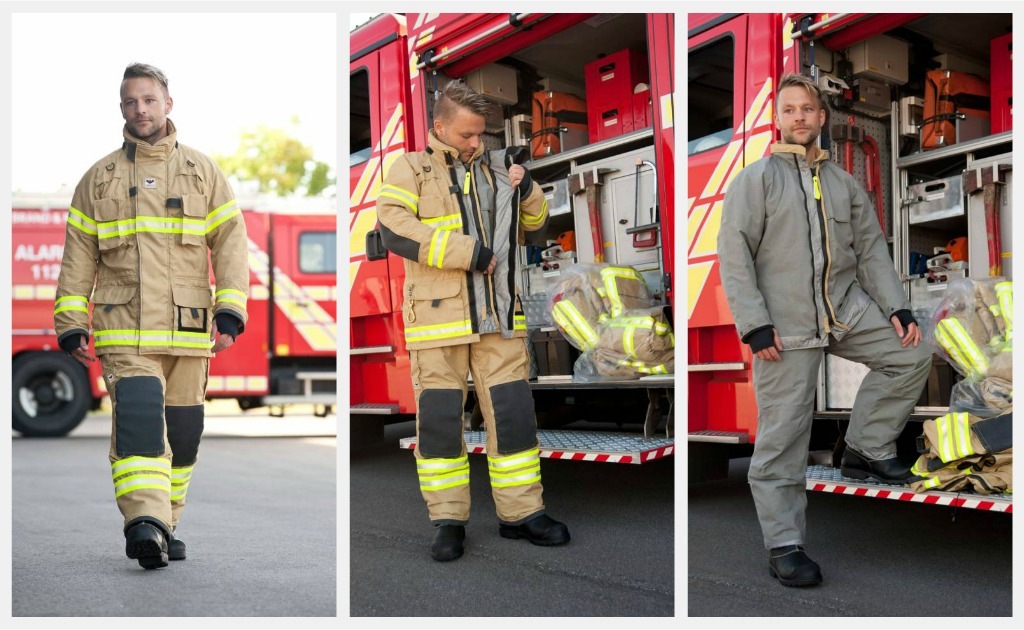 VIKING Guardian, the first removable outer shell that can reduce exposure to dangerous particles
Cancer risk among firefighters is a major concern all over the world. Together with firefighters in the field, VIKING has developed and tested a tactical solution for the next generation of protection. When you are out on a call, your outer shell is often exposed to dangerous particles. With VIKING's new Guardian suit, you easily remove the contaminated outer shell and you still have a wearable suit for the road home, limiting the contamination of the vehicle and your body.
"VIKING and RSG Gothenburg, one of Sweden's top-performing fire departments, have worked together to develop the next generation of fire suits"

The outer shell in the jacket and trousers are attached to the liner with a zipper system. Before you go onboard the fire truck, simply unzip the outer shell from the liners and place it in the dissolvable washing bag. When you get back to the station, throw the bag directly into the washing machine. This reduces your immediate exposure to dangerous chemicals and reduce the contaminating of the truck, the station and the people handling the suits for washing.

Special attention to comfort and durability
No corners are cut with the VIKING Guardian – from the unique design to the intelligent use of high-end materials. The strategy behind it not only provides extra protection but also extends the lifetime of the suit.
Choose between two options. An outer shell in VIKING IconTM made of PBI®, constructed using the inherently resistant and thermally stable PBI® fiber from PBI® Performance Products, well-known for outstanding protection against heat and flames. Or the high performing DuPontTM Nomex® option, Hainsworth® TITAN with proven durability and comfort.
Both materials are extremely strong and maintain their resilient structure after many washes.
On the inside is a CROSSTECH® SR 2 Layer Laminate which doesn't lose its high breathability after exposure to high temperatures. And even with the outer shell removed,
it continues to offer weather protection and  protect the wearer from the 5 most common dangerous chemicals according to 1971 NFPA Standard including blood, bodily fluids and petroleum products.
Firefighter comfort gets special attention with features such as pre-bent knees and elbows, a removable hood, and adjustments help you adapt to different work situations. Several details in the design make donning easier, e.g. with communication equipment.
The highly durable suit is reinforced with DuPontTM Kevlar® on the elbows, knees, in the pockets, and legs. The innovative multi-piece design allows you to easily inspect the suit and exchange defective or worn materials, rather than discard the entire suit if one layer is damaged.