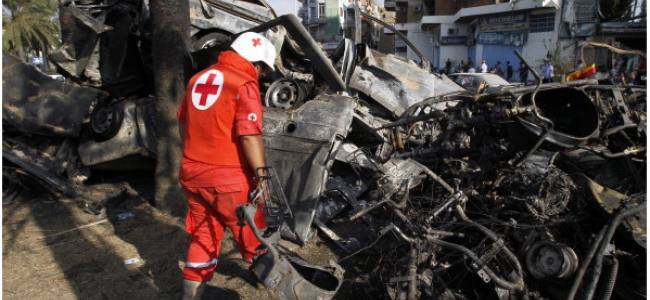 Aid workers in Lybia, evacuation start from Tripoli and Benghazi
(source IRIN NEWS) – Libya's deteriorating security situation has led to an exodus of aid workers and suspension of development programmes, leaving tens of thousands of displaced and vulnerable people relying on skeleton networks manned in part by volunteers. In recent weeks, thousands of families have fled their homes in the cities of Tripoli and Benghazi, following clashes between rival militias, factions of whom seized control of the capital's international airport and a military base in Benghazi, and set fire to a major fuel depot. This latest surge in violence comes after a highly contested election in June and while some steps have been taken towards forming a new parliament, the authorities are still struggling to manage law and order, prompting claims the country is heading back towards civil war. But as the needs grow, the capacity to respond is shrinking. The bulk of international organizations are now operating either remotely from neighbouring Tunisia via local partners, or in some cases, not at all.
Existing caseloads
Before this latest unrest, Libya was already straining under the weight of a surging population of migrants using the North African country as an exit point to Europe, while supporting an existing caseload of more than 50,000 internally displaced persons (IDPs), uprooted during the 2011 NATO-backed overthrow of former president Muammar Gaddafi. The latest surge of violence has affected around 500,000 families, with at least 9,000 displaced, according to the International Medical Corps (IMC). Most Western embassies and international companies have pulled out nearly all their staff, a number evacuated by boat due to the airport in Tripoli being inaccessible – while aid agencies and UN bodies have taken similar approaches. Among the major aid organizations that have suspended or cancelled their work on the ground are the International Committee of the Red Cross (ICRC), Médecins Sans Frontières (MSF), and the Danish Refugee Council (DRC). "Most organizations have pulled out of Libya due to the security situation," explained Tunis-based Muftah Etwilb, regional representative for North Africa at the International Federation of the Red Cross and Red Crescent Societies (IFRC). "The Libyan Red Crescent (LRC) is really one of the few actors left on the ground, along with a handful of national NGOs." "The LRC volunteers are doing a fantastic job despite the difficult and challenging environment but at some point they will need support," he said, adding that assessments were ongoing and a potential deployment by Federation members from Tunisia was under consideration. The ICRC's withdrawal was prompted by the assassination of 42-year-old Swiss national Michael Greub, who was shot by a group of armed men in a targeted attack as he left a meeting in the eastern city of Sirte. The organization's offices in Misrata and Benghazi had also been attacked in the past.
Funding shortages
Other local bodies appear woefully unprepared. The Libyan Humanitarian Relief Agency (LibAid), which was established under the prime minister's office following Gaddafi's fall, was supposed to lead the humanitarian response, but staff there say it has recently been able to do little due to funding shortages.
The agency's secretary-general, Khaled Ben-Ali, told IRIN: "We have not received any budget [from the government] for a year and a half… It is critical now. The IDPs have not been getting any support from LibAid… no food rations or any help for the past six months or more."
Describing LibAid's capacity to respond to an increase in needs as "almost zero", he said he had contacted the government "hundreds" of times for funding but feels there is little interest in supporting the IDPs. He and his board have tendered their resignation, he said.
Supplies running low
Speaking from Tunisia, the head of the ICRC's Libya delegation, Antoine Grand, said: "The fighting is mostly in the south and west of Tripoli but the whole city is feeling the impact. There is a lack of fuel; banks are running low on cash; there are regular electricity cuts, and also lack of bread.
"Doctors and nurses and other public service workers are not able to move around or get to work, either because it is not safe to do so, or because they have no fuel to put into their cars… and on top of that a number of medical staff have left," he added.
Some of ICRC's work has been taken on by its national staff in partnership with members of the Libyan Red Crescent, with additional remote support from IFRC and the ICRC. But specialist tasks, such as visiting long-term detainees, have been put on hold.
"ICRC has the willingness to go back into the country with an international team but it all depends on the security," Grand said. "The situation is very chaotic and it is hard to reach our partners. They have difficulties in moving around. Just to maintain contact with our own national staff is sometimes difficult."
UN staff withdrawn

The UN Support Mission in Libya (UNSMIL) began withdrawing its staff from Libya in early July, and although it initially said it would keep a core team to continue operations, it announced on 14 July that everyone was to leave due to the "prevailing security conditions".
UN agencies have likewise relocated the bulk of their teams to Tunisia, though staff from the UN Refugee Agency (UNHCR) continued to maintain a presence in Libya despite the deteriorating security, Dalia Alachi, a UNHCR regional public information officer, told IRIN.
"We have international staff going in and out of Libya on missions and this movement depends on the volatile and unpredictable security situation in Libya," she said.
"Despite our limited ability to provide immediate assistance, UNHCR is working with several NGOs and partners, such as the International Medical Corps to respond to the needs of refugees, asylum seekers, and IDPs, as well as potential asylum seekers in detention centres."
Teams had been providing relief items and medical support to migrants caught up in boat accidents when trying to leave Libya by sea, as well as assistance to people displaced from parts of Tripoli hit by missiles and rockets in the recent fighting, Alachi explained.
Ghassan Khalil, special representative for the UN Children's Fund (UNICEF) in Libya, said that while his international staff had been removed from the country, national workers remained, and he hoped everyone would return soon, when the security situation allowed.
"The situation in Libya is worrying and we continue to ask the government of Libya to protect civilians, especially women and children, and to ensure children are not part of the armed conflict," he said, adding that UNICEF was not involved in frontline humanitarian work in Libya but instead supported education, protection and social capacity-building programmes in conjunction with government ministries.
He added that many staff had already planned to be out of the country for the post-Ramadan Eid-Al Fitr holiday, one of the most important dates on the Muslim calendar.
Situation peaked
With so few humanitarian actors left in country, the challenge will be for those that remain to meet the growing needs via remote management plans.
Heather Pagano, a spokeswoman for MSF on Libya, said despite the relocation of MSF's seven international staff from Tripoli to Tunisia in July and the suspension of a mental health programme, the organization continued to monitor hospitals in Libya in case they needed emergency supplies.
Speaking from Tunis, Francois de la Roche, Libya country director for the IMC, said: "We have great communication with our team and can coordinate actions from here. The security situation in Tripoli, because of fighting and stray shells, does pose a problem for keeping ex-pats in the country which is a real shame because I think we could be operating more effectively if we were in the country."
"Certainly with international organizations pulling out, some of the most exposed populations are not being reached and supported," Christian Jacob Hansen, head of the DRC's Middle East and North Africa (MENA) unit and interim regional director, told IRIN, noting that even before the latest escalation in violence, humanitarian structures had been thin on the ground with support weighted towards development initiatives instead. "In the last few years the international donors have been keener to fund more development-orientated support in Libya, and in situations like this one in Libya, there is less capacity for a rapid humanitarian response," he said.
jr-jd/jd/cb