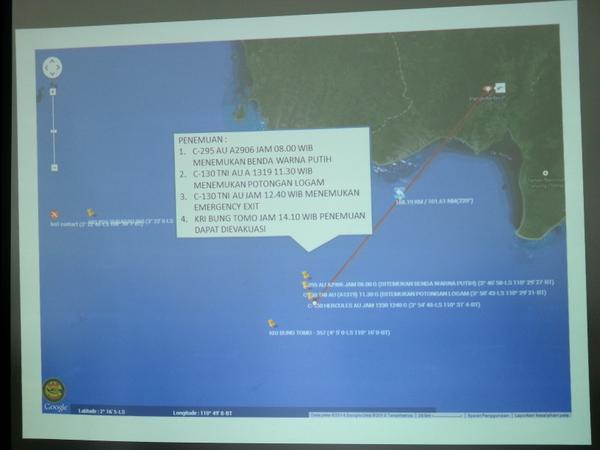 AirAsia QZ8501 flight debries resumed near the island of Borneo
Indonesian officials say that items resembling an emergency slide and plane door have been seen in the search for AirAsia flight QZ8501, according to Agence-France Presse. "We spotted about 10 big objects and many more small white-coloured objects which we could not photograph," Indonesian air force official Agus Dwi Putranto told a press conference. "The position is 10 kilometres (six miles) from the location the plane was last captured by radar," he said. He displayed 10 photos of objects resembling a plane door, emergency slide, and a square box-like object. An AFP photographer on the same flight that spotted the debris said he had seen objects in the sea resembling a life raft, life jackets and long orange tubes.
ASSOCIATED PRESS REPORT — Indonesian officials on Tuesday spotted six bodies from the AirAsia flight that disappeared two days earlier, and recovered three of them, in a painful end to the aviation mystery off the coast of Borneo island. The bodies were found in Java Sea waters about 10 kilometers (6 miles) from Flight 8501's last communications with air-traffic control. The plane with 162 people on board disappeared Sunday on its way from Surabaya, Indonesia to Singapore after encountering storm clouds. The three recovered bodies, swollen but intact, were brought to an Indonesian navy ship, National Search and Rescue Director SB Supriyadi told reporters in the nearest town, Pangkalan Bun. The corpses did not have life jackets on. Images on Indonesian television showed a half-naked bloated body bobbing in the sea. Search and rescue teams were lowered on ropes from a hovering helicopter to retrieve corpses.
As family members of the plane's passengers sat together in a waiting room at the Surabaya airport, they watched the graphic details on television. Many screamed and wailed uncontrollably, breaking down into tears while they squeezed each other. One middle-aged man collapsed and was rushed from the room on a stretcher.
The discovery came after several pieces of red, white and black debris were spotted in the Java Sea near Borneo island. AirAsia group CEO Tony Fernandes tweeted, "My heart is filled with sadness for all the families involved in QZ 8501. On behalf of AirAsia my condolences to all. Words cannot express how sorry I am."